The 30 day vegan challenge, where you're given essential support on your journey to veganism, is open now.
Click here to learn more & join the 30 Day Vegan Challenge.
Becoming vegan is a journey. You can embrace veganism for the best reasons, but if you try and turn vegan overnight with no preparation or idea of what to expect, your chances of 'relapsing' are very high.
Believe me, I've been there. As of January 2019, I became a full vegan after half a year of dabbling.
While I've been vegetarian for most of my life, converting to veganism was a tough road. I spent months going round in circles, knowing that I want and needed to become vegan, but battling with the change in diet, the change in habits, social pressures from my non-vegan family and more.
I was able to overcome all of these, but it was a long journey. While I didn't track the exact dates, it was around 5 or 6 months till I no longer craved dairy products – cheese was the hardest to give up!
Looking back, I can see I went in without a plan. Things were hard because I was winging it. I didn't know what food to make, I didn't know what food I could and couldn't eat, and I didn't know how to shop for ingredients as a vegan.
While these may not sound like big barriers to some, they can be a huge stumbling block. Afterall, it's easy to revert back to old habits when you're not sure what else to do.
These are struggles I see with other aspiring vegans too and it's holding them back. That's why I love the idea behind the 30 day vegan challenge.
The 30 Day Vegan Challenge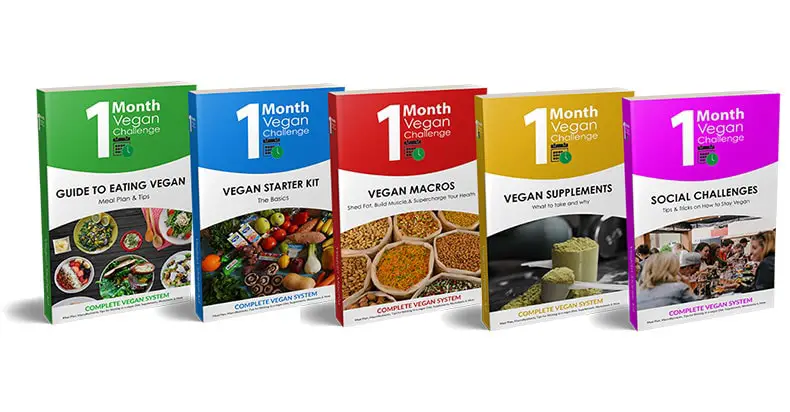 The 30 day vegan challenge, officially known as the 1 Month Vegan Challenge, gives you all the information you need to go vegan with as little friction as possible. The idea here is that if you know how to shop vegan, what foods you can and can't eat and more, you'll find it a lot easier to stick to the challenge of going vegan without slipping back into your old eating habits.
Knowing you want to go vegan is one thing, but knowing how to effectively do it is something else all together. The challenge addresses this directly, using the knowledge they've had working with numerous transitioning vegans to help you stay on track and avoid common pitfalls many of us face.
The challenge is made easier with their:
100+ tasty vegan recipes. I've only personally tried 4 of them so far, but they were all really well put together and not difficult to follow. 3 were to my personal taste. 1 wasn't really for me, but I made it knowing that'd likely be the case. There are other recipes I definitely want to try in there too.
Social challenges training. One of the things I loved about this challenge over just buying a vegan cookbook, is they address and show you how to handle vegan related challenges. For example knowing where you can go out to eat, hosting gatherings when you have non-vegans coming, dealing with other people's social events and more. While I've been vegan for a while now and have already (sometimes awkwardly) encountered some of these issues, I still picked up some handy tips for the future.
Meal planner. Sometimes deciding what to eat at various points in the day can be overwhelming, especially when you're cooking all new food. That's where this meal planner comes in handy. Take some time beforehand to plan this out; it'll make your 30 day challenge so much easier!
'Vegan Starter Kit'. A complete list of the staples of a vegan diet. Have these and you'll find putting together meals much easier.
Vegan macro counting guidance. If you're becoming vegan for fitness reasons, the 1 Month Vegan Challenge shows you how to count macros on a vegan diet. This information wasn't as relevant for me as I became vegan for animal cruelty reasons not to lose weight, but if your aim is weight loss this will likely be helpful for you.
Vegan supplements guide. I found this module useful, as up till now I've been taking a general vegan multivitamin. Which is still useful, but it's good to know the different supplements needed depending on your personal aims.
And more.
I truly feel that this challenge could save you months over trying to become vegan by yourself. This is the guide I wish I had from the beginning, if I had it I likely wouldn't have taken half a year before I was fully vegan.
If you're ready to gain a much clearer path on your vegan journey, click here to get more information and accept the 1 month vegan challenge now. I look forward to seeing your progress. 🙂