Lay's is a brand that offers a number of potato chip varieties and the kind made with dehydrated potatoes are among the most popular. Namely, Baked Lay's and the Poppables line.
They help folks get their potato chip fix with fewer calories per serving, and some people actually prefer the texture characteristic of chips like Baked Lay's, Pringles, Stax, and Popables, compared to standard greasy potato chips.
Are Baked Lay's vegan? The original Baked Lay's are vegan-friendly. As you would imagine, this line of potato chips offers several flavors. Unfortunately, each flavored variety is non-vegan due to the presence of dairy derivatives.
Are Poppables Vegan? The original Poppables are vegan, but some flavored varieties contain animal-derived ingredients, including dairy and honey. The latter may or may not be problematic, depending on how strict you are as a vegan.
What we'll do here is list the vegan and non-vegan flavors of Baked Lay's and Poppables along with an analysis of the ingredients.
Vegan Varieties
LAY'S Baked Original Potato Crisps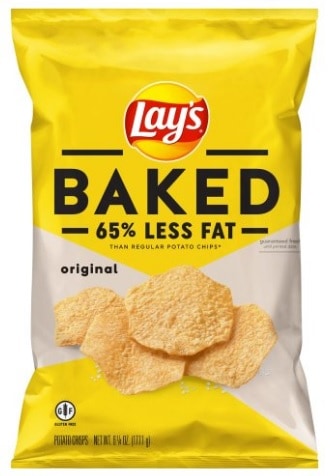 As mentioned above, these are vegan.
They simply contain:1
Dried Potatoes
Corn Starch and Dextrose
Corn Oil
Sugar, Sea Salt
Soy Lecithin
Annatto Extracts
I sometimes get asked about annatto, in terms of its vegan friendliness—probably because of the strange-sounding name.
Annatto is an orange-red substance that's commonly used as a condiment and food coloring agent. It's derived from achiote tree (Bixa orellana) seeds, a tree common in tropical regions from Mexico to Brazil.2
It's usually added to food products for its color but is commonly used for its scent and aroma.3
So, it's always plant-based and thus always suitable for vegans.
LAY'S Poppables Sea Salt Potato Snacks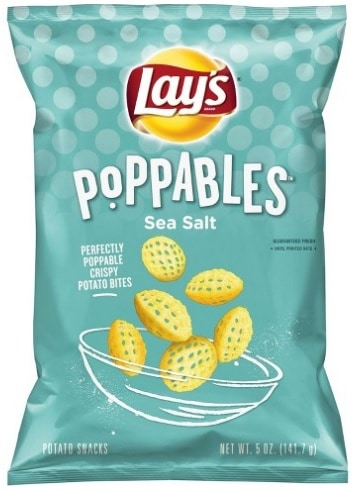 This variety really isn't too different from Baked Lay's, they just come in a different shape, and seem to have more air incorporated into them.
These contain:4
Dried Potatoes
Vegetable Oil (Sunflower, Corn and/or Canola Oil)
Potato Starch
Sea Salt
Tumeric
As you can see, this was a very short list. The list of non-vegan varieties is over twice as long.
Non-Vegan Varieties
LAY'S Baked BBQ Flavored Potato Crisps
Interestingly, these are non-vegan due to the presence of milk—not honey. I say interestingly because when BBQ-flavored snacks are non-vegan, honey is usually the culprit.
These contain:5
Dried Potatoes
Corn Starch, Maltodextrin (Made From Corn), Dextrose
Corn Oil, Soybean Oil, Sunflower Oil
Sugar, Fructose, Salt
Soy Lecithin
Onion Powder, Tomato Powder, Garlic Powder
Brown Sugar, Molasses
Spices, Yeast, Paprika
Natural Flavors (Contains Milk)
Paprika Extracts, Annatto Extracts, Caramel Color
Acacia Gum
It's not immediately obvious why milk would be used for BBQ flavored snacks. But, unfortunately, it's pretty common.
Milk contains proteins and fat which improve texture and mouthfeel. Whey and casein proteins (the two abundant proteins in milk) both emulsify and stabilize ingredients.
The lactose content of milk provides a tangy character that can be useful for certain flavor profiles.
LAY'S Baked Sour Cream & Onion Flavored Potato Chips
This should come as no surprise—although I have seen sour cream and onion-flavored snacks without actual milk products. Sometimes manufacturers get by using cultures and spices alone.
Unfortunately, that's usually not the case, and this particular product is no exception.
These contain:6
Dried Potatoes
Corn Starch, Dextrose
Corn Oil
Sugar, Salt
Skim Milk
Soy Lecithin
Cultured Skim Milk
Onion Powder, Parsley
Whey (Protein)
Sour Cream and Cultured Sour Cream
Natural Flavor
Citric Acid
Annatto Extracts
As you can tell, more milk products here than you can shake a stick at.
LAY'S Poppables White Cheddar Flavored Potato Snacks
The word cheddar should always raise red flags, but I have seen white cheddar-flavored snacks that were free of dairy products.
For example, Skinny Pop has a white cheddar flavored popcorn that is 100% vegan-friendly.
Unfortunately, that's not the case here.
These contain:7
Dried Potatoes
Vegetable Oil (Sunflower, Corn And/or Canola Oil)
Potato Starch
Whey
Maltodextrin (from Corn), Dextrose
Salt and Sea Salt
Cheddar Cheese (Milk, Salt, Enzymes, Cheese Cultures)
Sunflower Oil
Skim Milk
Natural Flavor
Buttermilk
Romano Cheese (Part-Skim Cow's Milk, Cheese Cultures, Salt, Enzymes)
Whey Protein Concentrate
Corn Oil
Yeast Extract, Onion Powder, Garlic Powder, Spice
Lactose, Lactic Acid
Citric Acid
Milk Protein Concentrate
Tumeric
Whey and casein make up about 20% and 80% of the proteins in milk, respectively.8
Milk protein concentrate is the crude protein content of milk and contains both whey and casein. Skim milk powder contains milk proteins plus lactose.
Whey protein is just that: whey by itself. So, there's tons of overlap with non-vegan ingredients here.
Obviously, the presence of any single animal ingredient would be enough to render the whole product non-vegan. I'm bringing this up to illustrate that it's very unlikely that an accidentally vegan version of this flavor will ever hit the market.
If they managed to replace one problematic ingredient, we'd still have to contend with five more.
LAY'S Poppables Honey BBQ Flavored Potato Snacks
Another non-vegan BBQ variety, but in this case, we lose the flavor to a non-milk ingredient: honey.
These contain:9
Dried Potatoes
Vegetable Oil (Sunflower, Corn, and/or Canola Oil)
Potato Starch
Sugar, Salt, and Sea Salt
Corn Maltodextrin
Spices, Yeast Extract
Onion Powder, Tomato Powder, Garlic Powder
Brown Sugar, Molasses
Natural Flavor
Honey
Paprika Extracts
Sunflower Oil
Citric Acid
Purified Stevia Leaf Extract
Turmeric
Keep in mind that not all vegans avoid honey. Apparently, there's a bit of a divide in the community when it comes to insect-derived ingredients.10
But, I include this flavor in the non-vegan section, because most consider it to be off-limits for vegans. I.e. there's much more consensus on this ingredient compared to others.
LAY'S Poppables Creamy Jalapeño
Oddly, jalapeno-flavored snacks are characteristically non-vegan. Even the kind without "creamy" in the description.
I say oddly, because jalapeno is a plant, so it's not obvious why jalapeno-flavored junk food would be characteristically non-vegan. But, it seems to be. At least, in my experience.
The ingredients for these include:11
Dried Potatoes
Vegetable Oil (Sunflower, Corn, and/or Canola Oil)
Potato Starch
Salt, Sea Salt, Sugar
Buttermilk Powder
Yogurt Powder (Cultured Skim Milk)
Whey
Onion Powder, Tomato Powder, Garlic Powder
Dextrose, Maltodextrin (from Corn and Potato)
Sour Cream (Cream, Skim Milk, Cultures)
Natural Flavors
Green Bell Pepper, Spices, Jalapeño Pepper
Medium Chain Triglycerides (MCTs)
Yeast Extract
Dried Red Bell Pepper
Cream Cheese (Pasteurized Milk and Cream, Cheese Cultures, Salt, Xanthan Gum, Carob Bean Gum, Guar Gum)
Acacia Gum
Parmesan Cheese (Milk, Cheese Cultures, Salt, Enzymes)
Skim Milk
Canola Oil
Turmeric
That's it for the vegan status of Baked Lay's and Poppables. Thanks for reading.
You may also want to check out the following related articles:
References
Lay's® Baked Original Potato Crisps: Lay's. https://www.lays.com/products/lays-baked-original-potato-crisps
Bixa orellana (annatto). https://www.cabi.org/isc/datasheet/9242
Lay's® Poppables™ Sea Salt Potato Snacks: Lay's. https://www.lays.com/products/lays-poppables-sea-salt-potato-snacks
Lay's® Baked Bbq Flavored Potato Crisps: Lay's. https://www.lays.com/products/lays-baked-bbq-flavored-potato-crisps
Lay's Sour Cream & Onion Baked Potato Crisps, 1.125 oz Bag. https://www.walmart.com/ip/Lay-s-Sour-Cream-Onion-Baked-Potato-Crisps-1-125-oz-Bag/129949879
LAY'S® Poppables™ White Cheddar Flavored Potato Snacks. https://www.lays.com/products/lays-poppables-white-cheddar-flavored-potato-snacks
Jay R. Hoffman & Michael J. Falvo (2004). "Protein – Which is best?". Journal of Sports Science and Medicine (3): 118–130.
LAY'S® Poppables™ Honey BBQ Flavored Potato Snacks. https://www.lays.com/products/lays-poppables-honey-bbq-flavored-potato-snacks
The Great Vegan Honey Debate. Is honey the dairy of the insect world? https://slate.com/human-interest/2008/07/why-vegans-can-t-decide-whether-they-re-allowed-to-eat-honey.html
LAY'S® Poppables™ Creamy Jalapeño Flavored Potato Snacks. https://www.lays.com/products/lays-poppables-creamy-jalape-o-flavored-potato-snacks