Bugles are a popular corn snack produced by Tom's Snacks. They're also produced by General Mills under a license from Toms's Snacks.1-3
This is important because while General Mills Bugles are easier to find in the States, the Tom's version offers some of the more obscure flavors that qualify as vegan.
A lot of vegans grew up eating the tasty snack and want to know if they can continue to do so after switching to a 100% plant-based diet.
Are they vegan? The Original Bugles are vegan, as are several flavors including both of the BBQ varieties. The Bugles themselves (minus the flavorings) are always 100% vegan, as they're simply made of corn, oils, sugar, salt, and preservatives.
What we'll do here is list both vegan and non-vegan flavors along with an analysis of the ingredients.
Vegan Bugles Flavors
Original Bugles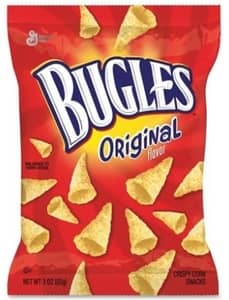 These contain:4
Degerminated Yellow Cornmeal
Vegetable Oil (Coconut and/or Palm Kernel Oils)
Sugar
Salt
Baking Soda
BHT (for Freshness)
This one has surprisingly few ingredients for a highly processed food product.
You may have noticed the use of coconut oil. Bugles are fried in this SFA-laden oil (SFA stands for saturated fatty acid), which is why they're significantly higher in the controversial fat source compared to other snack foods, which are typically fried in vegetable oils like soybean.
The Tom's version contains vegetable oil (canola, corn, and/or sunflower), so they are a bit healthier. But, they're harder to come by here in the US.
Anyway, healthy or not, the above ingredients are 100% vegan-friendly.
Hot Buffalo Bugles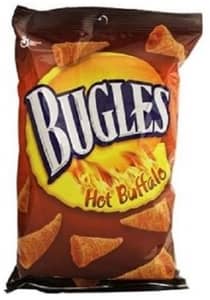 Ingredients for these include:5
Degerminated Yellow Cornmeal
Vegetable Oil (Coconut and/or Palm Kernel)
Sugar, Salt
Sodium Diacetate
Natural Flavor
Spice, Paprika Extract (for Color), Yeast Extract, Garlic Powder
Baking Soda
Maltodextrin, Modified Cornstarch
BHT for Freshness*
I sometimes get asked about BHT. It is completely vegan-friendly.
It's produced synthetically without animal-derived precursors and is made by green algae and certain cyanobacteria.6,7
Churro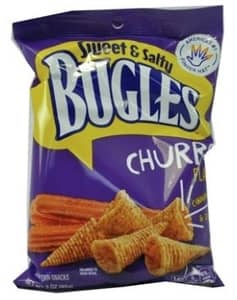 These contain:8
Degerminated Yellow Cornmeal
Vegetable Oil (Palm Kernel and/or Coconut Oils)
Sugar, Fructose, Salt, and Spices
Distilled Monoglycerides*
Baking Soda
Natural Flavor (I'm assuming cinnamon)
BHT
*This ingredient is produced by reacting glycerol and triglycerides both of which can be sourced from both plants and animals.
But the presence of these ingredients doesn't render a food product non-vegan by most standards, because the precursors are often sourced from vegetable fats.9
Bold BBQ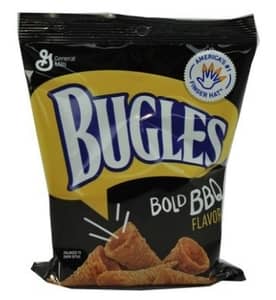 These contain:10
Degerminated Yellow Cornmeal
Vegetable Oil (Coconut and/or Palm Kernel)
Sunflower Oil
Spices, Salt
Distilled Monoglycerides
Baking Soda
Sugar, Fructose, Molasses, Brown Sugar
Paprika (for Color)
Tomato Powder
Maltodextrin, Onion Powder
Mustard Powder (Dried Vinegar, Mustard Seed, Salt, Turmeric)
Natural Smoke Flavor
BHT for freshness
No problems here.
Ketchup Flavor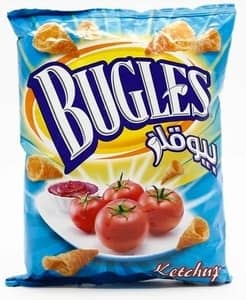 This is a very obscure flavor, so good luck trying to find it.
It contains:11
Yellow Degerminated Corn Meal
Palm Oil
Sugar, Salt
Sodium Bicarbonate, Sodium Diacetate
Mono- and Diglycerides of Fatty Acids
Antioxidants
Wheat Flour
Dried Tomato
Spices (Allspices, Clove, Cinnamon)
Dried Onion and Garlic
Paprika Extract
With ingredients like paprika extract and dried tomato, we needn't worry about any non-vegan food coloring agents like carmine.
Hot and Spicy BBQ
This is another less common flavor exclusive to Tom's.
These contain:12
Degermed Yellow Corn Meal
Vegetable Oil (Contains One or More of the Following Vegetable Oils: Canola, Corn, Cottonseed, Rice Bran, Safflower)
Sugar, Salt, Maltodextrin, Brown Sugar, Molasses
Spices, Monosodium Glutamate
Tomato Powder, Onion Powder, Extractives of Paprika
Hydrolyzed Soy Protein, Yeast Extract
Sodium Diacetate, Disodium Inosinate, Disodium Guanylate
Citric Acid, Malic Acid
Natural Flavors
Again, no problems here.
Other Potentially Vegan Flavors
Rumor has it that a few other flavors exist, or used to exist. The ones I managed to track down were no longer available.
These include Salt & Vinegar, Salsa, and Smokin' BBQ.1
Anyway, they sound vegan enough. I'll be keeping an eye out for them in case they pop up again so I can confirm the ingredients are vegan.
Non-Vegan Bugles Flavors
Caramel
These contain:13
Degermed Yellow Corn Meal
Sugar
Vegetable Oil (Coconut, Palm, Palm Kernel, Canola and/or Soybean)
High Fructose Corn Syrup
Soy Lecithin
Salt, Baking Soda
Molasses
Distilled Monoglycerides
Natural Flavor
Milk
BHT and TBHQ (for Freshness)
Real caramel is pretty much always milk-derived as the Maillard browning reaction is commonly performed on lactose. But, not all caramel-flavored products make use of millk, because other simple sugars can undergo the same reaction. Alas, these turned out to contain real milk.
Nacho Cheese
Ingredients for this variety include:14
Degermed Yellow Corn Meal
Coconut Oil
Sugar, Salt
Maltodextrin
Whey Powder
Monosodium Glutamate
Buttermilk Powder
Baking Soda
Dried Garlic, Tomato Powder, Spices, Dried Onion
Dried Cheddar Cheese (Cheese Cultures, Milk, Salt, Enzymes)
Dextrose
Citric Acid
Dried Enzyme Modified Romano Cheese (Made from Cow's Milk, Cheese Cultures, Salt, Enzymes)
Color (Paprika Extract, Red 40 Lake, Yellow 6 Lake, Annatto Extract, and Turmeric Extract)
Enzyme Modified Butter
Disodium Phosphate
Natural and Artificial Flavor
Disodium Guanylate and Disodium Inosinate
Nonfat Dry Milk
Butter (Cream, Salt)
Freshness Preserved by BHT
Milk and dairy derivatives serve a number of useful functions in food processing. The industry separates milk out into its various components for use in processed food. This particular flavor makes use of about every milk derivative known to man.
Interestingly, not all cheese flavored snack foods contain real cheese or milk products of any kind and various yeast and bacterial cultures can often suffice on their own to impart a cheesy flavor. Unfortunately, that can't be said about this particular flavor.
Ranch
These contain:15
Degermed Yellow Corn Meal
Vegetable Oil (Coconut Oil and/or Palm Kernel)
Sugar, Maltodextrin, Salt
Dried Buttermilk
Monosodium Glutamate (MSG)
Monoglycerides
Baking Soda
Citric Acid
Whey Protein
Onion Powder, Parsley
Disodium Guanylate and Inosinate
Natural and Artificial Flavor
Freshness Preserved by BHT
Buttermilk is pretty common in ranch-flavored snacks. Like regular dried milk, it provides a nice smooth mouthfeel, but also imparts a tangy flavor. It's a standard ingredient in ranch dressing, so I wasn't surprised to see it here.
Whey is a dairy protein—it's the second most abundant protein in milk.16
It is not found in the plant kingdom, so it's always considered non-vegan.
Chocolate Peanut Butter
These contain:17
Degermed Yellow Corn Meal
Coconut Oil
Sugar
Peanut Butter (Peanuts, Sugar, Monoglycerides, Salt)
Palm Kernel Oil
Cocoa
Fructose
Cocoa Processed with Alkali
Distilled Monoglycerides
Soy Lecithin
Whole Milk Solids
Baking Soda
Soybean Oil
Cornstarch
Natural Flavor
Freshness Preserved by BHT, TBHQ, and Citric Acid
Unlike several of the flavors listed so far, this one only has one ingredient keeping it off the menu for vegans: whole milk solids.
Whole milk solids is another name for powdered whole milk—i.e. whole milk with the water removed. It contains all of the protein and fat content of regular whole milk.
It's used here to provide a milk chocolate flavor. While chocolate doesn't always require milk, chocolate-flavored snacks tend to contain dairy in one form or another. At least in my experience.
Other Non-Vegan Flavors
These I have not run across personally. But, but they do exist according to Wikipedia. Or, at least, they did exist at one point or another and could resurface at any time.
These flavors include:1
Sour Cream & Onion
Chile Cheese
Southwest Ranch
Sweet and Salty Chocolate Peanut Butter
Sweet and Salty Caramel
Cheddar
Cookies and Cream
Jalapeño Cheddar
Some of these flavors are, or were, exclusive to Tom's (not General Mills), which could account for why they're less common.
That's it for the vegan status of Bugles. Thanks for reading.
You may also want to check out the following related articles:
References
50 Years For the Bugles Brand. Global Communications- General Mills – https://blog.generalmills.com/2014/05/50-years-for-the-bugles-brand/?_ga=1.156440059.1597177644.1464565112
Surprising Facts About Your Favorite Snack Food Brands The Meal – https://www.foxnews.com/food-drink/surprising-facts-about-your-favorite-snack-food-brands
BUGLES CRISPY CORN SNACKS ORIGINAL. http://smartlabel.generalmills.com/16000283701?_ga=2.9345590.26143028.1571760633-1813862794.1571760633
Hot Buffalo Bugles. https://www.generalmillscf.com/products/category/snacks/snack-mixes-chips-crackers/bugles/hot-buffalo-6ct
Babu B, Wu JT (December 2008). "Production of Natural Butylated Hydroxytoluene as an Antioxidant by Freshwater Phytoplankton" (PDF). Journal of Phycology. 44 (6): 1447–1454. https://onlinelibrary.wiley.com/doi/abs/10.1111/j.1529-8817.2008.00596.x
Jiang G, Lin S, Wen L, Jiang Y, Zhao M, Chen F, Prasad KN, Duan X, Yang B (15 January 2013). "Identification of a novel phenolic compound in litchi (Litchi chinensis Sonn.) pericarp and bioactivity evaluation". Food Chemistry. 136 (2): 563–8. https://www.sciencedirect.com/science/article/pii/S0308814612013854?via%3Dihub
Bugles™ Snack Mix Churro 3 oz. https://www.generalmillscf.com/products/category/snacks/snack-mixes-chips-crackers/bugles/bugles-snack-mix-churro-3-oz
Nelson, D. L.; Cox, M. M. (2000). Lehninger, Principles of Biochemistry (3rd ed.). New York: Worth Publishing. ISBN 1-57259-153-6.
Bugles Bold BBQ. https://www.generalmillscf.com/products/category/snacks/snack-mixes-chips-crackers/bugles/bold-bbq-6ct
Bugles Ketchup Flavor. https://www.carrefourksa.com/mafsau/en/food-beverages/packets-cans-jars/chips-crisps/bugles-ketchup-125g/p/414678
Hot and Spicy BBQ. https://www.innit.com/nutrition/toms-hot-and-spicy-barbecue-flavor-bugles/p/00021900013105
Caramel Bugles Ingredients. https://www.generalmills.com/~/media/Images/Brands/Nutritional_Images/Bugles/Bugles_Caramel.jpg
Bugles Nacho Cheese Flavor Crispy Corn Snacks, 14.5 oz. https://www.walmart.com/ip/Bugles-Nacho-Cheese-Flavor-Crispy-Corn-Snacks-14-5-oz/39360123
Bugles Ranch Flavor Crispy Corn Snacks, 7.5 oz Bag. https://www.walmart.com/ip/Bugles-Ranch-Flavor-Crispy-Corn-Snacks-7-5-oz-Bag/277900669
Anna Haug, et al. Bovine milk in human nutrition – a review. Lipids Health Dis. 2007; 6: 25. https://www.ncbi.nlm.nih.gov/pmc/articles/PMC2039733/
Bugles Ingredients, Chocolate Peanut Butter. https://www.generalmills.com/~/media/Images/Brands/Nutritional_Images/Bugles/Bugles_Peanut_Butter_Chocolate.jpg