Vegans run into chocolate chips, or morsels, in a number of desserts (mostly cookies, cakes, and muffins), trail mix, and even breakfast foods like waffles and pancakes.
Nowadays, they come in semi-sweet, dark, and milk chocolate varieties. Wikipedia even lists the peanut butter and butterscotch kind as falling into the broader chocolate chip category.1 Because they're so pervasive, I get asked quite a bit if they're suitable for 100% plant-based eaters.
In general, are chocolate chips vegan? Some chocolate chip are vegan, but most varieties contain animal products. It comes down to the presence of dairy products like milkfat and dry milk powder. This rules out milk chocolate chips and some dark and semi-sweet varieties.
Are semi-sweet chocolate chips vegan? Semi-sweet chocolate chips can be vegan but tend not to be. Some qualify as vegan because the term "semi-sweet chocolate" is simply defined by chocolate having no less than 35% chocolate liquor (by weight) per FDA requirements.2
Are Nestle chocolate chips vegan? Most Nestle chocolate chips are non-vegan. This goes for the semi-sweet chips, which are the most popular variety and the kind often synonymous with Nestle chocolate chips in general. These contain sugar, chocolate, cocoa butter, milkfat, soy lecithin, and natural flavors.3
One notable exception would be their Simply Delicious variety of semi-sweet chips which contain only three ingredients: organic cane sugar, chocolate, and cocoa butter.4
Non-Vegan Chocolate Chip Ingredients
Of all the chocolate chip varieties listed below, it's these three categories of milk ingredients that spoil the batch for vegans.
Milk-Derived Fat: Milkfat, Butterfat, Cream, and Butter
In food manufacturing, these terms seem to be used synonymously. There are some nuanced differences, but it seems milkfat and butterfat are used interchangeably to refer to the fat content of milk.5
Milkfat and butterfat are a bit more on the processed side and are used when the fat from butter and cream undergo further processing. I.e. the fatty acids are extracted from other substances present in butter and cream.
Sometimes milk is added in whole powder form, but it often gets separated out into its individual components for use in food products which results in butter, cream, milkfat, butterfat, etc.6
Non-Fat Milk, Casein and Whey Protein
Non-fat milk is the opposite of milkfat, because it's what's left in milk after you extract the cream. It's basically skim milk powder.
The proteins in milk (casein and whey) provide several useful properties in processed foods.
Whole Milk Powder
Finally, we have whole milk powder—full-fat milk with the water taken out. This is basically the above two combined. The milkfat and proteins help provide a nice creamy mouthfeel.
Non-Vegan Chocolate Chip Varieties
Milk Chocolate Chips
You're going to find all of the above in milk chocolate chips because this is the least vegan-friendly form of chocolate morsels.
For example, Nestle Toll House Milk Chocolate Chips contain sugar, chocolate (cocoa solids), cocoa butter, milkfat, nonfat milk, soy lecithin, and natural flavors.7
White Chocolate Chips
These are non-vegan 99.9% of the time. Kind of, but not really. You see, since 2004, the US put regulations in place that requires anything labeled "white chocolate" to be at least 20%, 14%, and 3.5% (by weight) for cocoa butter (plant-based saturated fat), total milk solids (proteins), and milkfat, respectively.8
That's just theoretical. In practice, there are what most would consider vegan versions of white chocolate. I wrote an entire article on the subject you can check out here.
But, most white chocolate morsels on the market are non-vegan, as they will likely contain both milk solids and milkfat.
For example, Ghirardelli Classic White Baking Chips contain sugar, palm kernel oil, nonfat dry milk, whole milk powder, palm oil, soy lecithin, and vanilla extract.9
Other Varieties (Peanut Butter Chips, Butterscotch, Etc.)
These aren't chocolate but are considered a form of chocolate chips for baking purposes.1
I've yet to run across any PB or butterscotch chips without milk derivatives.
For example, Reese's Peanut Butter Baking Chips contain defatted peanuts, sugar, hydrogenated vegetable oils (soybean and palm kernel), corn syrup solids, whey protein, salt, vanillin, artificial flavor, and soy lecithin.10
Nestle's Butterscotch Flavored Morsels contain sugar, palm kernel oil, non-fat milk, milk, soy lecithin, butter, natural and artificial flavors, food colorants (Yellows 5 and 6, Blue 2, and caramel color), corn syrup, and acetic acid.11
Hit or Miss Chocolate Chips
These can be vegan but often fall short.
Semi-Sweet Chocolate Chips
I'm seeing more and more dairy-free semi-sweets on the market these days. You always want to check the label, because the default formulation contains milk products.
As mentioned in the opening of the article, Nestle semi-sweet chips are non-vegan, as they contain sugar, cocoa butter, chocolate, milkfat, natural flavors, and soy lecithin.3
Have a look further down in the article for a couple of widely available vegan-friendly semi-sweet chips currently on the market.
Dark Chocolate Chips
The most basic of basic dark chocolate chips are vegan. But, dark chocolate chips are hit or miss, in general, because some of the more processed varieties will find a way to include milk in the ingredients.
The bare-bones formulation will be cocoa solids (powder), cocoa butter (the saturated fat found naturally in cacao beans), sugar, natural flavors, and an surfactant (typically soy lecithin).
Enjoy Life makes some really good basic chocolate chips with very few ingredients.
Vegan dark chocolate chips can be bitter and a bit on the brittle side (cocoa butter is brittle compared to milkfat), but they are cruelty-free.
Popular Vegan Chocolate Chips
Enjoy Life Semi-Sweet Vegan Chocolate Chips
This is the kind I have. In my experience, they can usually be found in the allergen-free section of most grocery stores where all the gluten-free stuff is. They only contain cane sugar, unsweetened chocolate, and cocoa butter.12
Nestle Simply Delicious Semi-Sweet Chocolate Chips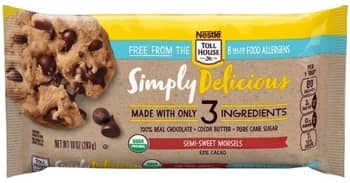 I mentioned these earlier. They only contain three ingredients: organic cane sugar, chocolate, and cocoa butter.4
That's it for the vegan status of chocolate chips. Thanks for reading.
You may also want to check out the following related articles:
References
Chocolate Chips. https://en.wikipedia.org/wiki/Chocolate_chip
CFR – Code Of Federal Regulations Title 21. https://www.accessdata.fda.gov/scripts/cdrh/cfdocs/cfcfr/CFRSearch.cfm?fr=163.123
Nestle Toll House Semi-sweet Chocolate Chip Morsels 36-oz Bag. MariposaAnita- SoloPolo- BetterBreathing- Ginnie- Auntie – https://www.walmart.com/ip/Nestle-Toll-House-Semi-Sweet-Chocolate-Chip-Morsels-36-Oz-Bag/14528567
Nestle Toll House Allergen Free Simply Delicious Semi-sweet Baking Chips – 10oz. https://www.target.com/p/nestle-toll-house-allergen-free-simply-delicious-semi-sweet-baking-chips-10oz/-/A-53443807
Butterfat. https://en.wikipedia.org/wiki/Butterfat
Understanding Food: Principles and Preparation (Page 211). Amy Brown – Wadsworth Cengage Learning – 2011
Nestle Toll House Milk Chocolate Chip Morsels 23 Oz. Bag. Nannette – https://www.walmart.com/ip/NESTLE-TOLL-HOUSE-Milk-Chocolate-Chip-Morsels-23-oz-Bag/13448639
"Title 21 Chapter I Subchapter B Part 163 of the Code of Federal Regulations". United States Government Publishing Office. 24 February 2017.
Ghirardelli Classic White Baking Chips, 11 Oz. Denise-Beryl W – https://www.walmart.com/ip/Ghirardelli-Chocolate-Classic-White-Baking-Chips-11-oz/14150167
(2 Pack) Reese's, Peanut Butter Baking Chips, 10 Oz. Better Breathing – CrunchyGranola- Jan75- Freckles1283- ZomBom – https://www.walmart.com/ip/2-Pack-Reese-s-Peanut-Butter-Baking-Chips-10-oz/174599608
Nestlé® Toll House® Butterscotch Flavored Morsels. https://www.verybestbaking.com/products/4025/tollhouse/nestle-toll-house-butterscotch-flavored-morsels/
Enjoy Life Semi-sweet Dairy Free Vegan Mini Chocolate Chips – 10oz. https://www.target.com/p/enjoy-life-semi-sweet-dairy-free-vegan-mini-chocolate-chips-10oz/-/A-14924784