The cinnamon roll (aka cinnamon bun, and cinnamon snail or cinnamon swirl) is a classic breakfast sweet roll commonly found in Northern Europe (mostly in Scandinavia), the US, and Canada.1,2
Are they vegan? Cinnamon rolls are not typically vegan. Commercial cinnamon rolls and most recipes you'll encounter have a number of animal-derived ingredients. That's not to say you can't find any vegan-friendly varieties, but the standard ingredients include milk and egg products.
Cinnamon rolls consist of a rolled sheet of leavened dough with a cinnamon and sugar mixture spread over a thin coat of butter. The dough is rolled together, cut into several portions, and baked.
There are tons of animal products used in this process, but none are actually needed. So, what we'll do here is name the common ingredients, their functions, and what you can use to replace them if using a store-bought mix or simply making them from scratch.
At the end, I'll list some store-bought cinnamon rolls that are suitable for vegans. So, if you're like me and too lazy to make your own you've come to the right place.
Why Most Cinnamon Rolls Are Considered Non-Vegan
Cinnamon Rolls Often Contain Milk and Its Derivatives (E.g. Modified Whey)
A lot of food products contain milk in some form or another. It's usually used as a preservative and to impart flavor and improve mouthfeel.
Cinnamon rolls are one of those foods that tend to rely on milk and its derivatives.3
For example, Pillsbury's Flaky Cinnamon Rolls With Butter Cream Icing uses modified whey.4
Milk products common to cinnamon rolls and other pastries include:
Milk and milk cream
Whey
Casein—these contribute to emulsification (stabilization) of the dough. I.e. it helps keep the ingredients nice and mixed.
Dry whole milk
Lactose—the natural sugars found in milk. It's often used in baked goods as it helps contribute to color by browning the exterior.
Anyway, these ingredients will pop up regularly when scanning the label of cinnamon rolls and other pastries.
Plant-based milks can be used here. They're equally effective and if you find a neutral tasting one (e.g. almond milk) you won't know the difference.
Butter Is a Common Ingredient in Cinnamon Rolls
This is really just another milk product. It serves a lot of the same functions as milk but offers extra flavor and fat.
Plant-based substitutes include vegan butter (margarine really) like Earth Balance and vegetable shortening like Crisco.
The type of roll-in fat used for cinnamon rolls is typically butter, margarine or vegetable shortening. Margarine is actually a favorite for baked goods even for products not marketed as vegan. This is because it extends shelf-life (it doesn't go rancid as quickly and is easier to work with).
While butter is appealing to many consumers, it has several properties that make it less than ideal for food manufacturers.
For example, it has a low melting point of 32 °C/89.6 °F. The use of real butter as a roll-in fat for pastries causes a few problems. Cinnamon rolls are yeast-leavened and butter "oils out" at the temperature needed to ferment the yeast. Thus, if the temp isn't tightly controlled, the integrity of the layers can be easily disrupted.5
Most Cinnamon Rolls Contain Egg
Eggs have a number of useful properties in baking.
In cinnamon rolls and pastries, eggs contribute to texture, flavor, coagulation, and color.6
Eggs have a unique ability to emulsify (due to the lecithin content), flavor, thicken, bind, coat, leaven, and color baked goods. They also prevent crystallization (the formation of crystal sugars) which makes them great for use in bread products like cinnamon rolls and other pastries.7
Eggs provide the following properties to cinnamon rolls:
Binding. The high protein content of eggs makes them great for binding ingredients. Heat during the cooking process coagulates the eggs' protein, allowing it to serve as an adhesive, binding the ingredients. When the mixture cooks, the proteins have had sufficient time to firm and stabilize, providing structural strength to the end product.
Color. The egg yolk contributes the nice golden brown color that's characteristic of pastries like cinnamon rolls.8
Emulsification. Lecithin is a compound found abundantly in egg yolks. It serves as a natural emulsifier helping stabilize the ingredients. One end of the molecule grabs onto a water molecule, while the other end grabs a fat molecule.9 This allows the dough to keep fat and water from separating, which thickens and stabilizes the mixture.    
There are numerous plant-based alternatives to egg that can achieve most of the above properties. Any plant matter that gels when exposed to water can be used for binding purposes. Think, applesauce, chia, flax, etc.
As for emulsification, soy lecithin is an equally effective plant-based alternative that you can find online and in stores like Trader Joe's and Whole Foods.
Other Potentially Problematic Ingredients in Cinnamon Rolls
I.e. ingredients that are non-vegan for some. While some vegans restrict these ingredients, their presence doesn't render the product non-vegan by most standards.
You don't need to find replacements for any of these if you're making cinnamon rolls from scratch. But, you'll commonly run across them store-bought and pre-made cinnamon rolls that contain these additives.
Mon- and Diglycerides
As an example, Ahold Cinnamon Rolls Old Fashion Cinnamon Rolls use this stuff.10
Mono- and diglycerides are like triglycerides (the stuff in our fat cells), but they have only one and two fatty acids, respectively (compared to three in TGs).11
In baked food products like cinnamon rolls, these compounds are used to improve texture and volume, and also serve as anti-staling agents.12,13
These compounds are often completely vegan-friendly. Industrially, they're produced often by reacting triglycerides with glycerol.14
The question for strict vegans is whether the TGs used for the reaction derive from animals or plants.
These are only problematic for some vegans. Most in the community don't scrutinize them too heavily as there's really no way of knowing where they came from short of reaching out to the manufacturer directly.
Or just purchasing products that state "plant diglycerides" etc. which some products do. But, products that state the origin of such additives are few and far between.
This is just something to be aware of if you want to go the extra mile in ensuring your food products are 100% vegan-friendly.
Palm Oil
Also found in the Ahold cinnamon rolls.15
This has been discussed at length in other articles:
Just know that there are many problematic aspects of palm oil cultivation that cause many vegans to abstain from the stuff.
Again, not all vegans restrict the ingredient, but many do.
Xanthan Gum
I found this ingredient in a brand of Cinnamon Rolls on Smart Label.16
Xanthan gum is an indigestible carbohydrate that has a lot of uses in commercial food production.  It's a less vegan-friendly version of guar gum. I wrote an article on guar gum and its vegan status you can check out here.
It's a common stabilizer and thickening agent. It's produced via fermentation by Xanthomonas campestris. The bacteria are grown on simple sugars like glucose and sucrose.17
But, there's a certain strain that's grown on lactose, the simple sugar found in milk. Whey protein is usually used for this reason.17
Anyway, it's an issue for a lot of vegans. It's a grey area but not something you have to abstain from.
Vegan Store-Bought Cinnamon Rolls
Pillsbury Hot Roll Specialty Mix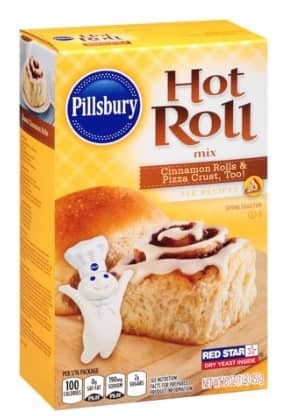 Ingredients:18
Enriched Flour (Wheat Flour, Malted Barley Flour, Ascorbic Acid, Niacin, Reduced Iron, Thiamin Mononitrate, Riboflavin, Folic Acid)
Sugar
Canola Oil
Dry Yeast (Yeast, Sorbitan Monostearate, Ascorbic Acid)
Salt
Corn Starch
As you can see, this one doesn't contain any xanthan gum or palm oil. So, if you don't mind mixing the ingredients, this is a great option.
Annie's Organic Cinnamon Roll Dough w/ Dairy-Free Icing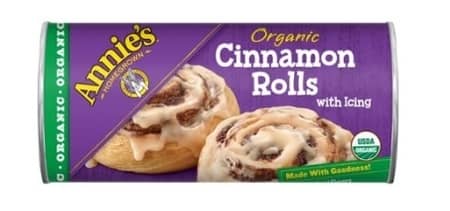 You can find this one at Walmart and Costco.
Ingredients:19
Organic Wheat Flour
Organic Cane Sugar
Water
Organic Palm Oil
Baking Powder (Sodium Acid Pyrophosphate, Baking Soda)
Organic Expeller-Pressed Sunflower Oil
Organic Invert Syrup
Organic Cinnamon
Sea Salt
Xanthan Gum
Organic Wheat Starch
Organic Tapioca Starch
Organic Vanilla Extract
Organic Rice Extract
Locust Bean Gum
Guar Gum.
Immaculate Organic Cinnamon Rolls with Icing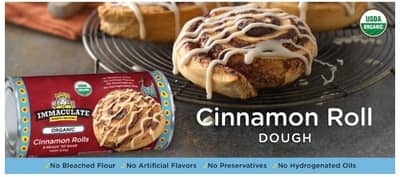 Ingredients:20
Organic Wheat Flour
Organic Cane Sugar
Water
Organic Palm Oil
Organic Expeller-Pressed Sunflower and Canola Oils
Baking Powder (sodium acid pyrophosphate, baking soda)
Organic Invert Syrup
Organic Cinnamon
Sea Salt
Xanthan Gum
Organic Wheat Starch
Organic Tapioca Starch
Organic Vanilla Extract
Organic Rice Extract
Locust Bean Gum
Guar Gum
Natural Flavor
Cinnaholic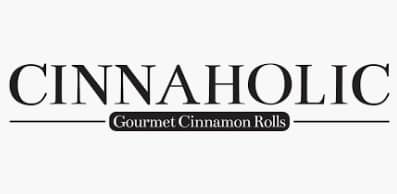 This is a fairly new brand on the market. It's actually a bakery. They advertise all of their products as vegan.
Ingredients (cinnamon roll):21
Enriched baking flour
Granulated beet sugar
Salt
Palm fruit
Soybean
Safflower
Canola and olive oils
Salt
Sunflower lecithin
Soy  lecithin
Artificial and natural flavors
Potassium sorbate
Pea protein
Calcium disodium
Beta carotene
Monoglycerides of vegetable fatty acids (emulsifier)
Lactic acid (non-dairy, derived from sugar beets)
Annatto extract
Filtered water
Whole soybeans
Soy milk
Organic sugar
Tricalcium phosphate
Sea salt
Carrageenan
Vanilla flavor
Vitamin A palmitate, vitamin D2, riboflavin, vitamin B12
Active dry yeast
Granulated beet sugar
Molasses
Ground cinnamon.
Ingredients (frosting):21
Palm fruit
Soybean
Safflower
Canola and olive oils
Ssalt
Sunflower lecithin
Soy lecithin
Artificial and natural flavors
Potassium sorbate
Pea protein
Calcium disodium
Beta carotene
Monoglycerides of vegetable fatty acids (emulsifier)
Lactic acid (non-dairy, derived from sugar beets)
Annatto extract
Water
Expeller processed natural oil blend (soybean, palm fruit and olive)
Maltodextrin
Non-gmo soy protein
Tofu
Non-dairy lactic acid
Sugar
Locust bean
Guar
Cellulose
Xanthan and carrageenan gums
Sugar
Vegetable mono and diglycerides
Powdered beet sugar
Cornstarch.
Is Cinnabon Vegan?
Unfortunately, Cinnabon is almost certainly not vegan. They don't actually even list the ingredients on their site, claiming "product availability and varieties vary by market."22 Just know that it's highly unlikely that they offer any vegan products.
Anyway, hopefully, that gives you some options. There's no reason why going vegan should mean giving up these tasty treats. Thanks for reading.
References
The Free Dictionary. "cinnamon snail" http://www.thefreedictionary.com/cinnamon+snail
Carlson, Jen. "Why The Cinnamon Snail Vegan Food Truck Is The Best Food Truck In Town". The Gothamist. Archived from the original on April 7, 2013. https://web.archive.org/web/20130407040629/http://gothamist.com/2012/10/09/cinnamon_snail.php
Understanding Food: Principles and Preparation (Page 211). Amy Brown – Wadsworth Cengage Learning – 2011
Pillsbury Flaky Cinnamon Rolls With Butter Cream Icing. https://www.walmart.com/ip/Pillsbury-Flaky-Cinnamon-Rolls-With-Butter-Cream-Icing-8-Ct-13-oz/16504399
Ooms, Nand; Pareyt, Bram; Brijs, Kristof; Delcour, Jan A. (2 October 2016). Critical Reviews in Food Science and Nutrition. 56 (13): 2101–2114. ISSN 1040-8398. PMID 26177127
Understanding Food: Principles and Preparation (Page 256). Amy Brown – Wadsworth Cengage Learning – 2011
Pszczola DE, and K Banasaiak. Ingredients. Food Technology 60(5):45–92, 2006.
Understanding Food: Principles and Preparation (Page 258). Amy Brown – Wadsworth Cengage Learning – 2011
Anton M, and G Gandemer. Composition, solubility, and emulsifying properties of granules and plasma of egg yolk. Journal of Food Science 62(3):484–487, 1997.
Smart Label. Ahold Cinnamon Rolls Old Fashion Cinnamon Rolls http://smartlabel.peapod.com/upc/00296427000000#ingredients
IUPAC, Compendium of Chemical Terminology, 2nd ed. (the "Gold Book") (1997). Online corrected version: (2006–) "glycerides"
Y. H. Hui (15 February 2008). Bakery Products: Science and Technology. John Wiley & Sons. pp. 350–. ISBN 978-0-470-27632-7.
Gerard L. Hasenhuettl; Richard W. Hartel (1 January 1997). Food Emulsifiers and Their Applications. Springer. ISBN 978-0-412-07621-3.
Sonntag, Norman O. V. (1982). "Glycerolysis of fats and methyl esters — Status, review, and critique". Journal of the American Oil Chemists' Society. 59 (10): 795A–802A. doi:10.1007/BF02634442. ISSN 0003-021X
Smart Label. Ahold Cinnamon Rolls Old Fashion http://smartlabel.peapod.com/upc/00296427000000#ingredients
Smart Label. Cinnamon Rolls With Icing. https://smartlabel.labelinsight.com/product/4906948/ingredients
EFSA Panel on Food Additives and Nutrient Sources (14 July 2017). "Re‐evaluation of xanthan gum (E 415) as a food additive". EFSA Journal. European Food Safety Authority. 15 (2): e04909. doi:10.2903/j.efsa.2017.4909.
Pillsbury Hot Roll Specialty Mix. https://www.walmart.com/ip/2-pack-Pillsbury-Hot-Roll-Specialty-Mix-16-oz-Box/657306046
Annie's Organic Cinnamon Rolls With Icing. https://www.walmart.com/ip/Annie-s-Organic-Cinnamon-Rolls-With-Icing-5-Ct-17-5-oz/187231174
Immaculate Organic Cinnamon Rolls with Icing. https://www.immaculatebaking.com/product/organic-cinnamon-rolls-with-icing/
Cinnaholic | Nutrition and Allergen Information https://www.cinnaholic.com/ingredients
Cinnabon® Classic Roll. https://www.cinnabon.com/bakery-menu/cinnamon-roll