Cracker Jack is a popular brand of snack mix containing caramel-coated, molasses-flavored popcorn and peanuts. Crunch 'n Munch is similar but without the molasses flavor. Other than that, the main difference between the two is that Cracker Jack is known for containing a "prize".
Anyway, a lot of vegans grew up eating the tasty snacks and want to know if they can continue to do so after switching to a 100% plant-based diet.
Are Cracker Jacks vegan? The original Cracker Jacks are vegan, as they do not contain what most would consider to be real caramel. However, there are some variations of the original that contain dairy derivatives, rendering them unsuitable for 100% plant-based eaters.
Is Crunch 'n Munch vegan? Unfortunately, Crunch 'n Munch is non-vegan. This goes for the original caramel flavor as well as the butter toffee, chocolate caramel, etc. Currently, each and every flavor on offer by the brand is non-vegan due to milk products.
What we'll do here is list both vegan and non-vegan versions of the snack foods along with an analysis of the ingredients.
Vegan Cracker Jacks
Cracker Jack Original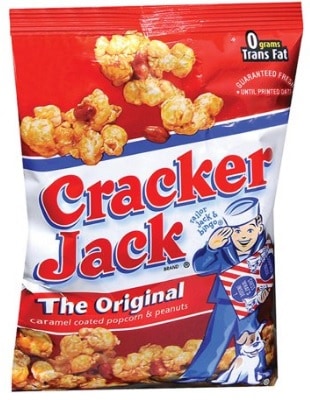 This version is the original caramel-coated popcorn and peanuts.
Ingredients include:1
Sugar
Corn Syrup
Popcorn
Peanuts
Molasses
Salt
Corn and/or Soybean Oil
Soy Lecithin
As you can see, corn syrup and sugar are used—not caramel.
It is true that the strictest of vegans sometimes like to avoid processed sugar—at least, here in the States.
This is because in the US processed white sugar tends to be made using bone char. However, the presence of processed sugar doesn't render a product unsuitable for vegans by most standards.2
This is largely because white sugar can be processed without bone char—other vegan-friendly substances can be used to remove impurities, and there's really no way to know for sure.
But, if you're a particularly prudent vegan, you may want to opt for snacks that only contain organic sugar, which is never processed with bone char.
Cracker Jack Butter Toffee Popcorn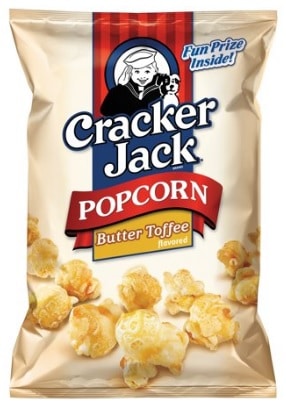 This version contains:3
Corn Syrup
Sugar
Popcorn
Molasses
Lecithin*
Salt
Natural and Artificial Flavor
*Lecithin is used as an emulsifier and surfactant in processed food products. Such additives attract both fat and water molecules, helping ingredients stay nice and homogenous.
Lecithin can be non-vegan when it's sourced from egg yolks. However, the molecule is also found abundantly in plant sources like soybean and sunflower oils.
Luckily, in this case, the label specifies that soy lecithin is used. So, no problems here.3
As for the controversial-sounding "Butter Toffee"…
Usually, when the word "butter" is in the description, it spells bad news for vegans. However, the butter flavor, in this case, derives from "natural and artificial flavors", not from the butter itself.
Some compounds that naturally occur in butter, that are partly responsible for its characteristic flavor, can actually be derived from sources other than real butter.
Acetoin, diacetyl, or acetyl propionyl, are three such compounds.4
They are natural, in that they can be found in natural substances, but they can also be chemically synthesized.
While the compounds themselves are vegan, some especially prudent vegans like to avoid ingredients that are thought to have been tested on animals (for carcinogenicity, etc.).5
Anyway, this flavor qualifies as vegan, because it's a version of the snack food that doesn't contain caramel.
Rather, it contains corn syrup and molasses as the sole sugar sources.
Corn syrup is made from… you guessed it: corn. Therefore, it's always plant-based and thus always vegan.6
Molasses is made from sugar cane or sugar beets, so it's 100% plant-based.7
Non-Vegan Cracker Jacks and Crunch 'n Munch
Crunch 'n Munch: Caramel
The interesting question isn't "why is Crunch 'n Munch non-vegan?", but rather "why are the original Cracker Jacks vegan?".
After all, they claim to be a caramel-based product. I suppose there are no labeling restrictions that would prohibit a caramel candy not produced with milk sugar, from being labeled as caramel.
While we got lucky with Cracker Jack, Crunch 'n Munch is made with a substance most would consider to be closer to real caramel.
So you know, caramel the confection (i.e. not "caramel color") is almost always non-vegan.
While caramel-coated and flavored candies can be dairy-free, caramel candy is non-vegan by default.
Why does caramel usually contain milk? It's produced by performing the Maillard browning reaction on simple sugars, and the simple sugar of choice is usually lactose—aka milk sugar.
Specifically, Crunch 'n Munch contains:8
Corn Syrup
Sugar, Water, Salt
Popcorn
Peanuts
Butter
Partially Hydrogenated Soybean Oil, Soybean Oil
Sweet Dairy Whey
Emulsifiers – Soy Lecithin, Mono- and Diglycerides
Sodium Benzoate (Preservative)
Artificial Butter Flavor
Colored with Beta Carotene and Vitamin A Palmitate
Sodium Bicarbonate
I still don't think I'd call this real caramel, but we have several problems here. Even though corn syrup is used as a binder (not melted caramel), we still see two dairy products in the mix: whey and butter.
So, while Cracker Jacks contain butter flavorings, Crunch 'n Munch has real butter.
Margarine and butter-like spreads are made with vegetable oils, though they can still be non-vegan due to the presence of milk derivatives.
However, butter is always derived from the cream content of milk, so it's always non-vegan.
We also have whey protein, which is a milk protein. It's used by the food industry in processed food products for a number of reasons.
Whey isn't found in the plant kingdom, so it's always non-vegan.
Crunch 'n Munch Butter Toffee with Peanuts
These contain:9
Corn Syrup
Popcorn and Peanuts
Sugar, Brown Sugar
Butter
Canola Oil, Soybean Oil
Salt
Soy Lecithin
Sodium Bicarbonate
Citric Acid and TBHQ (for freshness)
This one is surprisingly close to being dairy-free because it doesn't contain any milk proteins. But, it still has butter. So, unfortunately, in this case "butter toffee" lives up to the name.
Crunch 'n Munch: Chocolate 'n Caramel w/Peanuts
These contain:10
Corn Syrup
Sugar, Brown Sugar, Salt
Peanuts and Popcorn
Butter (Cream, Salt)
Chocolate Liquor
Soybean Oil, Partially Hydrogenated Soybean Oil
Sweet Dairy Whey
Soy Lecithin and Mono-/Diglycerides
Sodium Benzoate (Preservative), Sodium Bicarbonate
Artificial Butter Flavor, Other Natural and Artificial Flavors
Vitamin A Palmitate and Beta Carotene (Color)
Again with the sweet dairy whey. Chocolate usually means milk fat and/or milk proteins. So, this is no surprise.
Cracker Jack'D Sweet & Salty Salted Caramel Popcorn
This is a fairly new flavor profile. It wasn't immediately obvious that it would be non-vegan because it seems to just be a salty version of the dairy-free original.
Alas, it contains:11
Sugar, Salt
Butter (Cream, Salt)
Popcorn
Brown Sugar
Almonds
Whey, Whey Protein Isolate, and Whey Protein Concentrate
Enzyme Modified Butter (Butter, Buttermilk, Enzymes)
Maltodextrin (from Corn)
Buttermilk
Guar Gum and Gum Arabic
Artificial Color
Skim Milk
Canola Oil, Sunflower Oil, Soybean Oil
Natural Flavors (Including Natural Caramel Type Flavor)
Molasses
Soy Lecithin
Rosemary Extract and Ascorbic Acid (Antioxidants)
Wow, so this version diverged from the original recipe quite a bit. It contains almost every milk product in the book.
Cracker Jack Chocolate Peanut Butter Popcorn
While chocolate itself is often dairy-free, chocolate-flavored snacks are usually non-vegan.
These contain:12
Corn Syrup, Sugar, Salt
Popcorn
Cocoa Powder (Processed with Alkali)
Maltodextrin (Made from Corn), Dextrose
Butter (Cream, Salt)
Natural and Artificial Flavors (Including Natural Chocolate Flavor WONF, Artificial Chocolate Flavor, and Artificial Peanut Butter Flavor)
Cocoa Powder
Medium Chain Triglycerides (MCTs)
Glycerol and Soy Lecithin
While I'd definitely expect this one to be non-vegan, it came much closer than the Jack'D Sweet and Salty.
That's it for the vegan status of Cracker Jacks and Crunch 'n Munch. Thanks for reading.
You may also want to check out the following related articles:
References