In this article, we're talking about glazed donuts (or doughnuts) in general. In the US, the yeast-leavened kind seems to be the most popular, but cakey variety is also pretty common especially with coffee.
I get this question a lot. I'd imagine because, while some donuts are quite obviously non-vegan (think custard and cream filled), most of us look at the plain glazed kind and think "Eh, it looks like bread and sugar. Seems pretty vegan to me." If it were only that simple.
Are they vegan? Most glazed donuts (Krispy Kreme included) are non-vegan. The yeast-leavened kind contains milk, while the cake variety contains both dairy and egg. There are specialty vegan donuts on the market, which we'll cover in this article. But, you can be sure that mainstream glazed donuts are non-vegan.
What we'll do is go over some popular brands, their ingredients, and why each one is disqualified from being vegan. Then, we'll cover any specialty vegan donuts currently on the market.
Krispy Kreme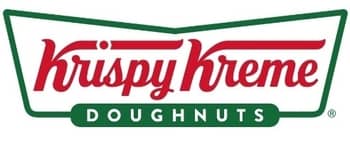 Regular (Yeast Leavened)
This is probably the most iconic glazed donut in North America. In the US, the Krispy Kreme original is pretty much synonymous with glazed donuts. There's always a line in the parking lot every time the red sign is illuminated because folks know they can get glazed donuts right off the conveyor belt nice and warm.
Krispy Kreme puts out a ton of donuts and combined they pretty much contain the entire gamut of animal products.
On their website, Krispy Kreme states, "The only animal by-products used in our doughnuts are eggs (whites and yolks) and dairy products (including milk, butter, yogurt, whey, nonfat milk, and nonfat whey)."1
Interestingly, from the entire list of animal products above, there are only two ingredients that keep the original glazed from being non-vegan: egg yolk and dry milk powder.2
Fooducate, a popular nutrient data website, actually doesn't list egg as an ingredient.3
But, on the official website, the ingredients for the donut portion include:
Enriched Wheat Flour (Wheat Flour, Niacin, Reduced Iron, Thiamine Mononitrate, Riboflavin, Folic Acid)
Water, Palm Oil, and Soybean Oil,
Sugar, Salt, and Yeast
Soy Lecithin and Wheat Gluten
Hydrogenated Soybean Oil, Mono- and Diglycerides
Dried Milk Powder
Egg Yolks
Cellulose Gum
Ascorbic Acid and Tocopherols
Tons of additives and leaveners—Calcium Sulfate, Monocalcium Phosphate, Calcium Propionate, BHT, Ammonium Sulfate, Dicalcium Phosphate, Tricalcium Phosphate, Sorbitan Monostearate, and Diammonium Phosphate
The glaze itself is pretty vegan-friendly with just a few grey area ingredients that only some vegans would take issue with.
Specifically, the glaze contains:3
Sugar, Water, Salt
Corn Starch and Dextrose
Locust Bean Gum and Agar
Palm Oil
Calcium Sulfate And/Or Calcium Carbonate, Disodium Phosphate
Natural and Artificial Flavors
Mono- and Diglycerides
Cake Donuts
Krispy Kreme also makes cake donuts. When asking about glazed donuts, I'd imagine most vegans are referring to the yeast kind, but these are glazed and they are donuts, so we'll include them here.
Krispy Kreme is known for their yeast donuts, but they do put out crullers, a common braided variety of donut, which uses a denser dough closer to that of a cake donut.
The Cruller dough contains:4
Enriched Wheat Flour: Niacin, Reduced Iron, Thiamine Mononitrate, Riboflavin, Folic Acid
Palm and Soybean Oils
Water, Sugar
Egg Yolks
Hydrogenated Soybean Oil
Soy Flour, Dextrose, Salt
Natural and Artificial Flavor
Whey (Milk Protein)
Sodium Acid Pyrophosphate
Sodium Bicarbonate
Dried Milk Powder
Lecithin, Monoglycerides, Propylene Glycol Monoesters
Sodium Propionate, BHT
Cellulose Gum
The glaze is the same as that used for the original glazed donut.
Dunkin' Donuts (Regular)

Here we're talking about the yeast-leavened donut—not the cake donut which they're known for—because, I think their standard cake donut comes without glaze.
The regular glazed donut contains:5
Enriched Unbleached Wheat Flour (Wheat Flour, Malted Barley Flour, Niacin, Iron as Ferrous Sulfate, Thiamin Mononitrate, Enzyme, Riboflavin, Folic Acid)
Palm Oil and Soybean Oils
Water, Yeast, Dextrose, Salt
Whey Protein
Skim Milk
Leavening (Sodium Acid Pyrophosphate, Baking Soda), Sodium Stearoyl Lactylate,
Defatted Soy Flour, Wheat Starch
Soy Lecithin, Mono and Diglycerides
Cellulose, Guar and Xanthan Gums
Artificial Flavor
Sodium Caseinate (a Milk Derivative)
Enzyme
Colored with (Turmeric and Annatto Extracts, Beta Carotene)
Eggs
That's right, nust one tiny milk-derived additive.
The glaze contains:5
Sugar, Water
Maltodextrin
Mono- and Diglycerides
Agar and Cellulose Gum
Citric Acid, Potassium Sorbate
Artificial Flavor
Generic
Freshness Guaranteed Glazed Donuts
Freshness Guaranteed puts out a Glazed Donut.
These contain:6
Enriched Wheat Flour
Unbleached Enriched Flour
Water, Yeast, Sugar, Salt, and Oils (Soybean and Palm)
Cornstarch, Rice Starch, Dextrose, Maltodextrin
Leavening Agents (Sodium Acid Pyrophosphate and Sodium Bicarbonate)
Soy Flour
Whey Protein
Soy Protein Concentrate
Guar Gum, Vegetable Gum (Locust Bean and Agar)
Sodium Stearoyl Lactylate, Sodium Phosphate
Calcium Propionate, Calcium Carbonate, and Calcium Sulfate
Soy Lecithin, Palm Oil with Lecithin, Mono- and Diglycerides
Turmeric and Annatto (Color)
Ascorbic Acid, Antioxidants (Tocopherols and Citric Acid) and Enzymes
Natural Flavor
Cinnamon
Egg
The Bakery Baker's Half Dozen Glazed Donuts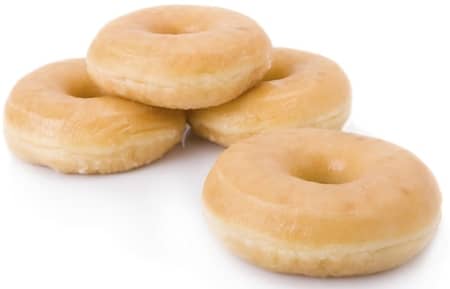 Another generic brand.
These contain:7
Enriched Wheat Flour
Wheat Starch, Wheat Gluten
Water, Sugar, Salt, and Yeast
Plant Oils
Dextrose, Maltodextrin, Cornstarch
Leaveners (Baking Soda, Sodium Acid Pyrophosphate)
Calcium Carbonate, Calcium Sulfate, Sodium Stearoyl Lactylate
Potassium Sorbate, Ammonium Sulfate, Sorbitan Monostearate
Datem, Mono- and Diglycerides, Soy Lecithin
Soy Flour
Whey Protein
Non-Fat Milk
Egg Yolks
Agar Agar
Caramel Color, Beta Carotene (Color)
Natural Flavor
Commercial Vegan Glazed Donuts
Vegan glazed donuts can be pretty hard to come by, depending on where you live. Your best bet might be to check out your area for any vegan-friendly bakery shops.
PETA wrote a great article for those in the US, listing vegan bakeries by state. You can check out that article here.
Frosted Ring Donuts by Larsen Bakery
There is also an online vendors you might want to check out.
They refer to these as "frosted" but the vanilla frosting appears to be sort of a glaze—it's semi-transparent and contains agar, a vegetable gum used in sugar glaze to prevent it from cracking.
You can also get these with a chocolate frosting.
I haven't tried these myself, but they look great. If you like yours warm, a quick 8 seconds in the microwave should render them as if they were hot off of the conveyor belt.
The donut ingredients include unbleached/unbromated wheat flour, water, non-bone char sugar, trans-fat free vegetable shortening (palm oil), salt, yeast, soy flour, pure vanilla extract, natural vegan flavors, and beta carotene.8
Ingredients for the vanilla frosting include non-bone char vegan sugar, corn syrup, plant oils (canola), vegetable gums (agar agar and locust bean), salt, vanilla extract, and ascorbic acid.8
Ingredients for the chocolate frosting include non-bone char vegan sugar, Dutch cocoa extract, plant oil (canola) corn syrup, chocolate liquor (non-alcohol), salt, vanilla extract, vegetable gum (agar agar), and ascorbic acid.8
That's it for the vegan status of glazed donuts. Thanks for reading.
You may also want to check out the following related articles:
References