Triscuits is a popular brand of crackers. I used to get these mixed up with Wheat Thins, another common cracker. Not the same. Triscuits have a texture similar to shredded wheat cereal—yeah, the stuff your dad eats. Anyway, I get asked quite a bit if the crackers are suitable for vegans.
Are they vegan? Some Triscuits are vegan, and others are not. Triscuits Original are vegan, as they simply contain whole grain wheat, plant oils (usually canola), sea salt, and BHT (to maintain freshness).1 But the line of crackers puts out several flavors that are off-limits for 100% plant-based eaters.
In this article, I'll list both vegan and non-vegan flavors along with an analysis of the ingredients.
Vegan Triscuit Varieties
Basic Flavors: Original, Hint of Sea Salt, and Cracked Pepper
Again, the originals just contain:1
Whole Grain Wheat
Canola Oil
Sea Salt
BHT for freshness—it's actually added to the packaging material.
BHT stands for butylated hydroxytoluene or dibutyl hydroxytoluene.2
It's used as a preservative because it's a derivative of phenol, and thus has antioxidant properties.3
Industrially, BHT is made via chemical synthesis using non-animal-derived precursors.4
And it is considered by the Vegetarian Resource Group (VRG) to be a vegan-friendly additive.5
Cracked Pepper and Hint of Sea Salt (two different flavors) are just the original plus pepper and salt, respectively. So, they're also vegan.6,7
Rosemary and Olive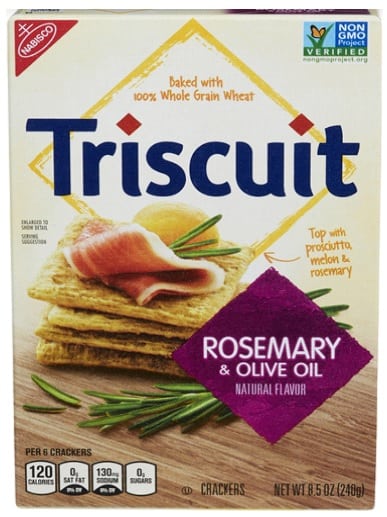 These contain:8
Whole Grain Wheat
Canola Oil and Extra Virgin Olive Oil
Rice Starch and Dried Pea Protein
Salt, Sugar
Spices (w/Rosemary and Celery)
Onion Powder, Leek Powder
Natural Flavor
As you can see, nothing but plant-based ingredients here. Not even the first preservative.
Roasted Garlic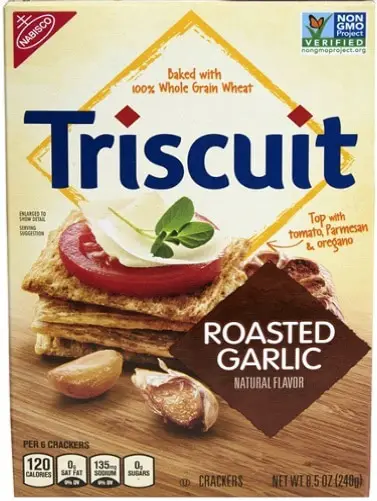 These contain:9
Whole Grain Wheat
Canola Oil
Maltodextrin*
Salt
Garlic Powder
Dextrose
Natural Flavor
Maltodextrin just refers to molecules composed of chains of glucose.10
It's always plant-based and is usually extracted from corn. Thus, it's always vegan-friendly.
Dill, Sea Salt, and Olive Oil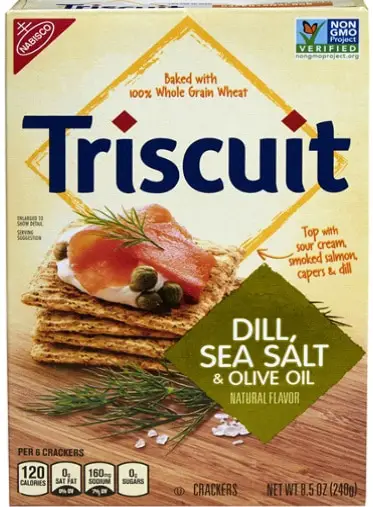 Ingredients for these include:11
Whole Grain Wheat
Canola Oil, Extra Virgin Olive Oil
Rice Starch
Sea Salt
Dillweed
Garlic and Onion Powders
Spices and Natural Flavor
Again, 100% plant-based with no synthetic additives.
Fire Roasted Tomato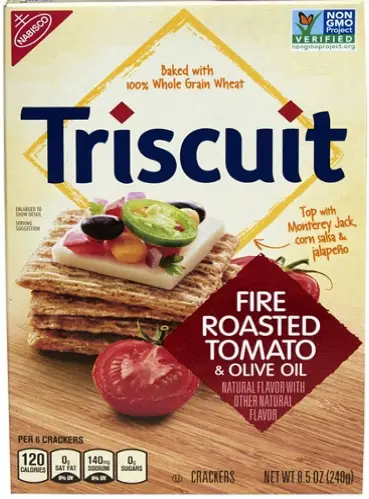 These contain:12
Whole Grain Wheat
Canola Oil, Extra Virgin Olive Oil
Salt
Ground Dried Tomatoes
Onion and Garlic Powders
Spices, Paprika
Natural Flavors
Citric and Malic Acids*
Malted Barley Flour, Rice Starch
Malic acid is an organic acid that's found naturally in certain plant foods like apples.
Industrially, it's produced synthetically without animal-derived precursors and is considered vegan by the VRG.5,13
You're proably noticing a trend. The vegan flavors contain the original ingredients plus a few dried/powdered plant foods. You can't go wrong with that. Also, we've yet to come across honey which is a common ingredient in crackers and one that's usually considered non-vegan.
Avocado, Cilantro, and Lime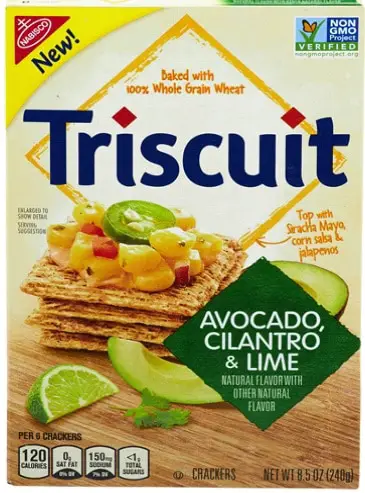 Ingredients for these include:14
Whole Grain Wheat
Canola Oil
Sea Salt, Sugar
Tomato Powder, Onion Powder
Distilled Vinegar Powder
Lime Juice Powder
Dried Parsley
Dried Jalapeno Peppers, Dried Red Bell Pepper
Natural Flavor (Contains Celery)
No problems here.
Non-Vegan Flavors
Smoked Gouda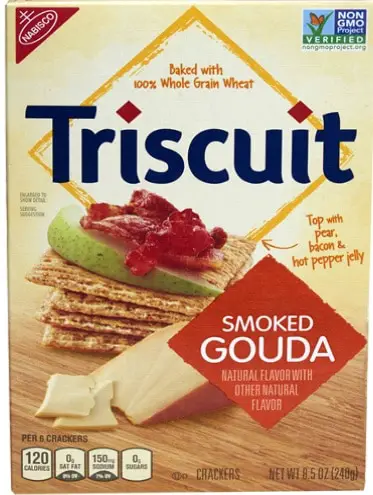 These contain the usual ingredients along with several milk products and dairy derivatives.
Specifically, the ingredients include:15
Whole Grain Wheat
Canola Oil
Sea Salt, Salt, Sugar
Buttermilk
Rice Starch
Cheddar Cheese Powder (Cultured Milk, Enzymes, Salt)
Natural Flavor (Including Smoke Flavor)
Gouda Cheese Powder (Cultured Milk, Salt, Enzymes)
Extra Virgin Olive Oil
Non-Fat Milk
Malted Barley Flour
As you can see, there are several milk products. The food production industry separates out the various components of milk for use in processed foods. Milk has a number of compounds (mostly fats and proteins) that impart useful properties.
In this case, the buttermilk and cheese powders contain cultures that give the crackers a tangy cheese-like flavor profile. The proteins in the non-fat milk improve texture and mouthfeel (among other functions).
Four Cheese and Herb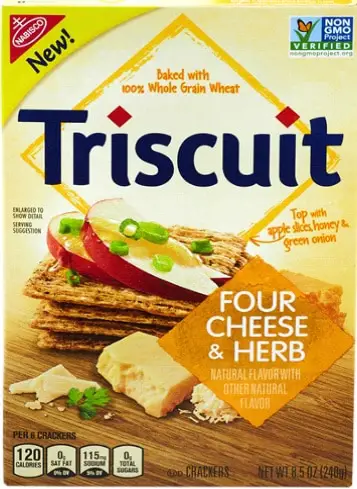 These contain:16
Whole Grain Wheat
Canola Oil
Maltodextrin
Salt, Sugar
Whey Protein*
Natural Flavor (contains Mustard)
Monterey Jack Cheese Powder (Cultured Milk, Salt, Enzymes)
Tomato Powder
Romano Cheese Powder (cultured Milk, Salt, Enzymes)
Dried Parsley
Cultured Cream (Cultured Milk, Salt)
Dried Distilled White Vinegar
Parmesan Cheese Powder (Cultured Milk, Salt, Enzymes)
Onion Powder
Cheddar Cheese (Cultured Milk, Salt, Enzymes)
Spices
Nonfat Milk
As you can see, there are more milk products in this flavor that you can shake a stick at.
But, what could you expect with a name like Four Cheese.
*Whey is a dairy protein. It's the second most abundant protein in cow's milk. With an ambiguous sounding name like "whey" (as opposed to something like "milk protein concentrate"), it's not always obvious to vegans that it's dairy-derived.
It's pretty ubiquitous in processed foods so it renders a lot of snack foods non-vegan.
Romano Cheese and Honey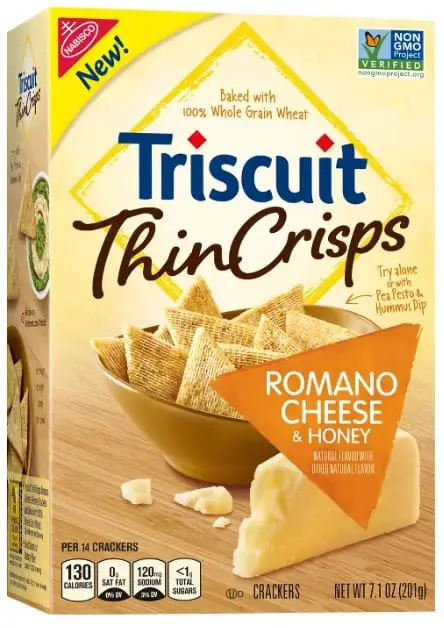 Interesting combination.
These contain:17
Whole Grain Wheat
Canola Oil
Brown Sugar
Salt, Sugar
Maltodextrin
Enzyme Modified Romano Cheese Powder (from Cow's Milk)
Enzyme Modified Parmesan Cheese Powder (Pasteurized Milk, Cultures, Salt, Enzymes)
Distilled White Vinegar
Honey Powder
Natural Flavor
Whey Protein
These are sometimes just referred to as Romano Cheese (without honey in the description).
Some vegans would not object to the presence of honey in the mix, but insect-derived ingredients are largely considered off-limits for vegans.
Either way, this variety contains cheese, so it would be rendered unsuitable for 100% plant-based eaters regardless.
That's it for the vegan status of Triscuits. I'm sure I left out some flavors, as they're constantly adding new and limited time only flavors. But, this will give you an idea of what to look out for: dairy derivatives and honey.
Thanks for reading.
You may also want to check out the following related articles:
References
Nabisco Triscuit Original Crackers Family Size, 12.5 Oz. https://www.walmart.com/ip/Nabisco-Triscuit-Original-Crackers-Family-Size-12-5-Oz/339347453
Butylated Hydroxytoluene (BHT). https://en.wikipedia.org/wiki/Butylated_hydroxytoluene
Yehye, Wageeh A., et al. (2015). "Understanding the chemistry behind the antioxidant activities of butylated hydroxytoluene (BHT): A review". European Journal of Medicinal Chemistry. 101: 295–312. https://www.sciencedirect.com/science/article/pii/S022352341530101X?via%3Dihub
Helmut Fiege, et al. "Phenol Derivatives" in Ullmann's Encyclopedia of Industrial Chemistry, Wiley-VCH, Weinheim, 2002. https://onlinelibrary.wiley.com/doi/abs/10.1002/14356007.a19_313
Vegetarian Journal's Guide To Food Ingredients. https://www.vrg.org/ingredients/
Product Detail: Cracked Pepper and Olive Oil. https://www.snackworks.com/products/product-detail?product=44000050993
Product Detail: Hint of Sea Salt. https://www.snackworks.com/products/product-detail?product=44000051006
Product Detail: Rosemary and Olive. https://www.snackworks.com/products/product-detail?product=44000051013
Product Detail: Roasted Garlic. https://www.snackworks.com/products/product-detail?product=44000051365
Understanding Food: Principles and Preparation (Page 420). Amy Brown – Wadsworth Cengage Learning – 2011. ISBN-10: 0-538-73498-1
Product Detail: Dill, Sea Salt, and Olive Oil. https://www.snackworks.com/products/product-detail.aspx?product=44000051334
Product Detail: Fire Roasted Tomato. https://www.snackworks.com/products/product-detail?product=44000051341
Triscuit Nabisco Crackers Avocado, Cilantro & Lime (8.5 Oz) from Kroger. https://www.instacart.com/kroger/products/18168053-triscuit-crackers-avocado-cilantro-lime-8-5-oz
Product Detail: Gouda. https://www.snackworks.com/products/product-detail?product=44000051358
Triscuit Crackers, Four Cheese & Herb (8.5 Oz) from Giant Food.  https://www.instacart.com/giant/products/18168058-triscuit-crackers-four-cheese-herb-8-5-oz