A falafel (or felafel) is a deep-fried fritter, usually in the shape of a ball, made of ground chickpeas and/or fava beans.1 The food is known for being a Middle Eastern dish, and likely originated in Egypt.2-4
Though they originated in the Middle East, the fritters are found throughout the world as a form of street food, and they're also very popular in vegetarian cuisine.5
Are they 100% plant-based? Yes, falafel is considered both vegetarian and vegan. It's made from 100% plant-based ingredients—namely, lentils, herbs, spices, and onions. It's typically served with other vegan-friendly foods such as pita bread, salad, and pickled vegetables.
The pita acts a pocket. In fact, "falafel" also often refers to a wrapped sandwich made with falafel balls. The food product is also commonly served over a bed of vegetables or salad greens and drizzled with tahini or hot sauce.
Falafel balls are commonly eaten alone as a snack or served as an appetizer.
What we'll do here is go over the various reasons falafel is considered a vegan food product.
Why Falafels Are Considered Vegan
Falafel Doesn't Use Egg as a Binder
Falafels kind of resemble hush puppies and similar bread products made from drop batter. Usually, when you're rolling food into a given shape, it requires the use of a binder to help the food particles stick together. Usually, this cohesion is achieved with egg.
Interestingly, the traditional falafel recipe doesn't call for egg as a binder. Egg is useful because the proteins mix with the ingredients and then solidify when heated—because the egg proteins coagulate under high heat.
Why don't falafels use egg? Well, for one, lentils contain their own protein. You've probably heard of aquafaba—the juice of chickpeas that is a favorite for vegan baking applications. It actually foams up like real egg white, so it's often used as a binder and to make various meringues. So, falafels don't need egg protein.
Secondly, falafels are a favorite in the vegetarian and vegan community. For this reason, it's likely that most establishments try to avoid using animal products if possible. I'd imagine the use of egg would help keep falafels from crumbling, but it's just not needed. I've seen a few folks online say they use egg, but it's not common.
Falafel Doesn't Contain Meat
Falafels might look like meatballs, but you can rest assured that the savory treat is made without meat.
In fact, falafels, now sold in health-food stores, first became popular among vegans and vegetarians as an alternative to meat-based street food.5,6
The food product is widely used as a source of plant-based protein and is a favorite for use in veggie burgers.7,8
In the US, the versatility of the food product has allowed falafels to be used for reformulating recipes for dishes like sloppy joes, meatloaf, and spaghetti and meatballs into vegetarian and vegan-friendly variants.9,10
Though falafels are often made from fava beans, chickpeas tend to be used in the US and Middle Eastern countries like Israel, Lebanon, Jordan, Syria, and Palestine.11-14
Fava beans, often in combination with chickpeas, are commonly used in Egypt.12,15
It's the chickpeas that give the food product a meaty texture. They're often uncooked prior to use, and typically soaked overnight, and then ground together with ingredients like parsley, garlic, scallions, and spices like coriander and cumin.11,16
The mixture is then molded into and shaped into patties or balls which gives them a meat-like appearance.12,17
So, anyway, all that to say falafels are not a meat-based food product, no matter how meat-like they appear.
Are Falafels Suitable for Health Vegans?
So, the food product is perfectly suitable for vegans, in terms of ethics. But, a lot of vegans follow a plant-based diet primarily for health reasons. Such vegans typically try to stick to a whole food plant-based diet.
Falafels are made mostly with whole food and are 100% plant-based. However, they do tend to be fried in oil, and as such, shouldn't be considered a health food.
But, when it comes to fried foods, you can't really get any healthier than falafels. Kind of a low bar, I know.
Having said that, they are packed with a lot of protein and essential nutrients. So, to the extent that they help vegans avoid nutrient deficiencies, they could be considered healthy. That's kind of a stretch, but one could do much worse.
When made with chickpeas, falafels are high in protein, fiber, and complex carbohydrates.18
They also contain key nutrients like calcium, magnesium, iron, phosphorus, copper, potassium, and zinc. Vitamins most abundant in chickpea falafels include vitamins C, B1 (thiamin), B5 (pantothenic acid), and B9 (folate). The phytochemical and vitamin A precursor beta-carotene is also fairly abundant.19
The soluble fiber content of falafels is particularly high, a nutrient that's been shown to lower cholesterol.20
Chickpeas (the primary ingredient in most falafels) are low in fat and cholesterol-free. The end product still has fat from the frying process, but baking the falafels goes a long way to reduce the high-fat content.5,21
Commercial Vegan Falafel
BOCA Vegan Original Falafel Bites
Ingredients include:22
Water
Dried Chickpeas
Wheat Flour
Corn Oil
Salt
Spices
Onion Powder
Lemon Juice Concentrate
Garlic Powder
BOCA Vegan Chipotle Falafel Bites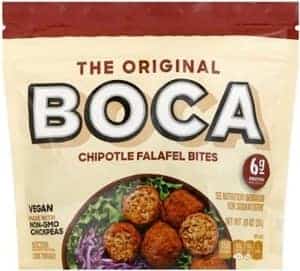 Ingredients include:23
Water
Dried Chickpeas
Wheat Flour
Corn Oil
Salt
Spices
Onion Powder
Lemon Juice Concentrate
Garlic Powder
Chipotle Chili Pepper
Morningstar Farms Falafel Non-Soy Vegan Burger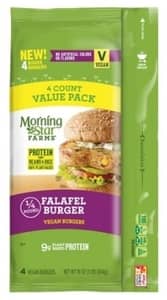 Ingredients include:24
Garbanzo Beans
Water
Vegetable Oil (Corn, Canola and/or Sunflower Oil)
Rice Protein Concentrate
Cilantro
Parsley
Onions
Methylcellulose
Cumin
Salt
Lemon Juice Concentrate
Coriander
Dried Garlic
Potato Starch
Konjac Flour
Xanthan Gum
Black Pepper
White Pepper
That's it for the vegan status of falafels. Thanks for reading.
You may also want to check out the following related articles:
References
Falafel: Definition Of Falafel in English By Lexico Dictionaries. https://en.oxforddictionaries.com/definition/falafel
Gil, Marks (2010). Encyclopedia of Jewish food. Hoboken, NJ: Wiley. ISBN 978-0544186316.
No Matter Where It Originated, Falafel Is Still Israel's National Food – Vered Guttman, et al. http://www.haaretz.com/israel-s-national-food-no-matter-where-it-started-1.5216693
It is rumored that .. "Tamiya" is an authentic Egyptian food despite Israeli allegations. http://www.innfrad.com
Grogan, Bryanna Clark (July 2003). "Falafel without fat". Vegetarian Times. pp. 20, 22. ISSN 0164-8497.
The Complete Idiot's Guide To Being Vegetarian. Frankie Wolfe – Alpha – 2007. ISBN 978-1-59257-682-1.
The Great Big Burger Book: 100 New and Classic Recipes For Mouth Watering Burgers Every Day Every Way. Jane Murphy-Liz Singh – Read How You Want – 2010. ISBN 978-1-4587-6463-8.
Vegan in Volume: Vegan Quantity Recipes For Every Occasion. Nancy Berkoff – The Vegetarian Resource Group – 2014.
Leonard, Joanne (October 1996). "New Ways with Falafel: The Middle Eastern favorite has evolved from a high fat sandwich stuffer to a low fat meal magician". Vegetarian Times. pp. 36, 38.
Whitney, Winona (June 1991). "Minute Meals". Vegetarian Times. p. 30.
The New Book Of Middle Eastern Food. Claudia Roden – Knopf – 2007. ISBN 978-0-375-40506-8.
Campion, Charles (May 9, 2002). "Falling for fine falafel". Evening Standard. Archived from the original on May 5, 2013.
Artichoke To Za'atar: Modern Middle Eastern Food (Page 90). Greg Malouf-Lucy Malouf-Greg Malouf – University Of California Press – 2008
The Glutton's Glossary John Ayto – Routledge – 1990. ISBN 0-415-02647-4.
The World's Best Falafel Recipe Comes from Egypt | Back To Basics Henry Dimbleby-Jane Baxter – https://www.theguardian.com/lifeandstyle/2015/mar/20/worlds-best-falafel-recipe-henry-dimbleby-back-to-basics
For the Best Falafel, Do It All Yourself Mark Bittman – https://query.nytimes.com/gst/fullpage.html?res=9401E7D81F30F937A35757C0A9619C8B63
The Oxford Companion To Food Alan Davidson-Jane Davidson-Helen Saberi (Page 287) – Oxford University Press – 2006.
Eat To Beat High Blood Pressure: Simple, Delicious Recipes For a Long, Healthy Life: Featuring the Dash-plus Plan Lower Your Blood Pressure 10% or More Without Drugs! (Page 140). Robyn Webb-Jamy Ard – Reader's Digest Association – 2004. ISBN 978-0-7621-0508-3.
Prescription For Dietary Wellness (Page 119). Phyllis Balch – Penguin Group – 2003. ISBN 978-1-58333-147-7.
The Way To Eat: a Six-step Path To Lifelong Weight Control (Page 217). David Katz-Maura Gonzalez – Sourcebooks – 2002. ISBN 978-1-4022-0264-3.
Cooking the North African Way: Culturally Authenic Foods Including Low-fat and Vegetarian Recipes Mary (Page 33). Winget-Habib Chalbi – Lerner Publications Co. – 2004. ISBN  978-0-8225-4169-1.
Boca Vegan Original Falafel Bites, 10 Oz Pouch Diamond – https://www.walmart.com/ip/BOCA-Vegan-Original-Falafel-Bites-10-oz-Pouch/503974866
Boca Vegan Chipotle Falafel Bites, 10 Oz Bag. – https://www.walmart.com/ip/BOCA-Vegan-Chipotle-Falafel-Bites-10-oz-Bag/573861054
Morningstar Farms Falafel Non-Soy Vegan Burger 16 Oz 4 Ct https://www.walmart.com/ip/Morningstar-Farms-Falafel-Non-soy-Vegan-Burger-16-oz-4-ct/754272879