I first became interested in the vegan status of French onion soup when I wanted to make my own French onion chip dip. One need only a vegan-friendly sour cream like the kind Daiya puts out and some dry French onion mix.
Also, it's a great tasting soup in itself and is a popular base for making other plant-based soups and stews.
Is it vegetarian or vegan? French onion soup mix tends to be both vegetarian and vegan, but the pre-made stuff (in restaurants, etc.), is often neither.
Traditionally, the soup was prepared with a number of animal-derived ingredients. It was made with meat stock and onions, alongside gratinéed with croutons and cheese. Nowadays, it's really hit or miss, so you have to vet the individual brand and source.
What we'll do here is go over the various non-vegan/vegetarian ingredients that can be present in French onion soup, and then assess some of the popular commercial versions on the market.
Animal Products Common in French Onion Soup
The soup has evolved quite a bit over the years. It traces back to ancient origins, but fell out of popularity in the US until it surfaced again in the 1960s when it gained popularity due to a greater interest in French cuisine.1
Meat Stock
In food preparation, meat stock refers to an animal-derived flavored liquid preparation that's used as a base for several dishes, like soups, sauces, and stews. Making stocks entails simmering meat or animal bones (beef, poultry, or seafood).2
This one is off-limits for both vegans and vegetarians.
I wasn't too surprised by this ingredient. Onion soup is a lot like onion gravy, which often makes use of beef in one form or another.
This isn't a super common ingredient in mix these days, but you will run across it in restaurants and canned goods. For example, Progresso French Onion soup contains:3
Beef Broth
Water, Onion, and Modified Food Starch
Sugar, Salt, Onion Powder, Natural Flavor, Yeast Extract, Dried Parsley, Spice, and Garlic Powder.
Corn Protein (Hydrolyzed) and Caramel Color
Butter
Beef
Potassium Chloride
Beef Fat
The butter alone would make it non-vegan.
Marketside French onion soup contains a beef base, which is a combination of beef stock, seasoned beef cooked in beef juices, and beef fat.4
Egg and Milk Products
Even when not made with meat stock, French onion soup is often made with milk and/or egg which would render it to be suitable only for ovo-lacto vegetarians. 
A lot of French onion soups contain meat, eggs, and dairy. The aforementioned Marketside and Progresso soups both contain butter which is a combination of dairy cream and salt.
Thankfully for vegans, egg is used as a thickener and is increasingly being replaced by plant-based thickeners such as flour and cornstarch.
Toppings
Cheese is another milk product to look out for because French onion soup is often gratinéed.5,6
"Gratinéed" is a fancy term meaning to cook with a golden crust of cheese.7
Croutons are another topping common to French onion soup that can spell trouble for vegans. While you'd think it would be easy to find vegan croutons, a simple crunchy bread product, most contain milk in one form or another.
Now, we'll go over a few commonly available commercial French onion products.
The Vegan/Vegetarian Status of Commercial French Onion Soup
Outback French Onion Soup
It appears that Outback French onion soup is not vegetarian or vegan. They don't appear to display ingredients on their website, but vegan organizations, like the VRG, have reached out to them making a list of vegan/vegetarian menu items, and French onion soup didn't make the cut.8
Also, you can see from this image (taken from their website), that provolone cheese comes standard in the soup, which definitely makes it off-limits for vegans.9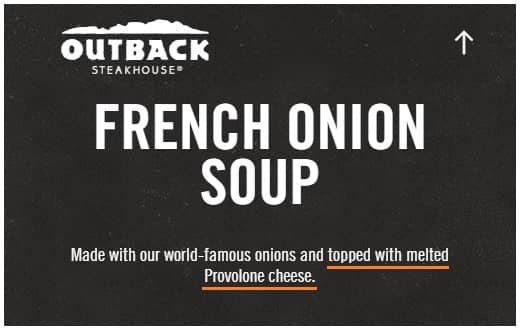 Applebee's French Onion Soup
Applebee's French onion soup is not vegan and appears to be non-vegetarian. The website's allergen info lists dairy which rules it out as vegan.10
The VRG reached out Applebee's and made a list of the vegetarian-friendly items, in which French onion soup wasn't mentioned.11
It's possible that the list wasn't comprehensive. If you're a fan of Applebee's soup, then you can always reach out to the restaurant directly, to ask if meat stock of any kind is used. I didn't bother with it because I feel like the VRG would've made mention of the soup because they're usually pretty thorough.
Continental French Onion Soup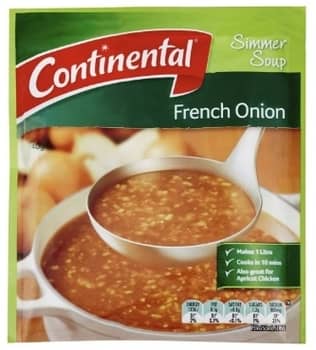 Yes, it appears that Continental French onion soup is both vegetarian and vegan. The ingredients include onion, potato starch, salt, cornstarch, yeast extract, sugar, potassium chloride, sodium citrate, flavors, coloring agents (caramel IV and turmeric), parsley, sunflower oil, flavor enhancers, and spice extract.12
This soup doesn't seem to be widely available in the US, so if you're based in North America, you can check out the Lipton soup below.
Other Vegetarian and Vegan French Onion Soup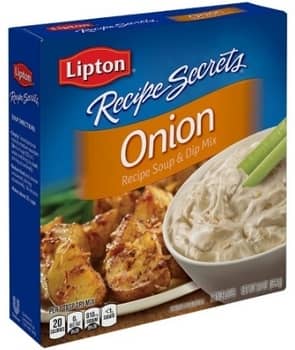 Lipton is perhaps the most widely available French onion soup that's suitable for all plant-based dieters.
It's labeled as "onion soup mix" but it's the same thing.
This product contains:13
Onions (Dehydrated)
Salt, Sugar, and Corn Syrup
Corn Starch, Onion Powder, Yeast Extract, and Maltodextrin
Soy Sauce (Fermented Soybeans, Wheat and Salt)
Caramel Color (Sulfites)
High Oleic Sunflower Oil
Disodium Guanylate and Disodium Inosinate
I get asked quite a bit about the Panera French onion soup, but it doesn't seem to be on the menu these days.14 But, I'll be keeping a lookout in case it surfaces again.
Anyway, that's it for the vegetarian and vegan status of French onion soup. Thanks for reading.
You may also want to check out the following related articles:
References
Food Timeline. FAQs: soups & stews. http://www.foodtimeline.org/foodsoups.html#frenchonionsoup
Stock (Food). https://en.wikipedia.org/wiki/Stock_(food)
Progresso French Onion Soup. https://www.fooducate.com/product/Progresso%20Soup%20French%20Onion/F623C914-E109-11DF-A102-FEFD45A4D471
Marketside French Onion Soup, 16 Oz. Nim- Emi – https://www.walmart.com/ip/Marketside-French-Onion-Soup-16-oz/584922172
Robert Courtine, Derek Coltman, trans. (1973) The Hundred Glories of French Cooking. Farrar, Straus and Giroux. p. 18. ISBN 0374173575
Marie Ébrard (1927) La bonne cuisine de Madame E. Saint-Ange, Editions Chaix. p. 186.
Gratinéed. https://www.yourdictionary.com/gratin-eed
The Vegetarian Resource Group Blog. https://www.vrg.org/blog/2014/05/28/outback-steakhouse-vegetarian-and-vegan-menu-options/
Outback French Onion Soup. https://www.outback.com/menu/starters/soups-side-salads/french-onion-soup
Applebee's Allergen Information. file:///C:/Users/drewm/Downloads/Applebees%20Allergen%20Handout%20OnlineC5%20201951619.pdf
Veggie Options At Quick-service Restaurant Chains. https://www.vrg.org/journal/vj2008issue2/veggieRestaurantChains.htm
Continental French Onion Soup (40g). https://www.sanza.co.uk/Continental_French_Onion_Soup.asp
Lipton Recipe Secrets Onion Flavor Soup and Dip Mix, 2 Oz 2 Count. Kathi – https://www.walmart.com/ip/Lipton-Recipe-Secrets-Onion-Flavor-Soup-and-Dip-Mix-2-oz-2-Count/10307791
Panera Bread Soups. https://www.panerabread.com/en-us/menu-categories/soups.html