Gnocchi is a variety of pasta made up of small, soft, and thick dumplings usually composed of potato,semolina or ordinary wheat flour, but can also be made with cornmeal or breadcrumbs.1 Various vegetables, herbs and flavorings can be used and some variations use cocoa or prunes.2
A number of ingredients can be used—much more than is mentioned here.3-5
Is it vegan? Gnocchi pasta is always vegan, but gnocchi (the dish) usually contains animal products—specifically, dairy and egg. The dish can be vegan, but it just depends on the particular recipe used (at home or in restaurants) or food product (if purchasing commercial gnocchi).
What we'll do, is cover some of the problematic ingredients often present in gnocchi.
Vegan-Friendly Gnocchi Ingredients
Agan, the main ingredient—the pasta itself—is vegan. It's usually semolina, which is the wheat that makes up the popular grain product couscous aka "Moroccan pasta."
It's a great source of fiber, protein, and essential nutrients for vegans. It's made from wheat middlings which have a variety of uses in food production including pasta, as well as breakfast cereals, and couscous, etc.6
It makes a great pasta because the starch gelatinizes—gelatinization being the process that starch undergoes when exposed to water and high heat.
The semolina is usually dried, cooked, and then rushed into small particles about the size of a grain of rice (if couscous) or pulverized into powder (if making gnocchi).7,8
In case you're new to the subject, semolina is a product of durum wheat, one of the most cultivated grains worldwide.9
Potato is another common source of starch for the pasta portion of gnocchi. Remember, pasta can be any starch source that easily gelatinizes when exposed to heat and water. It's important to note that, while the potato itself is vegan, this version of gnocchi pasta is typically served with cheese.
Why Some Gnocchi is Non-Vegan
Again, this applies to the dish, not the pasta itself.
Some Recipes Contain Cheese
Cheese is one of the most common ingredients in gnocchi.
For example, one NY Times recipe calls for ricotta cheese.10
Most of the cheese-containing gnocchi I've come across have a white appearance. Keep in mind that gnocchi is considered an Italian dish, though there are many regional variations, so cheese comes pretty standard in this cuisine.
Butter
Some gnocchi is made from pieces of cooked semolina or polenta, which are laid out to dry, and then layered with butter (and cheese usually).2
If you're looking to order gnocchi in restaurants, then it's possible that the establishment will use margarine. You'll need to check with the establishment to make sure.
Other Milk Products
Milk is ubiquitous in Italian cuisine, so it can come in many forms.
Other regional variations also tend to come with milk products. For example, in Poland, there's a dish called 'kluski leniwe' (meaning "lazy dumplings"), that's considered a version of gnocchi. It's spiced with herbs like cinnamon, pepper, allspice, etc.
In this dish, the dough dumplings, usually in the shape of a diamond, don't typically contain cheese, but often contain sour cream.
Beef Gravy
This isn't a super common ingredient in gnocchi, but you may run across it from time to time when searching for recipes. The Polish version (above) sometimes contains gravy.
When gravy is used, it's often present with butter, mushroom sauce, caramelized onion, etc. Stuff, that typically goes with gravy.
For example, I found one recipe titled "Grandmom's Potato Gnocchi with Brown Gravy."11
Egg
Egg is another common ingredient. In Ancient Rome, gnocchi was made from a porridge-like mixture of semolina and eggs, and the dish can still be found in this form today.
Several versions are known not to contain egg—namely, the oven-baked gnocchi, Sardinia's malloreddus, and alla romana.12
Eggs contribute flavor, and are thought to play a role in contributing the desired texture when preparing gnocchi.13
Vegan Commercial Gnocchi
Again, most of the pasta is vegan-friendly. But, I'll go ahead and list a few so you'll know what's out there.
Sam's Choice Italia Potato Gnocchi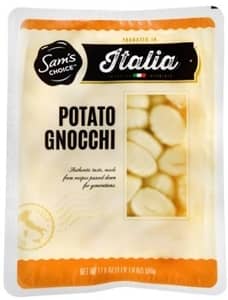 This product contains rehydrated potatoes (water and potato flakes), potato starch, wheat, and rice flour, salt, lactic acid (as a preservative)*, sorbic acid (another preservative), natural flavors, and water.14
*Lactic acid (LA) is not to be confused with lactose. While the latter is derived from dairy (it's the simple sugar naturally present in milk), LA is produced by certain types of bacteria. It's only non-vegan when dairy-derived galactose is used to feed the bacterial cultures.
But, fortunately for vegan, galactose is abundant in certain veggies like beets. So, overall, the ingredient tends to be viewed as suitable for vegan consumption.
Gia Russa Whole Wheat Gnocchi with Sweet Potato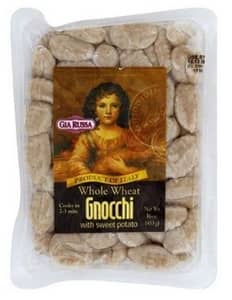 This is a unique one. It contains mashed sweet potatoes (water and dehydrated sweet potatoes, fatty acids, mono- and diglycerides*, natural flavorings), whole wheat flour, rice flour, potato starch, starch, salt, spices, lactic acid, and potassium sorbate.15
*Like with LA, some vegans like to avoid mono- and diglycerides, but the presence of these ingredients does not render a food product non-vegan by most standards. Like LA, they can be, and often are, produced without the use of animal byproducts.
That's it for the vegan status of gnocchi. Thanks for reading.
You may also want to check out the following related articles:
References
Riley, Gillian (2007-11-01). The Oxford Companion to Italian Food. Oxford University Press, USA. ISBN 9780198606178.
Waverley Root. https://en.wikipedia.org/wiki/Waverley_Root
Luigi Carnacina, Luigi Veronelli, La cucina rustica regionale (4 vol.), Rizzoli 1966, passim
Accademia Italiana della Cucina, La Cucina: The Regional Cooking of Italy, tr. Jay Hyams, Rizzoli, 2009, passim.
Wheat Middlings Composition, Feeding Value, and Storage Guidelines. https://www.bookstore.ksre.ksu.edu/pubs/mf2353.pdf
Anonymous. From our test kitchen— couscous. Fine Cooking 63:74, 2004.
Understanding Food: Principles and Preparation (Page 359). Amy Brown – Wadsworth Cengage Learning – 2011
"Global durum wheat use trending upward". world-grain.com. "Global durum wheat use trending upward". world-grain.com. https://www.world-grain.com/articles/8777-global-durum-wheat-use-trending-upward
Ricotta Cheese Gnocchi Mark Bittman – https://cooking.nytimes.com/recipes/1013318-ricotta-cheese-gnocchi
Grandmom's Potato Gnocchi with Brown Gravy. Molly Santoro – https://www.tallutos.com/index.php/recipes/44-recipes/cavatelli-recipes/254-grandmom-s-potato-gnocchi-with-brown-gravy
Travel – The Perfect Pasta Dish Sardinians Refuse To Share. David Farley – http://www.bbc.com/travel/story/20171018-the-perfect-pasta-dish-sardinians-refuse-to-share
Alessandrini, Laura. "Influence of processing conditions on quality aspects of potato-based fresh pasta." (2010).
Sam's Choice Italia Potato Gnocchi, 17.6 Oz. Mike- Mickey –  https://www.walmart.com/ip/Sam-s-Choice-Italia-Potato-Gnocchi-17-6-oz/525019605
Gia Russa Whole Wheat Gnocchi with Sweet Potato, 16 Oz, (pack Of 12). DeOsee – https://www.walmart.com/ip/Gia-Russa-Whole-Wheat-Gnocchi-with-Sweet-Potato-16-oz-Pack-of-12/27617897