Hot chocolate, aka hot cocoa or drinking chocolate, is a warm beverage made of various forms of chocolate—shaved, melted chocolate or cocoa powder. It's an iconic beverage that's especially popular during the winter. A lot of vegans and vegetarians grew up drinking the stuff and want to know if they can continue to do so after switching to a plant-based diet.
Is it vegan or vegetarian? Hot chocolate is suitable for lacto-vegetarians but is usually off-limits for vegans. According to US Patent number 5264228, commercial dry hot chocolate mixes have to be prepared using maltodextrin, non-fat milk solids, an artificial sweetener, acidifier, and emulsifier.1,2
A hot cocoa drink mix could be vegan if it forewent the milk powder—but, we'd be talking about cocoa powder at that point.
What we'll do here is go over the most common non-vegan ingredients present in commercial hot cocoa. Since lacto-vegetarians (i.e. most non-vegan vegetarians) can consume traditional hot chocolate, we'll be focusing on the drink's vegan-friendliness.
Non-Vegan Ingredients in Hot Chocolate
Milk Chocolate
This applies mostly to cafes, coffee shops, and restaurants. When they want to get fancy with it, food establishments will use real chocolate and most of the time the chocolate contains milk derivatives.
Hot chocolate that's made with real melted chocolate is often referred to as drinking chocolate and is characterized by a thicker consistency and less sweetness.3
It's true that some dark chocolate is suitable for vegans. In its most basic form, dark chocolate consists of cocoa solids, sugar, and an emulsifier such as soy lecithin. But, manufacturers often prefer to use milk chocolate in processed foods because it provides a nice mouthfeel.
Cocoa butter (the natural fat content of cacao beans) is much more brittle compared to the fat content of milk, so the texture isn't nearly as smooth.
Milk
This is where you're out of luck if you're vegan and looking to purchase pre-made hot chocolate. The only way you'll find any pre-made hot chocolate without milk will be in specialty products that are marketed as vegan, to begin with.
In dry powder mix, milk comes in the form of dry skim milk.
The ingredient is often listed as "non-fat milk solids" which is another way of saying non-fat dry milk.1
Whey protein is also a common additive. Whey is the second most abundant protein in milk and provides several useful properties in food production.
Marshmallows and Whipped Cream
A lot of hot chocolate is served with marshmallows or whipped cream on top, both of which are usually non-vegan.
In the event that you find a largely milk-free whipped topping, it will still probably contain some dairy derivatives—unless it's marketed towards vegans (almond, coconut, etc.).
In the past, it wasn't uncommon to find whipped toppings in pressurized cans made from non-dairy ingredients. Foodservice establishments would use them because they were cheaper and had a longer shelf life.4
They were mostly made of vegetable gums and sugar, but still contained certain milk components like casein.
Anyway, pretty much 100% of the whipped topping you encounter these days will contain milk in one form or another.
Marshmallows are another common topping. They're problematic for both vegans and vegetarians because most contain gelatin. The protein gelatin is derived from collagen which can only be obtained from animal tissue (the epidermis of the skin, etc.).
Some marshmallows contain plant-based alternatives to gelatin, but you can't count on it.
The Vegan Status of Commercial Hot Chocolate
I get asked quite a bit about specific brands, so we'll go over a few here and discuss whether or not there are any vegan versions of the product.
Also, none of these contain marshmallows, so they're all suitable for lacto-vegetarians.
Starbucks Hot Chocolate (Can Be Vegan)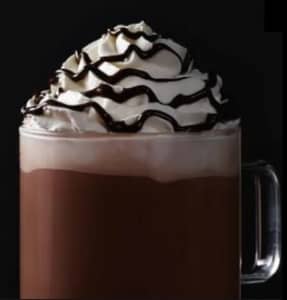 While Starbucks hot chocolate is non-vegan by default, it can be made vegan with a few tweaks.
It contains:5
Milk
Mocha sauce (water, sugar, cocoa processed w/alkali and natural flavors)
Whipped cream (cream, carrageenan, and mono-/diglycerides)
Vanilla syrup (sugar, water, natural flavors, citric acid, and potassium sorbate)
You can make it vegan by foregoing the whipped topping and swapping the milk for your favorite plant-based milk.
McDonald's Hot Chocolate (Vegetarian Only)
McDonald's hot chocolate, aka McCafé® Hot Chocolate, is non-vegan. Unlike Starbucks, they don't offer the option to swap out the cow milk for soy.
Ingredients for this product include:6
Corn syrup, sugar, and dextrose
Water and glycerin
Hydrogenated coconut oil
Cocoa processed w/alkali
Modified food starch, natural flavors, gellan gum, and soy lecithin
Nonfat milk
Disodium phosphate and potassium sorbate
Pret Hot Chocolate (Vegetarian Only)
Like McDonald's, Pret hot chocolate is suitable for lacto-vegetarians, but not vegans.
They don't list the ingredients but they do mention organic milk in the description.7
Costa Hot Chocolate (Can Be Vegan)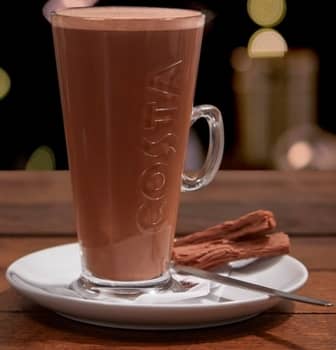 Most Costa hot cocoa is non-vegan, but they do offer a soya version.8
Cadbury Hot Chocolate (Vegetarian Only)
Unfortunately, Cadbury hot chocolate is non-vegan.
It contains:9
Sugar, salt
Whey powder (a protein from milk)
Reduced-fat cocoa powder
Glucose syrup
Vegetable fats (palm and coconut)
Skimmed milk powder
Milk chocolate (real milk, sugar, cocoa butter, cocoa mass, shea and palm fat, an emulsifier, and flavorings)
A thickener, stabilizer, and emulsifier
Milk protein
An anti-caking agent and acidity regulator (sodium carbonate)
Flavorings
Options Hot Chocolate (Vegetarian Only)
Options hot chocolate is not vegan. While the chocolate itself is dairy-free (only containing sugar, cocoa mass, cocoa powder, and flavoring), the remaining ingredients include a few different milk products including whey powder, skim milk and whole milk powder.10
Swiss Miss Original (Vegetarian Only)
This is probably the most popular hot cocoa here in the states. Unfortunately, it's not vegan, as it contains both modified whey protein and nonfat milk.11
Swiss Miss Marshmallow (Non-Vegan and Non-Vegetarian)
This one contains gelatin via marshmallows.13
Galaxy Hot Chocolate (Vegetarian Only)
This instant hot cocoa is non-vegan due to the presence of whey permeate, lactose (the simple sugar found in milk), milk chocolate (which contains skimmed milk powder, lactose, and whey protein), milk fat, milk lecithin, skimmed milk powder, and additional milk proteins to top it all off.12
This is the milkiest of milk products. Milk lecithin is probably the most obscure non-vegan ingredient used in food manufacturing.
That's it for the vegan status of hot chocolate. Thanks for reading.
You may also want to check out the following related articles:
References
Preparation Of Compositions For Making Cocoa Beverages. Nestec S.A. – https://patents.justia.com/patent/5264228
Understanding Food: Principles and Preparation (Page 562). Amy Brown – Wadsworth Cengage Learning – 2011
Grivetti, Louis E.; Shapiro, Howard-Yana (2009). Chocolate: history, culture, and heritage. John Wiley and Sons. p. 345. ISBN 978-0-470-12165-8.
Understanding Food: Principles and Preparation (Page 224). Amy Brown – Wadsworth Cengage Learning – 2011
Mccafé® Hot Chocolate: Mcdonald's. https://www.mcdonalds.com/us/en-us/product/hot-chocolate-small.html
Hot Chocolate 12oz. https://www.pret.com/en-us/1023-tea-&-chocolate-hot-chocolate.aspx
Costa Hot Cocoa. https://www.costa.co.uk/coffee-club/store/store-allergen-guide.pdf
Hot Chocolate Instant. https://www.cadbury.co.uk/products/cadbury-hot-chocolate-instant-11688
Options Belgian Choc – Sachet. https://www.twinings.co.uk/hot-chocolate-coffee-other-drinks/hot-chocolate-and-malt-drinks/options-belgian-chocolate-sachet
Swiss Miss Milk Chocolate Flavor Hot Cocoa Mix, 45.68 Ounce Canister. Bernie- Jakes – https://www.walmart.com/ip/Swiss-Miss-Milk-Chocolate-Flavor-Hot-Cocoa-Mix-45-68-Ounce-Canister/152774902
Galaxy Instant Hot Chocolate (370g). British Corner Shop – https://www.britishcornershop.co.uk/galaxy-instant-hot-chocolate
Swiss Miss Marshmallow Hot Cocoa Mix (30) 1.38 Ounce Envelopes. Jrgnor – https://www.walmart.com/ip/Swiss-Miss-Marshmallow-Hot-Cocoa-Mix-30-1-38-Ounce-Envelopes/496911493