Pad thai, or 'Thai stir fry', is a famous stir-fried dish made with rice noodles commonly served in restaurants and as street food throughout Thailand.1 It's a very popular food, and was listed as number five on CNN's list of the "World's 50 most delicious foods"—a readers' pole compiled by the network in 2011.2
Is it vegan? Pad thai can be vegan, but many recipes contain meat and other animal products. You will need to vet recipes on restaurant websites (if eating out) and scan ingredients labels if purchasing pad thai in stores. Of course, you can easily make a vegan-friendly version of pad thai at home.
Is it usually vegetarian? As you'd imagine, more pad thai qualifies as vegetarian than vegan. But, vegetarians still need to watch out for meat, especially seafood. Egg is a common ingredient in pad thai that would be suitable for vegetarians, but not vegans.
Animal Products to Look Out for in Pad Thai
Egg
This one is fine for vegetarians, but vegans be warned.
Pad thai tends to be made with rehydrated rice noodles. Sounds innocent enough, but the noodles are often stir-fried in egg.
I remember egg-containing stir fry from my non-vegan days. You've probably seen it too. A lot of pad thai is vegetarian-friendly, but not suitable for vegans due to the presence of egg.
Seafood and Fish Sauce
This one's off-limits for both vegans and vegetarians—with the exception of pescatarians.
Vegan- and vegetarian-friendly flavorings include tamarind pulp, red chili peppers, garlic and shallots, lime wedges, peanuts, and palm sugar, garlic chives, bean sprouts, raw banana flowers, and pickled radishes or turnips.3
Unfortunately, a lot of the flavorings used in pad thai come from seafood and marine-derived ingredients including:3
Fish sauce
Shrimp (dried and fresh)
Crab
Squid
For example, Thai Kitchen Gluten Free Pad Thai Noodle Kit contains rice, water, sugar, tomato, rice vinegar, fish sauce (anchovies, salt, and water), garlic, chives, pickled radish, soybean oil, onion, modified corn starch, tamarind paste (organic acids, tamarind seed gum, and pectin), citric acid, chili pepper, and xanthan gum.4
So, keep a lookout for these ingredients. Again, seafood is a staple ingredient in pad thai. So, if you want to ensure your recipe is vegan or vegetarian, you'll need to make sure soy sauce is used in place of fish sauce, and omit seafood entirely.
Chicken and Other Animal Protein
A lot of pad thai is vegan, or at least, vegetarian-friendly because several recipes call for firm tofu instead of meat.
Obviously, such recipes can still be off-limits for vegans if seafood or egg is still present.
Bits of chicken or red meat are often combined with condiments, containing red chili pepper, bean sprouts, lime wedges, roasted peanuts, and other fresh vegetables.5
For example, P.F. Chang's Home Menu has a popular Thai Bowl that contains vegetables (cabbage, shiitake mushrooms, scallions and carrots), cooked rice noodles (water, rice flour, and vegetable oil), water, canola oil, brown sugar, chili paste, garlic puree, cornstarch, tamarind, ginger puree, and salt. Sounds innocent enough.
It also contains fish sauce (anchovies and salt), and seasoned cooked chicken (chicken breast, olive oil, water, salt, and brown sugar, and natural flavorings).6
For vegan and vegetarian-friendliness, opt for firm tofu in place of meat.
Commercial Vegan Pad Thai
I'm sure there are numerous vegan-friendly versions of the food product, but this will give you an idea of what's out there.
Sweet Earth Pad Thai
Sweet Earth offers a vegan-friendly pad thai.
This product contains:7
Cooked rice noodles, water, and white rice noodles
Tofu and soybeans
Canola and sesame oils
Additives (calcium sulfate and/or magnesium chloride and/or calcium chloride and/or glucono delta lactone and/or soy protein).
Carrots, red bell peppers, shiitake mushrooms, and vegetable broth (water, carrot, celery, onion, tomato, salt, yeast extract, cane sugar)
Soy Sauce
Maltodextrin, yeast extract, soy fiber, cornstarch, and food starch
Vegetable juice concentrate (carrot, celery)
Salt, onion and garlic powders, paprika, spices, dried seaweed, and natural flavor
Brown sugar (molasses, sugar)
Green onions, red cabbage, snow peas
Rice vinegar, tamarind and tomato paste, and lime juice concentrate
Garlic, lemongrass, ginger, and purees
Dr. McDougall's Gluten-Free Pad Thai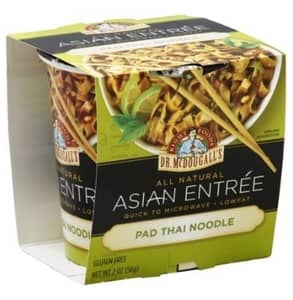 This one comes with noodles, sauce, and vegetables.
The ingredients include rice noodles, tamari GF soy sauce, peanuts, sugar (organic), garlic, yeast extracts, natural flavors, lime juice, starch, onion, tofu, shallots and cabbage, cilantro, various spices, tamarind powder, chives and green onion, and natural color (turmeric and paprika oleoresin).8
Thai Kitchen Gluten-Free Stir-Fry Rice Noodles
Yes, this one is just the noodles. But, for those of you who like to cook, this is a good product, because it just contains rice and water.9
Annie Chun's Pad Thai Brown Rice Noodles is another good option. It only contains brown rice flour and water.10
A Taste of Thai Pad Thai Sauce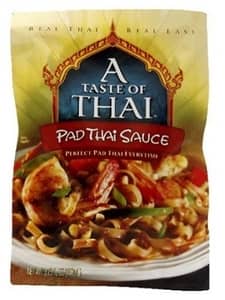 Another good product if you're making your own.
This one contains palm sugar, tamarind, water, veggies (shallot and sweet radish), garlic, vegetable oil (soybean), potassium chloride, maltodextrin, miso, salt, hydrolyzed vegetable protein (corn, maltodextrin, and soybeans), yeast extract, paprika oleoresin, citric acid, vitamin E, and chili oleoresin.11
Not the first trace of fish/anchovy sauce!
That's it for the vegan status of pad thai. Thanks for reading.
You may also want to check out the following related articles:
References
Your pick: World's 50 most delicious foods. https://web.archive.org/web/20121111184944/http://www.cnngo.com/explorations/eat/readers-choice-worlds-50-most-delicious-foods-012321
Pad Thai – ผัดไทยกุ้งสด. Natty Netsuwan – http://www.thaitable.com/thai/recipe/pad-thai
Thai Kitchen Gluten Free Pad Thai Noodle Kit, 9 Oz. Nina – https://www.walmart.com/ip/Thai-Kitchen-Gluten-Free-Pad-Thai-Noodle-Kit-9-oz/10309674
7-steps To Properly Eating Pad Thai https://luxevoyageasia.com/7-steps-eating-pad-thai/
P.f. Chang's Home Menu Chicken Pad Thai Bowl, 11 Ounce. Justin – https://www.walmart.com/ip/P-F-Chang-s-Home-Menu-Chicken-Pad-Thai-Bowl-11-Ounce/936749717
Sweet Earth Pad Thai 9 Oz. Box Sjmickey1 – https://www.walmart.com/ip/Sweet-Earth-Vegan-Pad-Thai-Entree-9-oz-Box/402377085
Dr. Mcdougall's Right Foods Gluten Free Asian Noodles Pad Thai, 2.0 Oz. Fruitcakey – https://www.walmart.com/ip/Dr-McDougall-s-Right-Foods-Gluten-Free-Asian-Noodles-Pad-Thai-2-0-OZ/35259674
Thai Kitchen Gluten Free Stir Fry Rice Noodles, 14 Oz. Chary73- BigKid913- SONNE31- Campmaster55- Pauldar – https://www.walmart.com/ip/Thai-Kitchen-Gluten-Free-Stir-Fry-Rice-Noodles-14-oz/25876539
Annie Chun's Pad Thai Brown Rice Noodles 8 Oz. https://www.walmart.com/ip/Annie-Chun-s-Pad-Thai-Brown-Rice-Noodles-8-oz/31041824
A Taste Of Thai Pad Thai Sauce, 3.25 Oz, (pack Of 6). Linda C – https://www.walmart.com/ip/A-Taste-of-Thai-Pad-Thai-Sauce-3-25-oz-Pack-of-6/33653183