Stuffing or filling is a mixture of bread (regular or cornbread), seasonings, and other ingredients. Even though it's normally stuffed into a dead animal (hence the name), I still get asked quite a bit if it's vegetarian or vegan-friendly. This is likely because it is often served on the side, in which case it's sometimes referred to as dressing.
Is it vegetarian or vegan? Stuffing, aka filling or dressing, can be vegetarian and vegan but is typically neither one. If it contains only plant-based ingredients (bread crumbs, oils, and seasonings), it's suitable for vegans. Ovo-vegetarians and pescatarians can consume stuffing with egg and seafood, respectively.
What we'll do here is go over the various forms of stuffing and which vegetarian groups can partake of each.
Vegetarian and Vegan-Friendly Stuffing
You'd think that any food that's traditionally served stuffed inside of a dead animal carcass would be considered off the menu for vegans. But again, a lot of stuffing aka dressing is served on the side.
The main ingredient (bread) is typically vegan unless cornbread is used, which usually contains egg. My grandma always used a combination of white bread crumbs and cornbread. Again, the latter is problematic because most cornbread contains egg in the mix.
But, if plain white bread crumbs are used, we're off to a good start. Other plant-based ingredients include oils and spices.
A standard 100% plant-based stuffing would probably contain:
Bread
Vegan butter or olive oil
Diced onions and celery
Salt, pepper, and dried sage
Vegetable broth
An egg replacement—either equal parts water and flax or a commercial vegan egg replacement
The UK gets a bit more fancy with their stuffing by including dried fruits and nuts like apricots, almonds, and chestnuts.1-5
These ingredients would make a great addition to plant-based stuffing.
This is hardly a standard recipe for the food item, so you never want to take for granted that any stuffing you run across in stores, at gatherings, or online would contain the above ingredients and nothing else.
It's much more likely that chicken broth will be used and that there will be bits of meat mixed throughout.
Stuffing for Vegetarians Only
If you identify as a vegetarian, and not a vegan, then it's likely that you allow for eggs in the diet. Ovo- and lacto-ovo vegetarians, can partake in stuffing that contains the above ingredients, but uses egg as a binder.
Anyway, the above list rules out the majority of stuffing, because meat and broth are still ubiquitous in homemade and store-bought dressings. If you're going to a holiday party or eating out at a restaurant, you can be fairly certain that some meat-derived substance will be in the mix.
Which brings us to the next section.
Stuffing Off-Limits for Vegetarians and Vegans
Most stuffing includes some form of meat or meat-derived substances. Mammals (often beef) and seafood are somewhat common, but chicken and turkey are the most pervasive ingredients.
Seafood tends to be used in stuffed crabs, etc. in which case you probably wouldn't be ordering the food in the first place. But, turkey and chicken are very common in dressings served as a side dish.
A standard recipe will include dried breadcrumb and/or cornbread, onions and celery, salt, pepper, spices such as sage, and poultry meat or giblets are often used.6
 "Giblets" are pieces of the liver, gizzard, heart, and neck of a chicken and other fowl, typically removed prior to the bird being cooked. Gross, I know. If they're not mixed in the dressing, it's likely they'll be used in gravy served with the dressing.
Middle Eastern stuffings often contain seasoned rice and/or minced meat, usually both.
I've also seen stuffings made with sausage and forcemeat—the latter being a mix of meat and vegetables diced and seasoned for use as a garnish or in stuffing.7
The Vegan and Vegetarian Status of Stuffing Mix (or Boxed Stuffing)
Vegetarians and vegans tend to have much more luck with mixes. When a prepared entrée, soup or drink is typically non-vegan, the mix version of the food often omits the animal products with the idea that the consumer will add in the wet ingredients themselves. Which is the whole idea of a mix.
As plant-based eaters, we get lucky when the dry ingredients are vegan, and the wet ingredients are non-vegan.
Stove Top Stuffing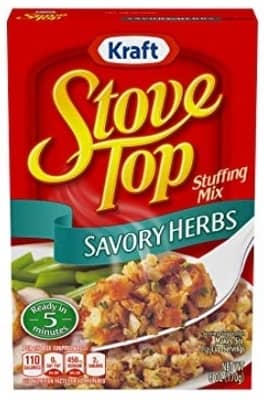 This is the main brand of stuffing mix in the US and Canada. It's made by Kraft and perhaps Nestle at some point (Stouffer's).
Stove Top stuffing mix is neither vegan nor vegetarian. The dressing contains flour, high fructose corn syrup, dried onion, soy protein, oils, vegetables, flavor enhancers, additives, and cooked chicken with chicken broth.8
Unfortunately, both the Traditional Sage and Savory Herb varieties contain the chicken as well.9,10
Paxo Stuffing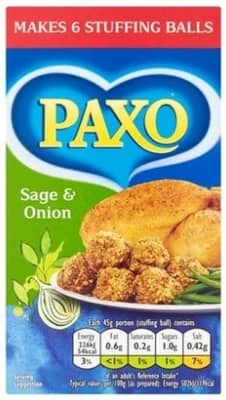 Paxo stuffing is both vegan and vegetarian. It mostly contains fortified wheat flour along with salt, spices, oils, and leaveners.
Ingredients include fortified wheat (calcium, iron, niacin, and thiamin), dried veggies (onion, sage, and parsley), vegetable oils (palm and sunflower), salt, barley malt extract, and leavening agents (ammonium carbonate and sodium hydrogen carbonate).11
Tesco Stuffing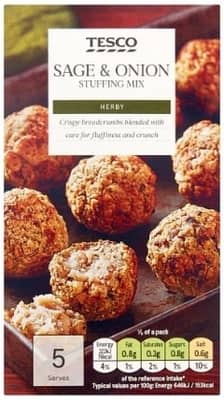 Tesco stuffing is both vegetarian and vegan. It contains calcium carbonate, vitamin fortification (iron, niacin, thiamin), salt, dried toasted onion, palm oil, dried sage and parsley, sunflower oils, and a leavening agent (ammonium bicarbonate).12
That's it for the vegan status of stuffing. Thanks for reading.
You may also want to check out the following related articles:
References