I've been writing a lot about East Asian cuisine recently. No list of Chinese food would be complete without the delicious, tangy, bright red sauce that accompanies almost every food item we've covered so far.
Sweet and sour is really a generic term that covers several styles of sauce, and we'll be focusing on the fusion variety that seems to be the most popular in European and American Chinese food.
Is it vegan? Most commercial sweet and sour sauce is vegan. This goes for the sauce you'll encounter in buffets and the kind in grocery stores (e.g. Kikkoman and Kraft). They're usually some combination of high-fructose corn syrup, vinegar, fruit juice concentrate, and paprika (for color) all of which are vegan.
What we'll do here is go over the various reasons that most sweet and sour sauce is considered vegan and then list a few on the market that are known (for usre) to be suitable for 100% plant-based eaters.
Why Most Sweet and Sour Sauce Is Vegan
Sweet and Sour Sauce Doesn't Contain Chicken Broth
I initially thought that it did, because I got the sauce mixed up with hot and sour sauce, another popular condiment used in Chinese cuisine.
Hot and sour sauce is basically the same thing as hot and sour soup but is made a bit thicker so it can cling to the surface of appetizers like egg rolls.
Anyway, hot and sour soup usually contains chicken broth or meat stock of some sort.1
It also tends to contain egg, though not always.2
Anyway, I thought I'd make this distinction because hot and sour sauce is used with a lot of the same appetizers—spring rolls, egg rolls, and wontons, etc. So, it would be easy to get the two confused.
Chicken broth ruins many an otherwise vegan soup and it's a shame because vegetable broth is easy to come by and most find it to be just as good.
I think one reason sweet and sour sauce is often mistaken for non-vegan, probably has to do with the foods it tends to be served with.
Not only is it popular with Chinese appetizers like egg rolls which often contain pork and other meat, but it's a very popular dip with fast food joints that sell chicken nuggets.
American Chinese restaurants usually pair fried chicken pieces with sweet and sour sauce, and it didn't take long for restaurants like McDonald's, Burger King, and Wendy's to catch on.3-7
Most Sweet and Sour Sauce Doesn't Contain Carmine
Carmine aka Red 4 is an insect-based food colorant.
I say most because some do.
Kikkoman Sweet & Sour Sauce contains:8
Water and Vinegar
Soy Sauce (Water, Soybeans, Wheat, and Salt)
Sugar
Modified Corn Starch
Tomato Paste
Pineapple Juice Concentrate
Carmine (Color)
Spices, Onion Powder, Garlic Powder, and Dehydrated Green Bell Pepper
Sodium Benzoate, Citric Acid, and Disodium Guanylate
As processed as sweet and sour sauce appears to be, it seems like most manufacturers achieve the red color from natural plant-based sources like paprika.
This is good news because the food manufacturing industry makes heavy use of artificial synthetic food colorants that can sometimes be derived from animals. In fact, the most notorious animal-derived food coloring agent happens to be a red food dye.
Red 4, or carmine, is largely considered non-vegan because it's derived from beetles.9
As much fuss as is made over the ingredient, I rarely encounter it on food labels. It tends to be used in yogurt, which is already an animal-derived product so it usually doesn't cause that many problems for vegans.
Commercial Vegan Sweet and Sour Sauce
Just because most sweet and sour sauce is vegan, doesn't mean every product you'll encounter will be suitable for 100% plant-based eaters. Food manufacturers are very creative and sometimes manage to find a way to throw animal-derived ingredients into products that should be vegan.
So, here are a few I've checked out myself to save you the trouble.
La Choy Sweet And Sour Sauce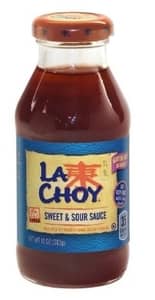 This one contains:10
Water, and Distilled Vinegar
Sugar, Salt, Modified Corn Starch, and Corn Syrup
Paprika Extract (Color)
Pineapple Juice
Red And Green Bell Peppers
Kraft Sweet 'n Sour Sauce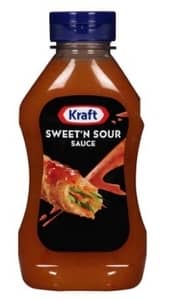 Ingredients include:11
High Fructose Corn Syrup (HFCS)
Vinegar, Water, and Pineapple Juice Concentrate
Modified Cornstarch, Salt
Soybean Oil
Dried Green Bell Peppers, Dried Red Bell Peppers, Spice, Oleoresin Paprika
McDonald's Sweet 'N Sour Sauce
The chicken might be far from vegan, but the sauce checks out. I'm not sure what use the sauce is unless they bring their own condiment to the market, which isn't uncommon for restaurant chains to do. Also, scuttlebutt has it that they may be introducing their own vegan nuggets one of these days.
For what it's worth, the ingredients include:12
High Fructose Corn Syrup
Water, Distilled Vinegar, and Soy Sauce (Water, Wheat, Soybeans, Salt)
Apricot Puree Concentrate and/or Peach Puree Concentrate
Salt and Modified Food Starch
Sherry Wine Powder
Dextrose, Cellulose Gum, and Xanthan Gum
Soybean Oil
Spices and Natural Flavors
Sodium Benzoate (Preservative) and Succinic Acid
Garlic Powder, Dried Chili Peppers, Onion Powder, and Extractives of Paprika (Color)
Caramel Color.
Sweet Baby Ray's Sweet 'n Sour Dipping Sauce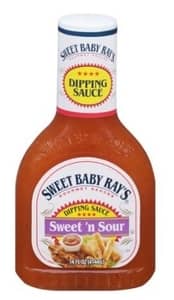 Ingredients for this one include:13
High Fructose Corn Syrup, Water, and Apple Sauce (Apples, Ascorbic Acid)
Water and Distilled Vinegar
Modified Food Starch
Salt, Garlic, and Natural Flavor
Pineapple and Lemon Juice Concentrates
Sodium Benzoate and Calcium Disodium EDTA
Red Bell Pepper, Spices, and Paprika
Vegetable Oil (Soybean and/or Canola)
Sweet and Sour Sauce in Restaurants and Buffets
As for restaurants and Chinese buffets, there may be no way to know for sure, but you can safely assume that the sauce is good to go.
There is the off chance that it might contain carmine, but based on my research (I've read dozens of labels), it seems to be a pretty fringe ingredient. If you're an extra prudent vegan and want to play it safe, then you'll need to reach out to the particular food establishment to make sure.
That's it for the vegan status of sweet and sour sauce. Thanks for reading.
You may also want to check out the following related articles:
References