You love Pringles, but you're vegan, or will be soon. You've heard they do some vegan flavors, but which ones are animal free?
Here's a list of vegan Pringles:
Pringles Original.
Pringles Paprika.
Pringles Sriracha Asian Chili Sauce.
Pringles Wasabi & Soy Sauce.
Pringles Salsa de Chile Habanero.
Pringles Wavy Classic Salted.
Pringles Lightly Salted Original.
Pringles Kickin' Chicken Taco and Pringles Bacon.
Below we'll look at why these flavors are vegan, which Pringles flavors aren't vegan, and help you decide which snacks will be best for you when embracing veganism.
Vegan Pringles Varieties
Original Pringles Are Vegan

I get asked quite a bit if the original Pringles are vegan—probably due to their unique texture. Any time a food product has a unique texture, one has to wonder whether any animal products were needed to achieve it. The texture, in this case, is achieved simply by using dehydrated potato flour. So, no problems there.
Specifically, the actual chip component of Pringles (i.e. minus flavor ingredients) contains 42% potato content (dehydrated potatoes), with the remainder being wheat starch and flours (corn and rice) along with an emulsifier, vegetable oils, and salt.4
So, these are 100% Vegan.
Do Pringles Contain Palm Oil?
No, the Pringles I've run across do not contain palm oil.
The ingredients label for Pringles Original Potato Crisps includes the follwing:5
Dried potatoes
Vegetable oil (corn oil, cottonseed oil, soybean oil and/or sunflower oil)
Rice flour
Wheat starch
Maltodextrin
Salt
Dextrose
This is good news for vegans because many in the community want to avoid palm oil due to the devastating effects its cultivation has on the environment. The presence of palm oil doesn't render a food product non-vegan by most standards, but many vegans do want to avoid it and it's always nice to know when a product doesn't contain the stuff.
Pringles® Wavy Classic Salted Are Vegan

These contain:6
Dried potatoes
Vegetable oils (no palm oil)
Degerminated yellow corn flour
Cornstarch
Rice flour
Maltodextrin
Mono- and diglycerides
Salt
Wheat starch
Pringles® Lightly Salted Original Are Vegan

These are also suitable for vegans.
They contain:7
Dried potatoes
Vegetable oil
Degerminated yellow corn flour
Cornstarch
Rice flour
Maltodextrin
Mono- and diglycerides
Salt
Wheat starch
A Note on Mono- and Diglycerides
Mono- and diglycerides are like the triglycerides (TGs) in our fat cells but contain one and two fatty acids (respectively) attached to a glycerol backbone, instead of three FAs like TGs.8
They're used as emulsifiers to help ingredients stay mixed. Industrially, they tend to be produced by reacting triglycerides with glycerol.9
They can be animal-derived if the TGs used for the reaction are sourced from animals. However, many plants contain TGs so the ingredients are often completely vegan-friendly.
Not all vegans want to avoid these, and food products containing the additive aren't considered non-vegan by most standards.
But, if you're an especially prudent vegan, this is something to keep in mind. You may want to stick with the original (non-wavy) version above.
Pringles Kickin' Chicken Taco Flavored Potato Crisps Are Vegan

Don't ask me how this happened. But, no animal ingredients are listed on the label.
Specifically, these contain:10
Dried Potatoes
Vegetable Oil (Contains One Or More Of The Following: Corn Oil, Cottonseed Oil, Soybean Oil, And/Or Sunflower Oil)
Degerminated Yellow Corn Flour
Cornstarch
Rice Flour
Maltodextrin
Mono And Diglycerides
Spices
Tomato Powder
Salt
Sugar
Natural And Artificial Flavor
Monosodium Glutamate
Sodium Diacetate
Onion Powder
Yeast Extract
Paprika Extract (Color)
Citric Acid
Wheat Starch
I am curious what lurks behind "natural and artificial flavors" in this case. Generally, when "Natural and Artificial Flavors" is listed with no additional information, it means that there are no real meat derivatives in the package. When this is the case, the flavors referred to are most likely derived from dried vegetable powders, salt, and pepper, etc.
A lot of non-animal-derived ingredients impart a savory meat flavor (think MSG). Umami is a category of taste in (like sweet, sour, bitter, and salt), that corresponds to the flavor of the amino acid glutamate which is found abundantly in non-animal sources.
Pringles Bacon Flavored Potato Crisps Are Vegan

Another surprising one.
These include:11
Dried potatoes
Vegetable oil
Corn flour
Wheat starch
Maltodextrin
Mono- and diglycerides
Salt
Rice flour
MSG
Garlic powder
Onion powder
Yeast extract
Torula yeast
Sugar
Spices
Caramel color
Dextrose
Citric acid
Disodium inosinate
Disodium guanylate
Coffee
Paprika extract (for color)
Natural flavors (including natural smoke flavor)
A Note on Smoke Flavor
I get asked a lot of liquid smoke is vegan. The stuff is actually made from smoke, so it's 100% vegan-friendly.
Wood chips and sawdust are burned at high temperatures, at which point the particles of the smoke are put into condensers. The process results in a concentrated liquid with a strong smoke flavor.
A Note on Caramel Color
Caramel is a popular non-vegan candy so folks often want to know if caramel color is derived from actual caramel. It is produced in a manner very similar to caramel via a browning reaction using simple sugars. But, the type of sugar used to produce caramel color tend to be sugars other than lactose.12
So, caramel color is perfectly vegan-friendly.
Pringles Sriracha Asian Chili Sauce Potato Crisps Are Vegan

Ingredients include Original Pringles ingredients plus:13
Mono- and diglycerides
Sodium diacetate
MSG
Hot sauce (red peppers, vinegar, salt, garlic)
Citric acid
Natural and artificial flavors
Chii pepper
Disodium inosinate
Disodium guanylate
Malic acid
Apple cider vinegar
Paprika extract
Red 40 Lake
A Note on Red 40
Red 40 or Allura red is not to be confused with Red 4 (carmine). They have a similar color and name so they're often confused with each other. The above contains Red 40 which is derived from petroleum. Red 4, on the other hand, is derived from beetles. Thankfully, Pringles don't make use of Red 4.
Pringles Wasabi & Soy Sauce Potato Crisps Are Vegan

These contain the usual ingredients plus a few extra spices and additives, all of which are vegan-friendly. They also contain mono- and diglycerides, so they may not be suitable for extra strict vegans.14
Pringles Salsa de Chile Habanero Potato Crisps Are Vegan

These contain the usual ingredients with extra spices you'd expect in a salsa-flavored snack. They don't contain glycerides, so they're suitable for vegans who want to restrict this ingredient.15
Are There Any Vegan BBQ Varieties?
Unfortunately, barbecue Pringles are not vegan as they contain whey protein as an additive.
At least, according to the website.32
But, great value puts out a food product called Stack Attack which is basically the same thing. Their BBQ doesn't have any animal products.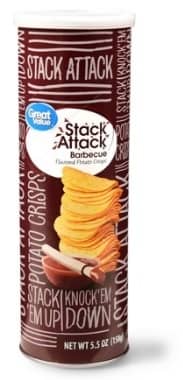 I've tried them before, and they're really good.31
Non-Vegan Pringles Varieties
Pringles® Salt & Vinegar Aren't Vegan
This was really surprising. Salt and vinegar should be an "accidentally vegan" flavor in snack foods.
But, unfortunately, these contain lactose in addition to the Original Pringle ingredients:16
Lactose is the simple sugar found in milk. Milk is made up of about 2–8% lactose by weight and several million tons of the stuff is produced annually as a by-product of the dairy industry.17
Pringles® Screamin' Dill Pickle Aren't Vegan
These contain lactose and whey protein.18
When I first saw the ingredients in the Salt and Vinegar flavor, I thought "that's okay, I'm sure the dill pickle flavor will be good to go." Yet another almost vegan snack food fallen prey to milk products.
Pringles® Memphis BBQ Aren't Vegan
At first, I thought "yayy, a BBQ flavor without honey." But, not so fast. These have milk obscured in the natural and artificial flavors. Specifically, it's listed as "Natural and artificial flavors (contains milk)."19
Pringles® BBQ Aren't Vegan
I was surprised and disappointed to have to inlude these on the list of non-vegan Pringles. BBQ tends to be vegan, but this version contains whey protein. Whey is a protein that makes up about 20% of the proteins found in milk. It's used to boost nutrition and improve mouthfeel.
These contain ingredients for the original Pringles plus:20
Sugar
Mono- and diglycerides
Tomato powder
Monosodium glutamate (MSG)
Citric acid
Onion powder
Spices
Garlic powder
Yeast extract
Hydrolized corn protein
Malted barley flour
Malic acid
Disodium inosinate
Disodium guanylate
Paprika extract color
Natural flavors
Whey
Wheat starch
Pringles® Cheddar Cheese Aren't Vegan
This one's obvious. Cheese flavor, even if it's far from all-natural, contains a number of milk products.
These contain:21
Whey
Pasteurized milk
Cheese cultures
Enzymes
Buttermilk
Butter (cream and salt)
Nonfat milk
Pringles® Cheddar & Sour Cream Aren't Vegan
These contain:22
Milk
Cheese cultures
Sodium caseinate
Cream
Nonfat milk
Reduced lactose whey
Blue cheese
Cultured non-fat milk
Pringles® Pizza Aren't Vegan
These contain:23
Whey
Milk
Cheese cultures
Buttermilk
Pringles® Ranch Aren't Vegan
These contain:24
Buttermilk
Cultured non-fat milk
Cream
Pringles® Sour Cream & Onion Aren't Vegan
These include:25
Whey
Cream
Non-fat milk
Buttermilk
Cultured non-fat milk
Pringles® Buffalo Ranch Aren't Vegan
These contain:26
Whey solids
Buttermilk
Whey protein concentrate
Pringles® Honey Mustard Aren't Vegan
You guessed it… these contain honey.
They also contain lactose which, unlike lactic acid (often derived from beets), is always non-vegan.27
Pringles® Jalapeño Aren't Vegan
Another not-so-obvious one. I really got my hopes up for this one because I love jalapeno-flavored snacks. But, alas, it contains whey protein as a food additive.28
If you've ever had these, you probably noticed they're a bit on the creamy side which is always a red flag. Anyway, you were astute to check with this article first.
Pringles® Extra Hot Aren't Vegan
Looks like we lost another hot and spicy flavor.
These include whey protein in the ingredients.29
Pringles French Onion Dip Potato Crips Aren't Vegan
These contain:30
Non-fat milk
Cultured non-fat milk
Cream
Vegan Flavored Pringles; Conclusion
Pringles is a popular brand of potato and wheat-based stackable chips. They've been around since the 60s where they were first marketed as "Pringle's Newfangled Potato Chips." Eventually, the brand was sold to Kellogg's in 2012 and the products are now sold in more than 140 countries.1,2
They're among the most popular snacks alongside Lay's, Cheetos, and Doritos with 2.2% market share globally.3
They come in dozens of flavors these days, so answering the question "are Pringles are vegan?" makes little sense. That's why we decided to break things down, flavor by flavor.
I don't know about you, but that was enlightening for me. Of the classic flavors—listed as favorites on the Pringles website—all but the Pringles Original are non-vegan. Even flavors like salt and vinegar make use of milk derivatives.
The only flavors that qualified as vegan were the original (including wavy and reduced-salt) and some, but not all, of the obscure flavors. I don't know how long some of the fringe flavors have been around, or how long they'll continue to be available.
All we can hope for is that Pringles moves away from using some of the animal-derived ingredients they're currently using.
Anyway, I hope that was helpful. Thanks for reading.
References
"Kellogg Company Completes Pringles Acquisition". Kellogg Company. 31 May 2012. http://newsroom.kelloggcompany.com/2012-05-31-Kellogg-Company-Completes-Pringles-Acquisition
Chapman, Michelle (6 April 2011). "Pringles sold to growing empire". The Sun News. Associated Press. Archived from the original on 4 February 2013. https://archive.is/20130204030823/http://www.thesunnews.com/2011/04/06/2083370/pringles-sold-to-growing-empire.html
Culliney, Kacey (17 June 2013). "Kellogg inks Pringles EMEA expansion plan". Bakeryandsnacks.com. https://www.bakeryandsnacks.com/Article/2013/06/17/Kellogg-Pringles-expansion-in-Europe
Pringles. https://en.wikipedia.org/wiki/Pringles
Pringles Original Potato Crisps, 1.3 Oz. https://www.walmart.com/ip/Pringles-Original-Potato-Crisps-1-3-Oz/103897471
Smart Label. Pringles Wavy Classic Salted. http://smartlabel.kelloggs.com/Product/Index/00038000202278#ingredients
Smart Label. Pringles Lightly Salted. http://smartlabel.kelloggs.com/Product/Index/00038000138812#ingredients
IUPAC, Compendium of Chemical Terminology, 2nd ed. (the "Gold Book") (1997). Online corrected version: (2006–) "glycerides"
Sonntag, Norman O. V. (1982). "Glycerolysis of fats and methyl esters — Status, review, and critique". Journal of the American Oil Chemists' Society. 59 (10): 795A–802A. doi:10.1007/BF02634442. ISSN 0003-021X
Pringles Kickin' Chicken Taco Flavored Potato Crisps. https://www.instacart.com/kroger/products/17090649-pringles-potato-crisps-chips-kickin-chicken-taco-5-5-oz
Pringles Bacon Flavored Potato Crisps, 5.96, Oz. https://www.walmart.com/ip/Pringles-Bacon-Flavored-Potato-Crisps-5-96-Oz/35137211
Caramel Color. https://en.wikipedia.org/wiki/Caramel_color#Production
Pringles Sriracha Asian Chili Sauce Potato Crisps. https://www.walmart.com/ip/Pringles-Sriracha-Asian-Chili-Sauce-Potato-Crisps-5-96-Oz/35137210
Pringles Wasabi & Soy Sauce Potato Crisps, 5.96 Oz. https://www.walmart.com/ip/Pringles-Wasabi-Soy-Sauce-Potato-Crisps-5-96-Oz/43852058
Pringles Salsa de Chile Habanero Potato Crisps, 6.38 Oz. https://www.walmart.com/ip/Pringles-Salsa-de-Chile-Habanero-Potato-Crisps-6-38-Oz/23711693
Smart Label. Pringles Salt and Vinegar. http://smartlabel.kelloggs.com/Product/Index/00038000138607#ingredients
Smart Label. Pringles Screamin' Dill Pickle. http://smartlabel.kelloggs.com/Product/Index/00038000139277#ingredients
Smart Label. Pringles Memphis BBQ. http://smartlabel.kelloggs.com/Product/Index/00038000139048#ingredients
Smart Label. Pringles BBQ. http://smartlabel.kelloggs.com/Product/Index/00038000183713#ingredients
Smart Label. Pringles Cheddar Cheese. http://smartlabel.kelloggs.com/Product/Index/00038000138577#ingredients
Smart Label. Pringles Cheddar Sour Cream. http://smartlabel.kelloggs.com/Product/Index/00038000138973
Smart Label. Pringles Pizza. http://smartlabel.kelloggs.com/Product/Index/00038000138638#ingredients
Smart Label. Pringles Ranch. http://smartlabel.kelloggs.com/Product/Index/00038000138720#ingredients
Smart Label. Pringles Sour Cream and Onion. http://smartlabel.kelloggs.com/Product/Index/00038000138430#ingredients
Smart Label. Pringles Buffalo Ranch. http://smartlabel.kelloggs.com/Product/Index/00038000139192#ingredients
Smart Label. Pringles Honey Mustard. http://smartlabel.kelloggs.com/Product/Index/00038000183928#ingredients
Smart Label. Pringles Jalapeno. http://smartlabel.kelloggs.com/Product/Index/00038000138874#ingredients
Smart Label. Pringles Extra Hot. http://smartlabel.kelloggs.com/Product/Index/00038000180606#ingredients
Pringles French Onion Dip Potato Crips. https://ship.kroger.com/p/038000138744/kelloggs-pringles-potato-crisps-french-onion
Great Value Stack Attack Barbecue Potato Crisps . https://www.walmart.com/ip/Great-Value-Stack-Attack-Barbecue-Potato-Crisps-5-5-Oz/554748898
Pringle's Barbecue Flavor. https://www.pringles.com/us/products/favorites/bbq.html