In this article, we'll be looking at whether marshmallows are generally vegan. And if not, whether there are vegan brands or mainstream marshmallows on the market that are "accidentally" vegan. Marshmallows have a gummy consistency, which is usually a red flag given that many animal products can be used to achieve that texture.
Are they vegan? Marshmallows are not typically vegan. In fact, they're not even considered vegetarian due to the presence of gelatin. Albumen (egg protein) is another, albeit less common, ingredient in marshmallows that can cause problems for vegans.1 Vegan varieties do exist, but they are the exception.
I usually run into this question more often when summer rolls around, probably due to camping season. Which reminds me, if you're reading this article because you're looking to make S'mores, then you'll definitely want to check out the article on the vegan status of graham crackers.
What we'll do next is examine why most marshmallows fall short of being vegan-friendly, and then look at some products on the market that 100% plant-based eaters can consume.
Why Most Marshmallows Are Non-Vegan
You'll hear a lot about different kinds of marshmallows like extruded cylindrical marshmallows that are mass-produced vs. artisan marshmallows that are spread onto a slab and then cut with a knife or wire cutter.
Then there's crystallized vs. uncrystallized, grained or ungrained, etc. Most distinctions have to do with factors like how much glucose syrup is used so these explanations have less to do with the vegan status of the food product.
So, here we'll focus on the two ingredients most commonly found across all types of marshmallows.
Marshmallows Have Gelatin
As mentioned above, exceptions do exist. But, the most recognizable brands of marshmallows, like the Jet-Puffed, contain gelatin as a texturizer.2
So you know, gelatin is a protein derived from the collagen present in animal tissues. Various animal tissues (skin, bones, ligaments, etc.) are boiled down which produces a semi-transparent, tasteless and odorless substance with a mildly yellow color.3
Cruel and disgusting, I know.
Interestingly, the marshmallow has a plant-based origin. It goes a long way back, probably to ancient Egypt, and the original recipe was gelatin-free. The mucilaginous sap was extracted from the root of the marshmallow plant and then mixed with honey to create the confection.1
Still non-vegan by some standards (due to honey), but at least it gelatin-free.
Marshmallows Can Contain Albumen
Nowadays, marshmallows are usually made with some combination of gelatin, sugar, glucose syrup, and flavoring. Preservatives are also used—usually whipping agents like tetrasodium pyrophosphate.
However, a lesser-known ingredient is albumen. Albumen is found in blood, eggs, and animal tissue. In the food industry, it's typically derived from eggs. In fact, albumen is sometimes used interchangeably with egg whites, as the name technically refers to the water and protein portion of the egg.
When spelled with an "i" (albumin), the term refers to the protein content that forms the membrane around the yolk.3
Either way, it's egg-derived and when present, renders a food non-vegan.
In the past, marshmallow products were made using albumen as the sole aerator or were made with both albumen and gelatin.1
Nowadays, it's used less, and tends to be more common in marshmallow fluff.
The Best Vegan-Friendly Marshmallows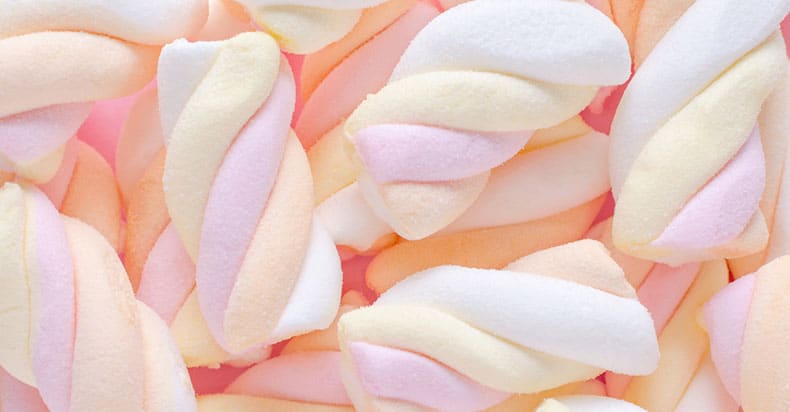 Now the moment you've been waiting for, here are the best vegan marshmallows on the market!
No matter if you want to eat them by themselves, want them for s'mores, or want a marshmallow topping or dip, we have a vegan option for you. I've even shared a top gluten free marshmallow option too. 🙂
Trader Joe's Marshmallows – Gluten Free
Instead of gelatin or egg white, Trader Joe's gluten free marshmallows make use of soy protein which is a common aerator used in confections.7
They can be found here.
The ingredients include cane sugar, tapioca syrup, tapioca starch, water, carrageenan (a plant-based gum), soy protein, and natural vanilla flavor.
These marshmallows get great feedback and are probably the most popular "accidentally vegan" marshmallow product.
Dandies Vegan Marshmallows, Vanilla – Best For S'mores
A lot of vegan specialty products are on the boutique side, and many such products lose the taste and texture characteristic of the original. However, Dandies marshmallows are as close to the original as you can get. I personally can't tell the difference.
You can find these here.
These are probably the most popular marshmallows made for vegans, and they have tons of reviews, almost all of which are positive. They also put out mini marshmallows. These can be found here.
These are great for topping hot chocolate and best for s'mores.
Apricity Vanilla Marshmallows
Unlike Dandies, this is more of a boutique product.
Keep in mind these DO contain honey, so they're not suitable for all vegans. I know there's still some disagreement in the community about the vegan-status of honey, confectioner's glaze, and other insect-derived products.
But if you are interested, these can be found here.
This product gets great reviews, contains only "clean" ingredients, no preservatives, etc. And apparently they taste great.
What About Dehydrated Marshmallows? (Cereal, Etc.)
Some cereals, like Lucky Charms, are made using dehydrated marshmallows. In fact, the brand now puts out a bag of pure marshmallows without the crunchy grain portion.
Unfortunately for fans of this version, dehydrated marshmallows tend not to be vegan.
For example, Jet-Puffed Lucky Charms Magically Delicious Marshmallows contain sugar, corn syrup, dextrose, modified cornstarch, water, additives (flavorings, colorants, etc.) and… you guessed it: gelatin.4
You'll be glad to know there are some exceptions. While you won't be able to consume Lucky Charms, Sweet and Sara Dried Cereal Marshmallows turn out to be gelatin-free and vegan.
You can find these here.
Is Marshmallow Fluff Vegan?
Marshmallow fluff is not typically vegan. Marshmallow cream, or marshmallow fluff, is another popular version of the confection. While this version doesn't require gelatin—a chewy texture isn't desirable in this variety. But some marshmallow fluff does contain albumen.
For example, Jet-Puffed Marshmallow Crème contains corn syrup, sugar, water, cream of tartar, xanthan gum, flavorings, and egg whites.5
Fluffernutter Marshmallow Fluff also contains egg whites.6
However, there are other versions that omit this ingredient.
Smucker's Marshmallow Topping is a popular vegan marshmallow dip and it can be found here.
It contains cellulose gel and vegetable gums in place of egg whites.
Suzanne's Ricemellow Crème is another great option, especially for those who prefer fewer ingredients as it only contains brown rice syrup, soy proteins, vegetable gums, and natural flavors. You can check this product out here.
Walden Farms Marshmallow Dip contains water, cellulose gel, xanthan gum, sucralose, lactic acid, salt, flavors, colors, and potassium sorbate sucralose. You can find these here.
Keep in mind this is a calorie-free dip, so if you don't like artificial sweeteners, you'll want to look elsewhere.
Are Marshmallows Vegan? Conclusion
That's it for the vegan status of marshmallows. Like with many vegan products, you're probably not going to run across them in your neighborhood supermarket. But, they're fairly easy to find when shopping online.
A word of caution: don't assume because a product looks "all-natural", is non-GMO, or comes in  brown paper packaging, etc. that it's vegan-friendly. In fact, when researching this article, I found that "vegan marshmallows" as a search query often returned results for non-vegan, gelatin-containing hippy health food marshmallows.
That's it for the vegan status of marshmallows. Thanks for reading.
References
Chocolates and Confections: Formula, Theory, and Technique For the Artisan Confectioner (Page 356). Peter Greweling-Ben Fink – John Wiley & Sons – 2013
Smart Label Nutrition Data. JET-PUFFED Jumbo Everyday Marshmallows 24oz Bag. https://smartlabel.kraftheinz.com/JETPUFFED/product/00600699001656#ingredients
Understanding Food: Principles and Preparation (Page 250). Amy Brown – Wadsworth Cengage Learning – 2011. ISBN-10: 0-538-73498-1
Smart Label Nutrition Data. Jet-Puffed Lucky Charms Magically Delicious Marshmallows, 7 oz Bag. https://smartlabel.kraftheinz.com/JETPUFFED/product/00600699003537#ingredients
Smart Label Nutrition Data. JET-PUFFED Marshmallow Creme 7oz Jar. https://www.myfoodandfamily.com/brands/jet-puffed/product/00600699661447/jet-puffed-marshmallow-creme-7-oz-jar
Fluffernutter Marshmallow Fluff, 7.5 oz (Pack of 12). https://www.walmart.com/ip/Fluffernutter-Marshmallow-Fluff-7-5-oz-Pack-of-12/19476278
Chocolates and Confections: Formula, Theory, and Technique For the Artisan Confectioner (Page 273). Peter Greweling-Ben Fink – John Wiley & Sons – 2013