An apple pie is a classic household favorite. I'm sure there are a lot of desserts with apple in the mix, but here we're talking about pies having apple as the principle filling. The average apple pie usually requires about six apples.1
Is it vegan? Some apple pies are vegan and others are not. For example, Freshness Guaranteed Apple Pie with Cinnamon contains no non-vegan ingredients while the recipe outlined in the Joy of Cooking (a classic) calls for butter.2,3
To be sure you're consuming a cruelty-free apple pie you'll need to scan the label or make your own using plant-based ingredients.
What we'll do here is cover some of the most common animal-derived ingredients used in apple pie, their functions, and plant-based ingredients that are often used to achieve the same purposes.
Non-Vegan Ingredients in Apple Pie
Below are the most obvious ingredients, but keep in mind that a ton of sneaky additives can find their way into baked goods. So, always scan labels for stuff like whey protein, dry milk, etc.
Cheese
I've never run across an apple pie with cheese in it, but apparently, it's a pretty common ingredient.4
I'm a cheese lover but this sounded odd to me at first. I suppose it goes with the classic recipe pretty well.
Vegan Replacement
If you like cheese on or in your apple pie, there are a number of dairy-free cheeses on the market these days. I doubt you'll find a pre-prepared pie with vegan cheese, as most pre-made pies that qualify as vegan are what you'd call "accidentally vegan."
But, if you're making your own pie, you can always pick up some vegan cheese shreds at Whole Foods Market, Trader Joes, and even Walmart.
Cream
Apple pie, on occasion, is served with ice cream or whipped cream on top (the former being known as apple pie a la mode).
Vegan Replacement
Plant-based ice creams are pretty abundant these days. As for whipped cream, nowadays, there are a few plant-based options on the market, usually, almond or coconut based.
There were a number of dairy-free whipped creams available prior to there being plant-based alternatives marketed towards vegans. However, these usually had other animal ingredients.  So, you'll want to go with one of the vegan varieties.
Streusel
Streusel is a crunchy flavorful topping spread over the top of pies. It's made by combining flour and brown sugar with butter or margarine. It can also contain spices and chopped nuts.5
Vegan Replacement
Use shortening or margarine if making your own. If you're buying a pre-made pie, look for vegetable shortening as it's likely used. Veggie shortening is made of hydrogenated oils and is solid at room temp. It's easy to work with so it's a favorite for pastries and pies.
Pie Crust
Egg
Apple pie is a two-crust pie which is the type of pie that has a second crust to cover the filling.6
A common decoration on the top crust is sugar sprinkled over a crust that's been lightly brushed with a beaten egg whites.7
Butter and Lard
A lot of pie crusts are made from graham crackers and these are often completely vegan. But, the type of crust used for apple pie tends to be traditional pie crust which often contains butter or lard.
For example, Pillsbury Pet-Ritz Deep Dish Pie Crust contains:8
Enriched Wheat Flour (wheat flour, niacin, iron, thiamin mononitrate, riboflavin, folic acid)
Lard
Hydrogenated Lard with BHA and BHT
Water
Sugar
Vegan Replacement
Shortening is the most common plant-based replacement for butter.
Also, keep in mind that just because shortening is listed, that doesn't mean that there isn't butter in the mix.
For example, Mrs. Smith's® Original Flaky Crust Dutch Apple Pie contains a shortening-butter Blend with palm oil and butter (cream and salt).9
But, a lot of traditional pie crusts are completely vegan.
For example, Great Value Traditional 9″ Pie Crust contains:10
Wheat flour
Vegetable shortening (palm oil, soybean oil, mono- and diglycerides)
Water
Sugar
Dextrose
Salt
Yeast
A Note on Palm Oil
Palm oil is a rather controversial ingredient in the vegan community. Its production has some pretty devastating effects on the environment and the deforestation required for its cultivation is thought to threaten endangered species like the orangutan and Sumatran tiger.11-14
But, the presence of palm oil doesn't render a food product non-vegan by most standards. If you want to avoid palm oil, you may have difficulty finding a suitable traditional pie crust, because shortening (the most common plant-based butter alternative) is usually made up of hydrogenated palm oil.
If you want to avoid palm oil in your pie crust, look for crusts with shortening made from soybean oil.
A Note on Mono and Diglycerides
These ingredients are common in baked goods because they make for good emulsifiers.15,16
They can be a grey area for some because they're often derived from animals.17,18
Sometimes a food product will list them as plant-based, but that's usually not the case with products that are accidentally vegan.
Not all vegans avoid mono- and diglycerides, but if you're an extra prudent vegan this is something to keep in mind. It probably won't be too difficult to find a pie crust without these additives, so with a bit of browsing, you'll probably find some that meet your standards.
Is Apple Pie Filling Vegan?
Apple pie filling is mostly just apples and water, so it's usually 100% vegan-friendly.
For example, Great Value (Walmart) Apple Pie contains:19
Apples
Water
Food starch-modified (corn)
Spices
Sucralose (a non-nutritive sweetener)*
*This particular filling is advertised as "no sugar added" so it uses sucralose (Splenda) instead of sucrose (table sugar).
Commercial Vegan-Friendly Apple Pies
A lot of store-bought apple pies are suitable for vegans, but this will just give you an idea of what's out there.
Freshness Guaranteed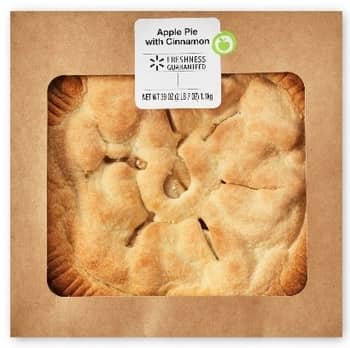 This one's accidentally vegan.
Ingredients include:2
Apples
Enriched Flour (Wheat Flour, Niacin, Reduced Iron, Thiamine Mononitrate, Riboflavin, Folic Acid)
Vegetable Shortening (Palm Oil, Soybean Oil)
Sugar
Water
Modified Tapioca Starch
Dextrose
Salt
Food Starch-Modified
Sodium Propionate (Preservative)
Spices
Potassium Sorbate (Preservative)
Lemon Juice From Concentrate (Water, Concentrated Lemon Juice, Sodium Sulfite, Lemon Oil)
Tapioca Dextrin
Sara Lee Apple Pie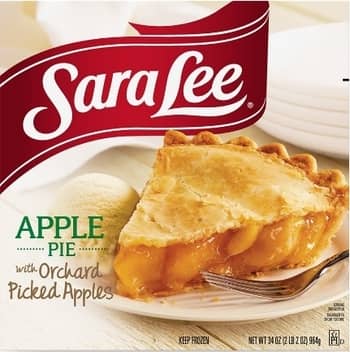 Ingredients include:20
Apples
Enriched flour (wheat flour, niacin, iron, thiamin mononitrate, riboflavin, folic acid)
Water
Vegetable oil (palm and soybean oils)
High fructose corn syrup
Corn syrup
Modified corn starch
Salt
Cinnamon
Malic acid
Claim Jumper Lattice Apple Pie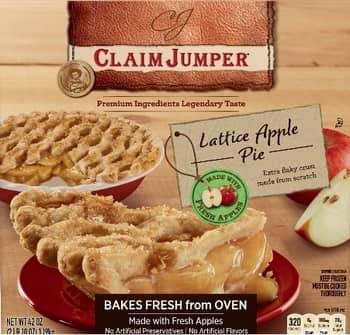 Ingredients include:21
Apples
Sugar
Water
Modified Corn Starch
Salt
Spice
Citric Acid
Enriched Wheat Flour (Wheat Flour, Niacin, Reduced Iron, Thiamine Mononitrate, Riboflavin, Folic Acid)
Soybean Oil
Hydrogenated Soybean Oil
Dextrose
That's it for apple pies. Thanks for reading.
You may also want to check out related articles:
References
Understanding Food: Principles and Preparation (Page 110). Amy Brown – Wadsworth Cengage Learning – 2011
Freshness Guaranteed 10" Apple Pie 39oz. https://www.walmart.com/ip/Freshness-Guaranteed-10-Apple-Pie-39oz/39451968
Joy Of Cooking (Page 651). Irma Rombauer-Marion Becker-Ginnie Hofmann-Ikki Matsumoto – Plume Book – 1997
Waters, Michael (13 July 2017). "The Long, Storied Controversy Over Cheese on Apple Pie". Atlas Obscura. https://www.atlasobscura.com/articles/cheese-apple-pie
Understanding Food: Principles and Preparation (Page 508). Amy Brown – Wadsworth Cengage Learning – 2011
Understanding Food: Principles and Preparation (Page 512). Amy Brown – Wadsworth Cengage Learning – 2011
Kreitler AE. Clever crust. Fine Cooking 95:80, 2008.
Pillsbury™ Pet-ritz™ Deep Dish Pie Crusts. https://www.pillsbury.com/products/pie-crust/pet-ritz-deep-dish-pie-crust
Mrs. Smith's® Original Flaky Crust Dutch Apple Pie. https://www.walmart.com/ip/Mrs-Smith-s-Original-Flaky-Crust-Dutch-Apple-Pie-37-oz-Box/28175342
Great Value Traditional 9″ Pie Crusts, 15 oz, 2 Count. https://www.walmart.com/ip/Great-Value-Traditional-9-Pie-Crusts-15-oz-2-Count/12166006
"The bird communities of oil palm and rubber plantations in Thailand" (PDF). The Royal Society for the Protection of Birds (RSPB). Archived (PDF) from the original on 6 October 2016. Retrieved 4 October 2016.
"Palm oil threatening endangered species" (PDF). Center for Science in the Public Interest. May 2005. Archived (PDF) from the original on 17 September 2012.
Shears, Richard (30 March 2012). "Hundreds of orangutans killed in north Indonesian forest fires deliberately started by palm oil firms". Daily Mail. London. Archived from the original on 20 April 2013. Retrieved 1 April 2012.
"Camera catches bulldozer destroying Sumatra tiger forest". World Wildlife Fund. 12 October 2010. Archived from the original on 16 January 2013.
Monoglyceride. https://en.wikipedia.org/wiki/Monoglyceride#Uses
Diglyceride. https://en.wikipedia.org/wiki/Diglyceride
Monoglyceride Synthesis. https://en.wikipedia.org/wiki/Monoglyceride#Synthesis
Sonntag, Norman O. V. (1982). "Glycerolysis of fats and methyl esters — Status, review and critique". Journal of the American Oil Chemists' Society. 59 (10): 795A–802A.
Great Value Pie Filling or Topping, No Sugar Added, Apple, 20 oz. https://www.walmart.com/ip/4-Pack-Great-Value-Pie-Filling-or-Topping-No-Sugar-Added-Apple-20-oz/47232723
Sara Lee® Apple Pie. (Frozen). https://saraleedesserts.com/products/apple-pie/
Claim Jumper Lattice Apple Pie Frozen Dessert 42 Oz. https://www.walmart.com/ip/Claim-Jumper-Lattice-Apple-Pie-Frozen-Dessert-42-Oz/187437742