Horseradish is a perennial plant in the same family (Brassicaceae) as mustard, broccoli, and cabbage. It's a root vegetable that's used as a spice and is popular in condiments. Because it's used in many dishes and sauces folks often want to know if it's vegan.
Is horseradish vegan? Horseradish itself is a root and is thus vegan. Horseradish sauce, on the other hand, can contain animal ingredients—namely, egg products.
List of Non-Vegan Horseradish Condiments and Sauces
Traditional Horseradish Sauce (US)
In the US the term "horseradish sauce" typically refers to a mixture of egg, mayonnaise or an equivalently non-vegan salad dressing with horseradish.1
For example, Zatarain's Prepared Horseradish contains:2
Horseradish
Vinegar
Water
Soybean oil
Salt
Artificial flavor
Egg
Sugar
Sodium metabisulfite & sodium benzoate (preservatives)
Cellulose gum
Xanthan gum
Citric acid
Spices
High fructose corn syrup
Lemon juice concentrate
Calcium disodium EDTA (for freshness)
Inglehoffer Cream Style Horseradish contains:3
Grated horseradish root
Water
Soybean oil
White distilled vinegar
High fructose corn syrup
Eggs
Sugar
Modified corn starch
Salt
Lemon juice
Xanthan gum
Sodium metabisulfite and sodium benzoate
Artificial flavor
Citric acid
Calcium disodium EDTA
Paprika
Surprisingly, this one doesn't contain any actual cream (milk) products. But, it does contain egg, so it's off-limits for vegans.
List of Vegan Horseradish Condiments and Sauces
Pure Horseradish Sauce (Of Course)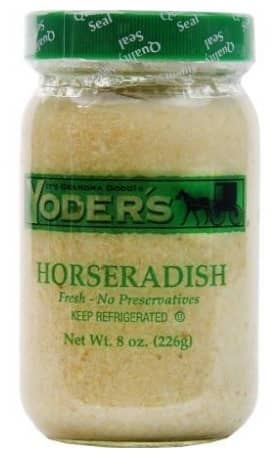 For example, Yoders Pure Horseradish Sauce contains:4
Horseradish root
Vinegar
Salt
That's about as plain as you're going to get. In the US, most seafood joints serve this form in small cups with ketchup to mix your own cocktail sauce.
Horseradish w/Additional Ingredients
For example, though it appears as a creamy horseradish sauce, Agrosik Agrosik Horseradish simply contains:5
Horseradish
Sugar
Vinegar
Vegetable Oil
Salt
Citric Acid
Antioxidant (Ascorbyl Acid)
Horseradish Mustard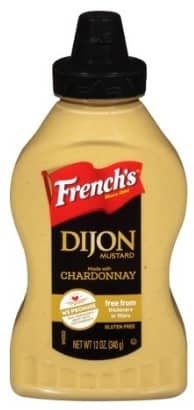 This stuff tends to be vegan even in the US.
For example, French's Dijon Mustard includes:6
Distilled Vinegar
Water
#1 Grade Mustard Seed
Salt
Chardonnay Wine
Citric Acid
Tartaric Acid
Spices and Turmeric
This was a surprise. It has a creamy character to it, so I fully expected it to be egg or cream based.
Annie's Organic, Gluten Free Horseradish Mustard contains:7
Apple Cider Vinegar
Water
Mustard Seed
Sea Salt
Horseradish Root
Garlic
Natural Horseradish Flavor
Clove
Cocktail Sauce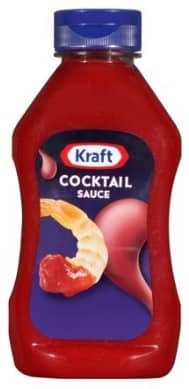 Cocktail sauce is a type of cold or room temp sauce typically served with seafood cocktail or as a condiment with other types of seafood.8
Is it vegan? Yes, cocktail sauce is typically vegan. In the US, it generally consists of horseradish root, ketchup or chili sauce. It can contain Worcestershire as an additive, but it's fairly uncommon.9
For example, Kraft Cocktail Sauce contains:10
Water
Tomato Paste
Vinegar
Sugar
Horseradish
Salt
Modified Food Starch
Soybean Oil
Lemon Juice
Sorbic Acid
Lactic Acid
Natural Flavor
Artificial Flavor
Red 40
Yellow 6
Soy Lecithin
Lactic acid could be a problem for some vegans, but foods containing LA aren't typically considered non-vegan by most standards unless one has reason to believe that it was derived from animal sources. More on this below.
Anchovy Caution
Some cocktail sauces contain anchovies or anchovy paste. This is obviously not a vegan ingredient.
For example, Louisiana Fish Fry Louisiana Cocktail Sauce contains:11
Water
High Fructose Corn Syrup
Distilled Vinegar
Tomato Paste
Horseradish (Horseradish Root, Vinegar, Salt)
Salt
Modified Food Starch
Soybean Oil
Lemon Juice Concentrate
Molasses
Anchovy Paste (Dried Anchovies, Salt)
Dried Garlic
Propylene Glycol Alginate
Sodium Benzoate
But, I list cocktail sauce under the vegan horseradish preparations because anchovy paste isn't a standard ingredient.
Worcestershire Caution
I mentioned above that Worcestershire, a sauce made with fish juice, can also be found as a fringe ingredient in cocktail sauce.
For example, Crosse and Blackwell Seafood Sauce contains:12
Water
Sugar
Tomato paste
Distilled vinegar
Horseradish
Salt
Corn starch
Worcestershire sauce (distilled vinegar, molasses, water, sugar, onions, anchovies, garlic, cloves, tamarind extract, natural flavorings, chili pepper extract)
Lactic acid
Onion
Spices
Garlic
Again, it's not too common, but something to look out for.
Tafelmeerrettich (German Horseradish Sauce)
This is a German sauce and the name means "plate of horseradish."
It's a variation of a common horseradish sauce, that contains vinegar, lemon juice, or citric acid.1
Tewkesbury Mustard (Hot Mustard)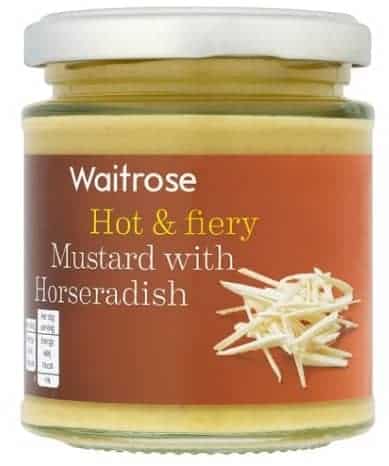 Tewkesbury mustard is a blend of grated horseradish root and mustard flour. It's been around for centuries and is still found for sale.
Ingredients for Waitrose include:13
Water
Mustard Seeds
Spirit Vinegar
Salt
Preservative Sodium Metabisulphite
White Wine Vinegar
Grated Horseradish
Mustard Bran
Spirit Vinegar
Water
Dried Horseradish.
Potentially Problematic Ingredients in Horseradish Preparations
These ingredients don't necessarily render a food product non-vegan, but they are problematic for the most prudent of plant-based eaters so we'll cover them here.
Xanthan Gum
You'll find LA in faux creamy horseradish sauces as well as in some cocktail sauces.
Xanthan gum is a polysaccharide with a range of uses in food production, mostly as a thickener and stabilizer, a lot like guar gum. I wrote an article on guar gum and its vegan-friendliness you can check out here.*
It makes for a good a stabilizer because it keeps ingredients nice and mixed by preventing them from separating. It's made by bacterial fermentation via Xanthomonas campestris.
Whether it's completely vegan-friendly or not depends on how the bacteria are cultivated to produce the product. It's often grown on glucose and sucrose.14
However, there is a certain subtype of the bacteria that can be grown on lactose—the simple sugar found in milk. When this is the case, the bacteria is processed with whey protein, a milk waste product during cheese production.15
It can be a grey area for some vegans, but food products containing xanthan gum are still largely considered vegan by most in the community.
If you're a particularly prudent vegan, this is just something to keep in mind.
Lactic Acid
This one was mentioned above as an ingredient in one of the cocktail sauces listed.  
Like xanthan gum, it's kind of a grey area for many. I'd image largely because it's mentioned in PETA's animal-derived ingredients list.16
LA is an organic acid found in animals (milk, blood, and muscle) so it can be derived from non-vegan sources.
Industrially, it tends to be produced by chemical synthesis from precursors in crude oil and coal or by bacterial fermentaiton.17
With the latter, lactic acid bacteria convert simple carbs like glucose, sucrose, and galactose to LA.
As for how vegan-friendly it is, it basically comes down to how galactose (if used) is sourced. Galactose can be found in animal products, but also in certain vegetables like beets.18
Again, if LA is mentioned in the ingredients, that doesn't mean the product is generally considered unsuitable for vegans.
I'm listing it here in case you want to be extra safe in avoiding ingredients that could potentially be traced back to an animal origin.
That's it for horseraddish.
You may also want to check out the following articles:
Thanks for reading.


References
Zatarain's® Prepared Horseradish. https://www.mccormick.com/zatarains/products/condiments-and-sauces/prepared-horseradish/prepared-horseradish
Inglehoffer Cream Style Horseradish, 9.5 Oz. Joan L-Colleen L- Ravenwoman- Ravenwoman – https://www.walmart.com/ip/Inglehoffer-Cream-Style-Horseradish-9-5-oz/10535273
Horseradish Pure (Yoders) 8 oz (226g). https://www.walmart.com/ip/Horseradish-Pure-Yoders-8-oz-226g/256312363
Agrosik Agrosik Horseradish. https://www.walmart.com/ip/Agrosik-Agrosik-Horseradish-6-3-oz/157910203
French's Dijon Mustard with Chardonnay Wine. https://www.mccormick.com/frenchs/products/mustard/dijon-mustard
Annie's Organic, Gluten Free Horseradish Mustard, 9 Oz. https://www.walmart.com/ip/Annie-s-Organic-Gluten-Free-Horseradish-Mustard-9-oz/10791113
Professional Cooking, College Version – Wayne Gisslen – Google Books.
Frank Stitt's Southern Table – Frank Stitt, Christopher Hirsheimer – Google Books
Kraft Cocktail Sauce, 12 Fl Oz Bottle Linda- Nngg – https://www.walmart.com/ip/Kraft-Cocktail-Sauce-12-fl-oz-Bottle/15556024
Louisiana Fish Fry Louisiana Cocktail Sauce. https://www.walmart.com/ip/Louisiana-Fish-Fry-Louisiana-Cocktail-Sauce-12-oz/10535328
Crosse and Blackwell Seafood Sauce. https://www.walmart.com/ip/Crosse-Blackwell-Seafood-Cocktail-Sauce-12-Oz/19759570
Gold Mustard Balls Genuine Tewkesbury Mustard Gold Award Winning. Peter – http://www.tewkesburymustard.co.uk/product/gold-mustard-balls-genuine-tewkesbury-mustard-gold-award-winning/
EFSA Panel on Food Additives and Nutrient Sources (14 July 2017). "Re‐evaluation of xanthan gum (E 415) as a food additive". EFSA Journal. European Food Safety Authority. 15 (2): e04909. doi:10.2903/j.efsa.2017.4909.
Tortora, G.J., Funke, B.R., & Case, C.L. (2010). Microbiology: An Introduction, 10th edition. San Francisco: Benjamin Cummings. Pg. 801.
Animal-derived Ingredients Resource | Living. https://www.peta.org/living/food/animal-ingredients-list/
H. Benninga (1990): "A History of Lactic Acid Making: A Chapter in the History of Biotechnology". Volume 11 of Chemists and Chemistry. Springer, ISBN 0792306252, 9780792306252