Sweet Tarts, stylized as SweeTarts, are an absolute classic in the candy scene. I certainly enjoyed them growing up. You may have noticed that Pixy Stix taste pretty similar. That's because SweeTarts were actually created using the same recipe and even came in the same variety of colors and flavors.
Are they vegan? The classic SweeTarts are largely considered vegan (with a caveat listed below), but the chewy variety (Mini Chewy SweeTarts) are not vegan as they contain egg albumin. I have a list of SweeTart variets and their vegan status further down in the article.
SweeTart Ingredients

The classic SweeTarts ingredients include:1
Dextrose
Maltodextrin
Malic acid
Magnesium stearate
Artificial flavors
Blue 1 lake and Blue 2 lake
Red 40 lake
Yellow 5 lake and Yellow 6 lake.
Red 40 is not to be confused with Red 4 (a non-vegan ingredient). Red 40 is derived from petroleum and even strawberries.2
The SweeTart Mini Chew ingredients include:3
Dextrose
Corn Syrup
Hydrogenated Coconut Oil
Maltodextrin
Malic Acid
Calcium Stearate
Egg Albumen
Natural Flavors
Mono- and Diglycerides
Carnauba Wax
Blue 1 Lake and Blue 2 Lake
Red 40 Lake
Yellow 5 Lake and Yellow 6 Lake
A Note on Calcium Stearate
Above I mentioned that there's one caveat when it comes to the vegans status of the classic SweeTarts.
Calcium stearate can be completely vegan-friendly, it just depends on how the stearic acid was sourced. Stearic acid is an ingredient in PETA's animal-derived ingredients list.4
It's an additive that, when derived from animals, comes from euthanized animals in animal shelters (i.e. dogs and cats), as well as pigs, cows, and sheep.4
Specifically, stearic acid is obtained via "saponification" of triglycerides (TGs) from fats and oils at which point it's distilled.
So, it's just a matter of where the fats and oils come from.5
Plants also constitute a great source of oils, so the compound can also be (and often is) derived from plants.
Plants with a high content of stearic acid-rich oils include shea and cocoa butter. Other veggie oils inducing coconut are also good sources.
But, these sources have less stearic acid compared to animal fat—<5% compared to 28-45% for plants and animals, respectively.6
Keep in mind that the presence of these compounds doesn't render a food product non-vegan by most standards. I'm just mentioning it here, in case you're a particularly prudent vegan and want to restrict your intake of this additive.
Non-Vegan Ingredients in Mini Chewy SweeTarts
Egg Albumen
Albumen is found in eggs, muscles, milk, and blood. It's also found in certain vegetable tissues and fluids. However, in this case, it's listed as egg albumen so it's off limits for vegans.
The albumen, also synonymous with egg white, is largely made up of water and protein and accounts for about 58% of an egg's weight. Albumin (with an "i") is the actual protein content that surrounds the egg yolk.7
Like gelatin, albumin is used as an aerator that, in this case, helps contribute to the chewy texture of the candy.8
Food products like nougat often use such aerators which is why it's so hard to find vegan versions of chewy candy.9
Soy protein is also an aerator but tends to be less common in mainstream candy making.10
Mono- and Diglycerides
Like stearic acid, this is another grey area. The presence of these compounds doesn't necessarily preclude a food item from being considered vegan. But, this is just one more issue for the chewy variety of SweeTarts.
Mono- and diglycerides are structurally similar to the triglycerides found in our fat cells. They just have one less fatty acid connected to the glycerol backbone.11
They're made by reacting glycerol with triglycerides and can be 100% vegan-friendly, depending on where the TGs come from.12
Because TGs are stored in fat cells, animals are a common source.
These compounds are used as emulsifiers—they keep ingredients nice and mixed.
Other SweeTart Candies and Their Vegan Status
The classics and the chewy version are just two of many SweeTart varieties.
SweeTart Rope Bites (Non-Vegan)
More recently, the company has put out Rope Bites.
Are they vegan? It appears not.
The ingredients for SweeTart Rope Bites include:13
Sugar
Corn syrup
Wheat flour
Water
Citric acid
Sorbitol
Maltodextrin
Sodium citrate
Glycerin
Malic acid
Gelatin
Natural Flavors
Vegetable juice color
Confectioner's glaze (Lac-Resin)
Salt
Spirulina extract color
Beta-carotene color
Turmeric oleoresin color.
Unfortunately, they just replaced the egg albumen with gelatin—another vegan no-go.
SweeTart Soft & Chewy Cherry Punch Ropes (Non-Vegan)
It appears these aren't vegan either.
Ingredients include:14
Sugar
Corn syrup
Wheat flour
Water
Citric acid
Sorbitol
Confectioner's glaze (Lac-Resin)
Maltodextrin
Sodium citrate
Glycerin
Malic acid
Gelatin
Vegetable juice color
Natural flavors
Salt
Beta-carotene color
SweeTarts Cousin: The Candy Necklace (Vegan)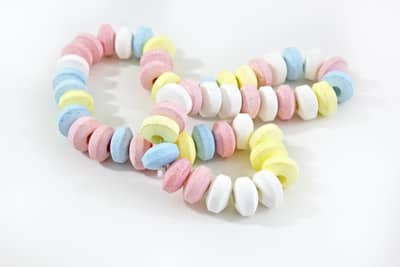 Okay, not officially SweeTarts. But, these are the close cousins to the original SweeTart candies.
And, they ARE vegan.
Ingredients include:15
Dextrose
Corn syrup
Malic acid
Magnesium stearate
Artificial flavors
Yellow 5 and 6
Blue 1 and 2
Red 40
That's a wrap for SweeTarts. You can have the original but stay away from the chewy kind. You've probably figured out by now that chewy candy is a huge red flag. Anyway, thanks for reading.
You may also want to check out the following articles:
References
Sweetarts – Original Roll https://www.bulkcandystore.com/sweetarts-original-roll.html#product_tabs_additional_tabbed
Potera, C., 2010. Diet and nutrition: the artificial food dye blues. Environ Health Perspect. 118 (10), A428–A431
Sweetarts Mini Chewy Candy. All City Candy – https://allcitycandy.com/products/sweetarts-mini-chewy-12-oz-sub
Animal-derived Ingredients Resource | Living https://www.peta.org/living/food/animal-ingredients-list/
David J. Anneken, Sabine Both, Ralf Christoph, Georg Fieg, Udo Steinberner, Alfred Westfechtel "Fatty Acids" in Ullmann's Encyclopedia of Industrial Chemistry 2006, Wiley-VCH, Weinheim.
Beare-Rogers, J.; Dieffenbacher, A.; Holm, J.V. (2001). "Lexicon of lipid nutrition (IUPAC Technical Report)". Pure and Applied Chemistry. 73 (4): 685–744.
Understanding Food: Principles and Preparation (Page 250). Amy Brown – Wadsworth Cengage Learning – 2011
Chocolates and Confections: Formula, Theory, and Technique For the Artisan Confectioner (Page 356). Peter Greweling-Ben Fink – John Wiley & Sons – 2013
Chocolates and Confections: Formula, Theory, and Technique For the Artisan Confectioner (Page 357). Peter Greweling-Ben Fink – John Wiley & Sons – 2013
Chocolates and Confections: Formula, Theory, and Technique For the Artisan Confectioner (Page 363). Peter Greweling-Ben Fink – John Wiley & Sons – 2013
IUPAC, Compendium of Chemical Terminology, 2nd ed. (the "Gold Book") (1997). Online corrected version: (2006–) "glycerides"
Sonntag, Norman O. V. (1982). "Glycerolysis of fats and methyl esters — Status, review, and critique". Journal of the American Oil Chemists' Society. 59 (10): 795A–802A. doi:10.1007/BF02634442. ISSN 0003-021X
Cherry Punch Soft & Chewy Ropes. https://www.sweetartscandy.com/products/cherry-punch-soft-and-chewy-ropes.html
Candy Necklaces. https://www.ohnuts.com/buy.cfm/bulk-candy/mini-packs/necklaces