A pancake aka flapjack, hotcake, or griddlecake is a flat cake made from a starch-based batter that's prepared on a hot griddle or frying pan. The food has been around for a long, long time—possibly since prehistoric societies.1 Because it's been around for so long and is such an iconic breakfast food, folks often ask if they have to give up the tasty treat after switching to a vegan diet.
Are they vegan? No, the traditional pancake recipe is not considered vegan, as it contains a number of animal products. Egg is a common ingredient. Dairy in the form of milk products and milk derivatives are also quite ubiquitous in this food product.2
Why Most Pancakes Are Not Considered Vegan
This is not to say that all pancakes are non-vegan. But, they are different from traditional bread. When you go out to a restaurant, you can almost certainly partake of the warm yeast bread that the server brings to the table.
But, when it comes to pancakes and waffles, you just can't extend the same benefit of the doubt. In fact, you can be almost certain they are not suitable for vegan consumption.
What we'll do here is just outline some of the reasons that pancakes are considered non-vegan. I bring up pancake mix quite a bit, but keep in mind that the below applies to pancakes you'll encounter in restaurants.
Pancakes Are a Type of Quick Bread
"Quick breads" are bread products that can be prepared quickly by foregoing yeast as a leavener. The batter or dough is mixed just until the point of being moistened, and then cooked immediately to prevent gluten formation.3
They're leavened via water (steam) and chemical leaveners like sodium bicarbonate (baking soda).
Quick breads can be made via:4
Drop batters. Muffins, coffee cakes, hushpuppies, quick tea breads, and dumplings.
Unleavened (steam-leavened) doughs. These include tortillas, crisp flatbreads, chapatis, scones, biscuits, and matzo.
Pour batters. These include pancakes as well as waffles, crepes, and popovers.
Quick breads are typically non-vegan (though not always), as they tend to make use of certain animal products like egg.
Eggs have a high water content, and thus help leaven via steam. The protein in egg helps serve as a gluten replacement by helping form a cohesive network which provides structural integrity to the end product.
Gluten takes a bit of time to form, and quick breads are cooked immediately. Despite the absence of gluten formation, the bread products still hold together quite nicely with the help of egg. The result is a cohesive, yet fluffy texture (gluten is chewy).
Pour batters can be on the thick or thin side, and pancakes are made with a thin pour batter.3
Thinner pour batters typically use a ratio of about 2/3 to 1 cup of liquid per 1 cup of flour. So, they're liquid enough to be poured over skillets, waffle irons, etc.5
Most Pancakes Contain Egg
So, egg is used to make quick breads in general. And, pancakes (specifically) use egg for flavor and coagulation.6
When combined with other ingredients, eggs have the ability to add flavor to the mixture. They also help color and emulsify, stabilize, bind, and thicken ingredients.7
It's the lecithin content of eggs that allow them to help with emulsification and stabilization of ingredients. Lecithin is a compound that keeps ingredients nice and mixed by attracting both fat and water molecules.8
Again, binding is achieved by the protein content. During the cooking process, the heat coagulates the protein, binding the ingredients together.9,6
A number of vegan-friendly ingredients can be used to replace egg in pancakes. For example, soy lecithin is included in many commercial pancake mixes, to help with emulsification.
When making a modified recipe with a vegan-friendly pancake mix (there are some pancake mixes on the market that are suitable for vegans), folks often use viscous plant material such as flax to replace egg.
Certain plant foods gel when exposed to water (apples, flax, etc.) which allows them to bind ingredients almost as effective as eggs do.
Many Pancakes Contain Milk Products
Buttermilk
Buttermilk probably comes to mind when you think of pancakes. Many pancake mixes come as "buttermilk pancakes." Buttermilk doesn't actually contain any butter, but it is a milk product no less and is thus unsuitable for vegans.
Of all the commercial pancake mixes I've run across, buttermilk is among the most common non-vegan ingredients.
Butter
Waffles tend to use butter a lot more than pancakes because they're marked by their higher fat content. But, many commercial pancakes and recipes call for butter.
This is an easy fix because margarine works just as well here. But, a lot of pancake mixes will include dried butter.
Milk Derivatives
Then, there are many milk additives that tend to be present in pancake mixes.
The food industry separates out milk into several ingredients to be used in baked goods and other processed foods.10
Milk protein is among the most common ingredients in pancake mixes. These proteins offer numerous useful properties and are often put into processed foods to improve their nutritional profile.
Casein protein contributes to emulsification and stabilization of ingredients.  Whey protein assists with gelling and provides a nice smooth mouthfeel.
So, overall, milk products contribute to processed foods by boosting protein content, increasing moisture, improving mixing ability, and improving flavor.11
Is Aunt Jemima's Pancake Mix Vegan?
The Original Aunt Jemima's pancake mix is considered vegan. As is the 100% whole wheat version. However the "Complete" versions contain animal-derived products. Namely, non-fat dry milk and/or buttermilk.
The idea with the complete versions is that they save the consumer the hassle of throwing in the wet ingredients.
The regular version includes:26
Enriched Bleached Flour (Bleached Wheat Flour, Vitamin B3, Reduced Iron, Vitamin B1, Vitamin B2, Folic Acid)
Sugar
Leavening (Baking Soda, Sodium Aluminum Phosphate, Calcium Phosphate)
Salt
Calcium Carbonate*
*A potentially non-vegan ingredient that's often avoided by extra prudent vegans.
The non-vegan version, or Aunt Jemima Original Complete Pancake & Waffle Mix, includes:12
Enriched Bleached Flour (Bleached Wheat Flour, Vitamin B3, Reduced Iron, Vitamin B1, Vitamin B2, Folic Acid)
Sugar
Leavening (Baking Soda, Sodium Aluminum Phosphate, Calcium Phosphate)
Dextrose
Non-Fat Dry Milk
Palm Oil
Salt
Wheat Gluten
Calcium Carbonate
Corn Syrup Solids
Sodium Caseinate
Mono- and Diglycerides
Dipotassium Phosphate
Lactic Acid
Tocopherols (Preservative)
Commercial Vegan Pancakes
So, now that we know that waffles are usually non-vegan, we'll now look at a few commercial waffles that are accidentally vegan.
Betty Crocker Bisquick Pancake and Baking Mix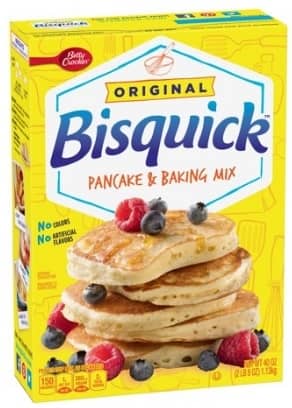 Ingredients include:13
Enriched Flour Bleached (Wheat Flour, Niacin, Iron, Thiamin Mononitrate, Riboflavin, Folic Acid)
Corn Starch
Dextrose
Palm Oil
Leavening (Baking Soda, Sodium Aluminum Phosphate, Monocalcium Phosphate)
Canola Oil
Salt
Sugar
Datem
Distilled Monoglycerides
A Note on Palm Oil
If you consider palm oil problematic, this may not be the pancake mix for you.
For those of you who are new to the subject, palm oil is a plant oil that's very common in processed foods.
It's a rare source of plant-based saturated fat, so it's a favorite for use in processed foods because it extends shelf-life.
Its cultivation is criticized for its role in deforestation which has a number of negative effects on the environment including habitat loss and increased greenhouse emissions. 14,15
Palm oil isn't a strictly non-vegan ingredient, so I'm still listing this pancake mix as an option for vegans.
But, many vegans do want to avoid the stuff, so this is just something to keep in mind if you're a particularly strict vegan.
A Note on Mono- and Diglycerides
Mono- and diglycerides are also a bit controversial in the vegan community. Like lecithin, they are used in baked goods to emulsify and stabilize ingredients.16,17
Some vegans like to avoid these ingredients because they can be derived from animals.18,19
They're sometimes labeled as "plant-based" but usually not, which is why glycerides are such an ambiguous ingredient.
Like palm oil, the presence of these ingredients doesn't render a food product non-vegan by most standards. This is because there's a good chance that they were derived from plant sources.
But, if you wanna be extra careful, you may want to avoid these ingredients.
Aunt Jemima Whole Wheat Blend Pancake & Waffle Mix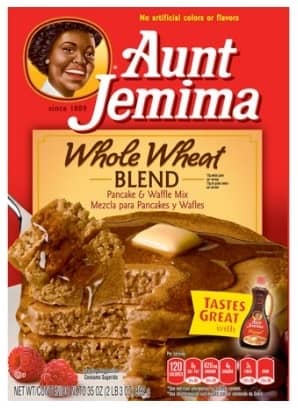 Aunt Jemima redeems herself with the whole wheat version of the mix.
These include:20
Whole Wheat Flour
Enriched Bleached Flour (Bleached Wheat Flour, Niacin, Reduced Iron, Thiamine Mononitrate, Riboflavin, Folic Acid)
Leavening (Sodium Bicarbonate, Sodium Aluminum Phosphate, Monocalcium Phosphate)
Brown Sugar
Sugar
Dried Molasses
Salt
Wheat Germ
Annie's Certified Organic Pancake & Waffle Mix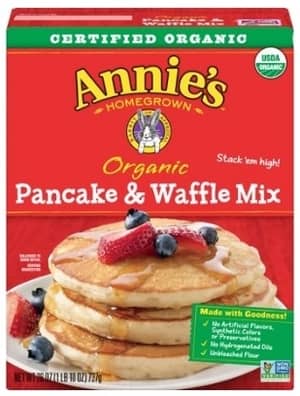 Ingredients include:21
Organic Wheat Flour
Organic Cane Sugar
Organic Expeller-Pressed Sunflower Oil
Baking Powder (Baking Soda, Sodium Acid Pyrophosphate, Monocalcium Phosphate)
Sea Salt
Krusteaz Chocolate Chip Complete Pancake Mix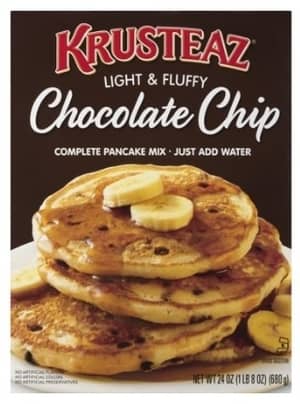 Ingredients include:22
Enriched Bleached Flour (Wheat Flour, Niacin, Reduced Iron, Thiamin Mononitrate, Riboflavin, Folic Acid, Malted Barley Flour)
Semi-Sweet Chocolate Chips (Sugar, Unsweetened Chocolate, Cocoa Butter, Soy Lecithin, Vanilla Extract)
Sugar
Soy Flour
Dextrose
Baking Soda
Sodium Aluminum Phosphate
Aluminum Sulfate
Monocalcium Phosphate
Soybean Oil
Salt
Artificial Flavor
Bisquick Baking Mix Gluten Free Pancake & Waffle Mix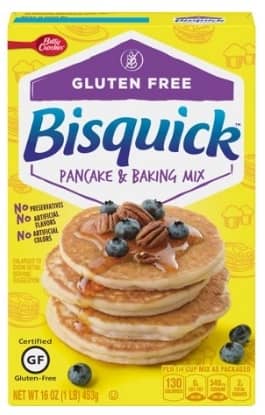 Ingredients include:23
Rice Flour
Sugar
Leavening (Baking Soda, Sodium Aluminum Phosphate, Monocalcium Phosphate)
Modified Potato Starch
Salt
Xanthan Gum
A Note on Xanthan Gum
You may have noticed xanthan gum in the ingredients. Like mono- and diglycerides, xanthan gum can be derived from animals but is often completely vegan-friendly.
Like guar gum, it's used as a thickener in processed foods. Unlike guar gum (which is derived from the guar bean), it's produced via bacterial fermentation.
The bacteria are usually fed glucose and other vegan-friendly simple sugars, but some strains of the bacteria can be cultivated on lactose (the simple sugar found in milk).24,25
When that's the case, the culture is processed with whey protein.
Again, not all vegans avoid the food product, and foods containing xanthan gum are not considered non-vegan by most standards.
But, if you're an especially prudent vegan, you may want to avoid this ingredient.
Well, that wraps it up for pancakes. Thanks for reading.
You may also want to check out the following related articles:
References
Jones, M. Feast; Why Humans Share Food, Oxford University Press, 2007. https://en.wikipedia.org/wiki/Oxford_University_Press
Understanding Food: Principles and Preparation (Page 408). Amy Brown – Wadsworth Cengage Learning – 2011
Understanding Food: Principles and Preparation (Page 407-408). Amy Brown – Wadsworth Cengage Learning – 2011
Understanding Food: Principles and Preparation (Page 384). Amy Brown – Wadsworth Cengage Learning – 2011
Understanding Food: Principles and Preparation (Page 256). Amy Brown – Wadsworth Cengage Learning – 2011
Understanding Food: Principles and Preparation (Page 267). Amy Brown – Wadsworth Cengage Learning – 2011
Anton M, and G Gandemer. Composition, solubility, and emulsifying properties of granules and plasma of egg yolk. Journal of Food Science 62(3):484–487, 1997.
Understanding Food: Principles and Preparation (Page 254). Amy Brown – Wadsworth Cengage Learning – 2011
Chandan R. Dairy-Based Ingredients. Eagen Press, 1997.
Understanding Food: Principles and Preparation (Page 210). Amy Brown – Wadsworth Cengage Learning – 2011
Aunt Jemima Original Complete Pancake & Waffle Mix, 32 Oz Box Rudy-Jacqueline S – https://www.walmart.com/ip/Aunt-Jemima-Original-Complete-Pancake-Waffle-Mix-32-oz-Box/11964706
Betty Crocker Bisquick Pancake and Baking Mix, 40 Oz Bisquick – https://www.walmart.com/ip/Betty-Crocker-Bisquick-Pancake-and-Baking-Mix-40-oz/10311527
Clay, Jason (2004). World Agriculture and the Environment. p. 219. ISBN 978-1-55963-370-3.
"Palm oil: Cooking the Climate". Greenpeace. 8 November 2007. Archived from the original on 10 April 2010.
Monoglyceride. https://en.wikipedia.org/wiki/Monoglyceride#Uses
Diglyceride. https://en.wikipedia.org/wiki/Diglyceride
Monoglyceride Synthesis. https://en.wikipedia.org/wiki/Monoglyceride#Synthesis
Sonntag, Norman O. V. (1982). "Glycerolysis of fats and methyl esters — Status, review and critique". Journal of the American Oil Chemists' Society. 59 (10): 795A–802A.
Aunt Jemima Whole Wheat Blend Pancake & Waffle Mix, 35 Oz Box Kenneth S- Stacy – https://www.walmart.com/ip/Aunt-Jemima-Whole-Wheat-Blend-Pancake-Waffle-Mix-35-oz-Box/185612915
Annie's Certified Organic Pancake & Waffle Mix, 26 Oz Box Helena-Peggy J – https://www.walmart.com/ip/Annie-s-Certified-Organic-Pancake-Waffle-Mix-26-oz-Box/161455695
Krusteaz Chocolate Chip Complete Pancake Mix 24 Oz. Box Mochima – https://www.walmart.com/ip/Krusteaz-Chocolate-Chip-Complete-Pancake-Mix-24-oz-Box/10307479
Bisquick Baking Mix Gluten Free Pancake & Waffle Mix 16 Oz Sabeenie – https://www.walmart.com/ip/Bisquick-Baking-Mix-Gluten-Free-Pancake-Waffle-Mix-16-Oz/14904360
EFSA Panel on Food Additives and Nutrient Sources (14 July 2017). "Re‐evaluation of xanthan gum (E 415) as a food additive". EFSA Journal. European Food Safety Authority. 15 (2): e04909. doi:10.2903/j.efsa.2017.4909.
Tortora, G.J., Funke, B.R., & Case, C.L. (2010). Microbiology: An Introduction, 10th edition. San Francisco: Benjamin Cummings. Pg. 801.
Aunt Jemima Original Pancake & Waffle Mix 16 oz. Box. https://www.walmart.com/ip/Aunt-Jemima-Original-Pancake-Waffle-Mix-16-oz-Box/190509438