Now and Later is a favorite brand of taffy-like fruit-flavored candy that's been around for some time now. There are 19 flavors that are currently available in the Traditional and Chewy varieties, and several additional flavors available in a few newer forms that have hit the market in recent times.1
Are they vegan? The Traditional Now and Laters (all flavors in the Original Mix) are considered vegan. The extra chewy variety (flavors in the Chewy Original Mix) are not considered vegan. The newer forms of the candy (Shel Shocked, etc.) tend to be non-vegan as well.
For an exact list of the varieties you can eat and the ones you should avoid, read on.
I was relieved to see that some are vegan. I'm more of a chocolate lover, but these chewy treats are irresistible. In fact, the name Now and Later suggests that customers are going to love them now and want some more later.1
Vegan-Friendly NOW and LATER Flavors
For examples, we're going with the "mixed" varieties as they contain all the flavors and should include all ingredients used across the various products on offer.
Original Mix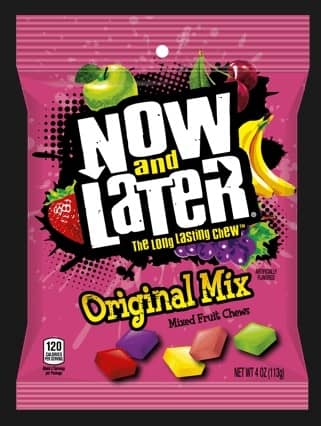 Ingredients for the original mix include:2
Corn Syrup
Sugar
Palm Oil
Citric Acid
Salt
Artificial Flavor
Soy Lecithin (Emulsifier)
Red 40
Yellow 5
Blues 1 and 2.
A Note on Palm Oil
This ingredient is definitely controversial but its presence does not render the product non-vegan by most standards. I mention it here because a lot of vegans do want to restrict its intake.
It's controversial because it's cultivation and production have a number of negative impacts on the environment.3,4
The environmental concerns surrounding palm oil include:
Deforestation. Its cultivation requires vast areas of forest to be wiped out. This results in habitat loss, which threatens endangered species like the orangutan and Sumatran tiger.5-8
Palm oil production results in greenhouse gas emissions.4,9-11 This is true of any crop but seems to be particularly bad for palm oil. The land clearing needed for palm oil directly contributes to rising greenhouse-gas emissions.9,12 Palm oil plantations tend to be built on peat bogs (wetlands that accumulate peat).
Again, not an issue for everyone. I'm mentioning it here in case you're an especially strict vegan and want to avoid the stuff.
A Note on Red 40
Fear not, Red 40 is not the same as Red 4. They often get confused, because they share a similar name and impart basically the same color.
Red 4, a popular coloring agent, is derived from beetles.13
Red 4 (carmine) is obtained via carminic acid—which is the compound that's actually derived from beetles.14
It's not only insect-derived, but the production of the compound also tends to involve other animal products like egg white, fish glue, and gelatin.15
Red 40 (Allura red), on the other hand, is usually petroleum derived, though it can also be produced from strawberries.16
Non-Vegan NOW and LATER Varieties
Chewy Original Mix
Ingredients for the Chewy Original Mix include:17
Corn Syrup
Sugar
Palm Oil
Citric Acid
Egg Whites
Salt
Potato Starch*
Soybean Lecithin (Emulsifier)
Artificial Flavor
Red 40
Yellow 5
Blue 1 and Blue 2
*This was a bit surprising to me. Certain starches (carbs found in plants), are used for jelly and gummy confectionery and come from wheat, corn, and potatoes treated with acidity.
The original (vegan) candy achieves a chewy texture but doesn't contain these starches to replace the animal products. It so happens that the non-vegan Now and Laters contain potato starch in addition to egg white (an aerator that's also used to achieve a chewy texture).
Anyway, I'd have expected potato starch in the original. Potato starch is known to impart an extra elastic character to candy.18
Maybe one day the manufacturers will transition off of egg white and gelatin by using such compounds.
But, for now, these are off-limits to vegans.
Shell Shocked
Shell Shocked ingredients:19
Sugar
Corn Syrup
Palm Oil
Citric Acid
Artificial Flavors
Soy Lecithin (An Emulsifier)
Gelatin
Acacia (Gum Arabic)
Red 40
Yellow 5
Carnauba Wax
White Mineral Oil
Cornstarch
Blue 1
TBHQ (Ascorbyl Palmitate and Alpha-Tocopherol for freshness)
Gelatin is used here instead of egg whites.
Gelatin has a number of uses in making chewy candy. It's aerator (like egg white). It's also a favorite binding agent in candy making and is ubiquitous in gummy products, like gummy bears, etc.
It's suited for candy making because of the elastic, chewy texture it imparts. Gelatin is "thermoreversible" which is a fancy way of saying it creates a gel that's elastic but can also melt in the mouth and easily release flavor.20
Sour Shell Shocked
Ingredients for the Sour Shell Shocked include:21
Sugar
Corn Syrup
Palm Oil
Citric Acid
Malic Acid
Sodium Citrate
Artificial Flavors
Pectin
Modified Food Starch (Corn)
Soy Lecithin (An Emulsifier)
Gelatin
Fumaric Acid
Acacia (Gum Arabic)
Mono- and Diglycerides (An Emulsifier)
Red 40
Carnauba Wax
White Mineral Oil
Cornstarch
Yellow 5
Blue 1
Silicone Dioxide
TBHQ for freshness
Extreme Sour Mix
Ingredients:22
Corn Syrup
Sugar
Palm Oil
Citric Acid
Malic Acid
Sodium Citrate
Pectin
Corn Starch
Fumaric Acid
Salt
Egg Whites
Artificial Flavors
Soy Lecithin
Potato Starch
Red 40
Yellow 5
Blue 1
Splits
This is like the chewy version but contains two flavors.
Ingredients include:23
Corn Syrup
Sugar
Palm Oil
Citric Acid
Salt
Egg Whites
Artificial Flavors
Potato Starch
Soybean Lecithin
Yellow 5
Red 40
Blue 1
Well, that pretty much sums it up for Now and Laters. You may also want to check out the following related articles:*
Thanks for reading.
References
"Fun Facts". Ferrara Candy Company. Archived from the original on September 26, 2013. https://web.archive.org/web/20130926235228/http://www.ferrarausa.com/now-later-fun-facts/
Clay, Jason (2004). World Agriculture and the Environment. p. 219. ISBN 978-1-55963-370-3.
"Palm oil: Cooking the Climate". Greenpeace. 8 November 2007. Archived from the original on 10 April 2010. Retrieved 30 January 2013.
"The bird communities of oil palm and rubber plantations in Thailand" (PDF). The Royal Society for the Protection of Birds (RSPB). Archived (PDF) from the original on 6 October 2016. Retrieved 4 October 2016.
"Palm oil threatening endangered species" (PDF). Center for Science in the Public Interest. May 2005. Archived (PDF) from the original on 17 September 2012.
Shears, Richard (30 March 2012). "Hundreds of orangutans killed in north Indonesian forest fires deliberately started by palm oil firms". Daily Mail. London. Archived from the original on 20 April 2013. Retrieved 1 April 2012.
"Camera catches bulldozer destroying Sumatra tiger forest". World Wildlife Fund. 12 October 2010. Archived from the original on 16 January 2013. Retrieved 30 January 2013.
Foster, Joanna M. (1 May 2012). "A Grim Portrait of Palm Oil Emissions". The New York Times. Archived from the original on 16 January 2013.
Yui, Sahoko; Yeh, Sonia (1 December 2013). "Land use change emissions from oil palm expansion in Pará, Brazil depend on proper policy enforcement on deforested lands". Environmental Research Letters. 8 (4): 044031. doi:10.1088/1748-9326/8/4/044031. ISSN 1748-9326.
"Researchers warn against high emissions from oil palm expansion in Brazil". phys.org. 13 November 2013.
Rosenthal, Elisabeth (31 January 2007). "Once a Dream Fuel, Palm Oil May Be an Eco-Nightmare". The New York Times. Archived from the original on 9 September 2017.
Bug-Based Food Dye Should Be Exterminated, Says CSPI. https://cspinet.org/news/bug-based-food-dye-should-be-exterminated-says-cspi-20060501
Carminic Acid https://en.wikipedia.org/wiki/Carminic_acid
Potera, C., 2010. Diet and nutrition: the artificial food dye blues. Environ Health Perspect. 118 (10), A428–A431.
Original Mix Chewy Candy | Now and Later https://www.nowandlater.com/products/chewy/original-mix-chewy.html
Gelatin Replacements Evolve. https://www.candyindustry.com/articles/86165-gelatin-replacements-evolve
Chocolates and Confections: Formula, Theory, and Technique For the Artisan Confectioner (Page 316). Peter Greweling-Ben Fink – John Wiley & Sons – 2013
Sour Shell Shocked https://www.nowandlater.com/products/shell-shocked/sour-shell-shocked.html
Splits Flavors | Now and Later Candy https://www.nowandlater.com/products/splits/splits.html