Lemonheads are a popular brand of candy first introduced in the 1960s by the Ferrara Candy Company. They're round, fruit-flavored candy having a sweet coating, sour outer shell, and a hard candy core. I say "fruit-flavored" as they come in a variety of flavors (Appleheads, etc.)—even though "Lemonheads" is often synonymous with the original lemon flavor.
Are they vegan? Lemonheads are considered vegan by some, and non-vegan by others—as most varieties contain confectioner's glaze. This food additive derives from a substance known as "sticklac" secreted by female lac bugs. Some varieties don't contain confectioner's glaze and thus are completely vegan-friendly.
The variety without confectioner's glaze is listed at the end of the article.
A Note On Confectioner's Glaze
Confectioner's glaze derives not from an animal part, but from a substance left by lac bugs as they traverse tree branches.1
It's mostly tree sap—the bugs suck up the sap and secrete sticklac at which point shellac is filtered out to be used in food products, etc. The bugs use the substance to create mini-structures that are often referred to as cocoons, though they're not cocoons in an entomological sense.2
I've heard arguments on both sides of the debate. Those who say it's okay to eat claim that it's odd to say you can cut down trees and scrape the substance off the branches to process the trees into building material, but you can't simply scrape the substance off the trees and use it.
They also bring up the fact that the substance is widely used to coat produce which accounts for the shiny look of a lot of apples you'll see in supermarkets.
Others view it as a non-vegan ingredient because it's so similar to using beeswax which is considered by most to be non-vegan.
I personally tend to fall into the latter camp. After all, there is a cultivation process that uses bugs to produce the stuff. It's estimated to take upwards of 50,000 to 300,000 lac bugs to produce one kilogram (2.2 lb) of shellac.3-5
When sticklac is scraped of off of branches it has to be filtered in order to remove bark and you guessed it… dead bugs. Maybe the bugs were already dead, but it seems highly doubtful that the scraping process wouldn't kill countless bugs.
Many ingredients, like mono and diglycerides and lactic acid, can be acquired from non-animal sources so they're much less controversial. However, shellac is ALWAYS animal-derived.
Ultimately, it's a personal choice.
I'm just here to present the information, so I'll list the ingredients and offer an alternative for those who want to avoid confectioner's glaze.
Basic Ingredients (Largely Vegan-Friendly)
Lemonheads (Original)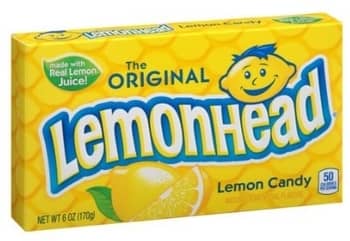 Ingredients for the classic hard Lemonheads:6
Sugar
Corn Syrup
Citric Acid
Lemon Juice from Concentrate
Confectioner's Glaze (Shellac)
Natural and Artificial Flavor
Acacia (Gum Arabic)
Modified Food Starch (Corn)
Carnauba Wax
Yellow 5
Appleheads
Ingredients in Appleheads include:7
Sugar
Corn Syrup
Citric Acid
Confectioner's Glaze (Shellac)
Artificial Flavor
Acacia (Gum Arabic)
Modified Food Starch (Corn)
Apple Juice Concentrate
Carnauba Wax
Yellow 5
White Mineral Oil
Blue 1
Grapeheads
Ingredients for the grape include:8
Sugar
Corn Syrup
Citric Acid
Confectioner's Glaze (Shellac)
Natural and Artificial Flavor
Acacia (Gum Arabic)
Modified Food Starch (Corn)
Apple Juice Concentrate
Carnauba Wax
White Mineral Oil
Blue 2
Red 40
Blue 1
Are Chewy Lemonheads Vegan?
Chewy Lemonheads are as vegan as the original hard candy. This is a good question. If a candy product is chewy it's usually a red flag. A number of non-vegan ingredients tend to be used to achieve a chewy texture, namely gelatin and egg whites.
However, the chewy version of the candy (all flavors to my knowledge) doesn't make use of either ingredient. Instead, they use other additives like gum Arabic.
Gum Arabic is a food additive used as an emulsifier, stabilizer, and thickening agent in soft candy and other food products like gum, icing, and fillings.9
It's also used in soft drinks to bind the sweeteners and flavorings.10 It prevents sugar from crystallizing helping to provide a smooth texture.
Ingredients in chewy Lemonheads (mixed flavors) include:11
Sucrose
Corn Syrup
Modified Food Starch
Lemon Juice from Concentrate
Fumaric Acid
Adipic Acid
Malic Acid
Citric Acid
Confectioner's Glaze
Lactic Acid
Natural and Artificial Flavor
Gum Arabic
Sodium Citrate
Carnauba Wax
Color Added
Red 40
Yellow 6
Yellow 5
Blue 1 and Blue 2
A Note on Lactic Acid
This one was mentioned above as an ingredient in the chewy version of the candy. 
It's kind of a grey area for many vegans, I'd image mostly because it's mentioned in PETA's ingredients list.12
LA is an organic acid found in milk, blood, and muscle so it can be acquired from animals.
Industrially, it's usually produced via chemical synthesis (from precursors in crude oil and coal) or by fermentation of bacterial with simple sugars.13
Lactic acid bacteria convert galactose, glucose, and sucrose to LA.
It can be completely vegan-friendly if no galactose is used, or the galactose was sourced from veggies like beets instead of animal products.14
When LA is listed as an ingredient, it doesn't mean the product is deemed unsuitable for vegans.
I'm mentioning it here in case you want to be extra prudent in avoiding ingredients that may potentially trace back to an animal origin.
A Note on Food Coloring
Red 40 is often confused with Red 4, another food colorant that's derived from beetles. Red 40 or Allura red tends to be petroleum derived so it's perfectly vegan-friendly. It can also be derived from strawberries.15
Red 4 or carmine is derived from a certain type of beetle.16
Yellow 5 (tartrazine) and Yellow 6 (Sunset Yellow), like Red 40, are generally considered vegan, as they're produced synthetically or from petroleum.
They may be considered non-vegan by some insofar as they are tested on animals. But, the vegan community at large doesn't consider non-animal-derived food coloring agents to be problematic.
They're ubiquitous and probably in a number of things you're currently consuming. If you would like to avoid food coloring agents altogether, you're probably better off staying away from most candy or just sticking to vegan chocolate.
Lemonhead Twists: The 100% Vegan-Friendly Alternative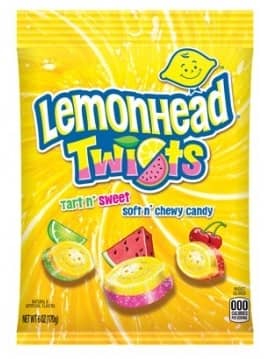 I consider these more of an alternative, as they don't really resemble the original Lemonheads in appearance or texture. But, they are really tasty and can be your guilt-free sour fix.
Ingredients for Lemonhead Twists include:17
Corn Syrup
Sugar
Modified Food Starch (Corn)
Cornstarch
Tartaric Acid
Lactic Acid
Sodium Lactate
Natural and Artificial Flavors
Yellow 5
Red 40
Blue 1
Thanks for reading. You may also want to check out other candy articles:
References
Flinn, Angel. "Shellac and Food Glaze" http://gentleworld.org/shellac-food-glaze/
Shellac, WoodworkDetails.com: Shellac as a Woodworking Finish. http://www.woodworkdetails.com/knowledge/finishing/shellac
Bangali Baboo; D. N. Goswami (2010). Processing, Chemistry and Application of Lac. New Delhi, India: Chandu Press. p. 4.
Yacoubou, Jeanne (30 November 2010). "Q & A on Shellac". Vegetarian Resource Group. http://www.vrg.org/blog/2010/11/30/q-a-on-shellac/
Velji, Vijay (2010). "Shellac Origins and Manufacture". shellacfinishes.com. https://www.youtube.com/watch?v=lQcQ0yuekZ0&t=5m23s
Lemonhead Candy. https://www.ferraracandyshopusa.com/brands/lemonhead.html
Ferrara Candy Applehead Apple Candy, 0.8 oz. https://www.walmart.com/ip/Ferrara-Candy-Applehead-Apple-Candy-0-8-oz/130443266
Lemonhead, Grapehead Chewy Candy Grape Flavor, 0.8oz. https://www.walmart.com/ip/Lemonhead-Grapehead-Chewy-Candy-Grape-Flavor-0-8oz-Box-of-24/381430313
Laura Halpin Rinsky; Glenn Rinsky (2009). The Pastry Chef's Companion: A Comprehensive Resource Guide for the Baking and Pastry Professional. Chichester: John Wiley & Sons. pp. 1, 134. ISBN 0-470-00955-1. OCLC 173182689
McEachran, Rich (16 August 2013). "Gum arabic: the invisible ingredient in soft drink supply chains". the Guardian. Archived from the original on 15 March 2018.
Ferrara Pan Lemonhead & Friends Chewy Assorted Flavors Candies. https://www.walmart.com/ip/Ferrara-Pan-Lemonhead-Friends-Chewy-Assorted-Flavors-Candies-6-Oz/23704257
Animal-derived Ingredients Resource | Living. https://www.peta.org/living/food/animal-ingredients-list/
H. Benninga (1990): "A History of Lactic Acid Making: A Chapter in the History of Biotechnology". Volume 11 of Chemists and Chemistry. Springer, ISBN 0792306252, 9780792306252
Potera, C., 2010. Diet and nutrition: the artificial food dye blues. Environ Health Perspect. 118 (10), A428–A431.
Bug-Based Food Dye Should Be Exterminated, Says CSPI. https://cspinet.org/news/bug-based-food-dye-should-be-exterminated-says-cspi-20060501
Lemonhead Twist – 6 Oz. https://www.roundeyesupply.com/Lemonhead-Twist-6-Oz-p/de679731.htm